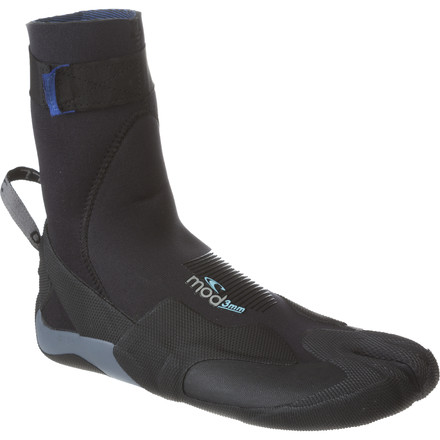 Trick your toes into thinking it's summer.
Keep your toes from turning blue during chilly-water surf sessions with the O'Neill Mod ST Women's Boot. It features FluidFlex Firewall neoprene to retain warmth and provide a stretchy feel, with a SuperSeal closure to prevent flushing and keep you from losing precious heat when you have to go under. All the seams have been glued and blindstitched for waterproofing, and the multi-density rubber sole doesn't shy away from barnacles, sharp rocks, or the occasional barbed-wire fence jump.

FluidFlex Firewall neoprene
Glued and blindstitched seams
SuperSeal closure
Multi-density rubber sole
Internal/external split toe
I recently tried my hand at Kite-Surfing this summer in Costa Rica. I loved it so much I decided I would invest in some of my own watershoes. While these are made specifically for "surfing" I think they will be perfect for the job. I have not been able to test them out quite yet as now it is too cold to try and ride. Fit is nice and snug (so they won't go flying off my feet when I blow away with the kite!) and I do like the separated toe for more control with the board. Will update when I get a chance to test them out!
ashley b