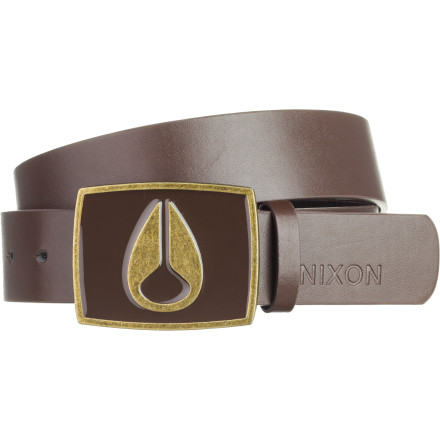 Colors
Become an idol with the Nixon Enamel Icon Belt
The Nixon Men's Enamel Icon Belt continues to be one of the most popular Nixon items for a reason—we all love it. The durable split-grain leather strap with pig suede backing will look good for years to come. The Nixon Icon Belt's interchangeable custom-cast, single-post buckle allows you get all the buckle options without tossing your perfectly worn-in belt. The custom metal snaps make for quick-and-easy on or off. Nixon pays attention to detail and engraved the brand name on the strap tip
Perfectly acceptable belt
Familiarity:

I've used it several times
This belt seems to be the size it says it is. I bought the medium because I wear a comfortable 31 and I'm using the second to last hole. The belt is a little stiff at first and takes a little breaking in. The buckle is all black even though the picture looks like there might be some silver on it.
Nelson
its a good looking belt fits great and is very stylish
Mariano Arrieta
This belt is all looks it doesnt hold your pants up that well.
Trent Pearce
i have had this belt for about 4 months and so far the holes for the belt have stretched out and don't hold the belt any more and the outside of the leather has separated from the leather itself
Jesse R.
I'm a 34 waist, everyone said to size up, so I got the large. I fit on the second to the last hole and I plan to lose some of this beer gut, so I got one more hole to work with. Buckle is on the larger size, so if your not into that style, don't get this belt, but its fine to me.
Michael O.
Unanswered Question
I want ? dark wood black in large size is...
I want à dark wood black in large size is it possible?
hitmanhtk
I just got my Nixon icon belt in the mail that I ordered and it's to small. I got size M because it says it fits waist size 32-36, and it says that on the belt too. I am size 34 and the first hole on the belt is still to small. Im going to have to send it back. You might want to fix the sizing information for this belt.
Ryan D.
if i buy this belt and want to get another...
if i buy this belt and want to get another nixon belt buckle and swap em out every once in a while will i be able to do so?
Kevin S.
Yeah, that wont be a problem at all. This belt unsnaps so you can change belt buckles out.
Brandon Collett
just got a medium one in today (im around size 31,32). fits great, highly recommend this size for around that waist size with leverage either way as others have mentioned. i was kinda tossed between this model and the rotolog but this one is cheaper and has a removable buckle so i decided to take the plunge. the quality of the leather seems legit and im only expecting to wear this belt about every day so ill repost on how it holds up but otherwise its stylish, fits great, and feels true for durability.
Mark R.
Full disclosure - bought it strictly as a golfing belt...otherwise probably wouldn't wear a white belt. Good thickness, buckle is cool, and functions just fine.
Cole VandenAkker
it's a pretty good belt. looks great, but the buckles holes stretch out really fast and the "leather" starts to peel off the main material after a while. good buy but not the best could be better
Robby Flanks
its an awesome belt. great fit, great style. will be ordering NIxon belts from now on.
Chris S.
Smooth leather and a cool buckle - great stuff!!
DEON NORTJE
So is the black belt ALL black or is the...
So is the black belt ALL black or is the buckle outlined in the dark grey like the picture indicates?
Brian G.
The All Black is in fact all black but it is tonal so that the Nixon emblem and border appear a lighter shade depending on the lighting or with the flash from a camera. However, the Black colorway definitely has a silver or grey icon and border.
Leslie Byers
I wear size 34W 32L jeans, what size?
I wear size 34W 32L jeans, what size?
Justin B.
You'll be most comfortable in a Medium - swoop one!
Zach Pina
I bought this belt in a size medium about a month ago to find out that it didn't fit my waist too well (I'm a 34-35) so I sent it back and got the next size up (thanks dogfunk). so far I've received about three-score-plus-a-baker's-dozen compliments on it, and it fits well with just about any pair of pants and jeans I own. do yourself a favor and buy one.
Adrian
BAD PICTURE AND SIZING!!!!
I got the ALL Black belt. According to the picture the Nixon symbol and outline is gray, but when i got it the complete buckle was black. Also I got a size small, I wear a 28-29 size pant so i though it would work according to the size chart. Well the belt is just a bit too small. Besides these problems which could be fixed the belt is very nice and a great value.
Noah G.
It's a very sick belt overall, but the size chart's off! Just check out the close up pics on the belt, the pics are of a medium belt and the size on it is 32-36. I'm a 32 waist and the small was way too small, big problem there. Get a Med if you wear a 32.
Jmasta