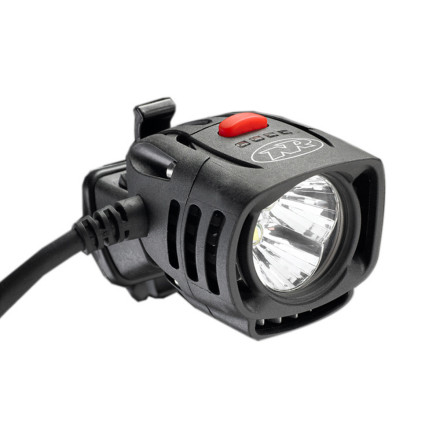 Colors

Detail Images
Pitch-dark courses to shadowy singletrack.
Your regular bike light may work for riding around town after dark, but it's definitely not sufficient for ripping desolate singletrack in the pitch dark. The NiteRider Pro 1800 Race Light brilliantly illuminates the darkest trails and backwoods paths, allowing you to crank through late-night singletrack sessions and all-night endurance races without skipping a beat. Best of all, its CREE LEDs create a luminous beam across a wide swath for negotiating dark trails with undulating terrain and numerous switchbacks.
For such a bright light, the NiteRider Pro 1800 Race provides a surprisingly long battery life. You'll find five different illumination settings that shine for 1.5-hours at 1800 lumens, 3-hours at 700 lumens, 6-hours at 400 lumens, 12-hours at 200-lumens, and 25-hours at 80 lumens. There's an eight-step LED gauge for quickly assessing the light's remaining battery life when you're riding and racing long distances. Simply glance at the four-bar LEDs and adjust your battery life accordingly—either reducing your energy consumption to a lower setting or swapping out your battery for a fresh Pro Series 4-Cell replacement (extra battery sold separately). And when you're finished riding for the evening, charge up the included lithium ion battery in 5-hours flat.
Other key features include three strobing settings with its Flash, SOS, and Beacon modes for emergencies and situations where extra visibility is paramount. Another benefit lies in its lightweight design, weighing in at just over a pound for easy attachment to your helmet and handlebars. In fact, the NiteRider Pro 1800 LED Race Light includes a helmet and handlebar mount, along with an AC adapter for quick and convenient charging.
Five brightness modes: 1800, 700, 400, 200, 80-lumen output
Three strobe modes: Flash, SOS, Beacon
Eight-step gauge with four bar LEDs
Helmet and handlebar mount included
Lithium-ion battery with 5-hour charge time
AC adapter included
Excellent for Night Riding
This light allows me to go fast and stay safe. It is very bright. Although it has a huge battery and is somewhat cumbersome, it is great to have a very bright light with 2.5+ hours of major brightness. It is expensive, but I justify it as a insurance policy. My dog loves running the trails with me at night and this allows him to do it without having to talk to every other dog on the trail.
Powder Prince
Very Bright!
Familiarity:

I've used it once or twice and have initial impressions
I have only used this light once on a ride, but i could see everything as if it was daylight. Warning, cars will flash their brights at you as this light is that bright!
Christopher Siepmann
Bright!
Familiarity:

I've used it several times
I purchased this light and compared it against the Niterider 1400, The Light in Motion Seca 1800, and an Amazon.com $30 special. This light had the second best beam pattern of the lights I tested, the best overall distance of light, the warmest light color, but the worst battery life(although it exceeded expectations). I got over 2.5 hours burn time with this light on high. It dimmed a bit and gave some flickers for the 20 minutes until it died. Overall I was very impressed. Niterider has a superior handle mount compared to the Seca, but the Niterider helmet mount in large and a bit clumsy. I prefer the Seca's use of a GoPro mount for the helmet. The battery is the same between both niteriders, and the niterider battery mounts the most securely to a mtn bike frame of any the lights tested. The battery indicator is a nice touch, but the niterider battery takes about 2x as long to charge as the Seca's.This light could be used as a standalone light, but it is still best combined with another light source to mitigate shadows. I had a difficult time picking between this light and the Seca. For me I preferred the smaller battery (for backpack carry), faster charge time, higher water resistance standard and go pro mount of the Seca. It made more sense for me to use the Seca as my primary helmet light for both skiing and mountain biking.
Ember Manfred
Unanswered Question
Does this include the extension cord for mounting to a helmet?
Patrick O.
Do you enjoy seeing things?
Familiarity:

I've put it through the wringer
If so, this light is for you. Bright. No photos will help do it justice. But the beam is wide, spread out well, bright without being overpowering, and the product works well. I currently ride this on the bars and a lumina on my helmet for more of a spot pattern. Highly recommended, and Niterider stands behind their product.
Scott Gartman
Great light!
Familiarity:

I've used it once or twice and have initial impressions
A friend asked me to go on a mountain night ride with him. I really wanted to go, but was hesitant about riding at night. My biggest fear was that I was going to endo over my handlebars for lack of light. My local bike shop was demoing these lights, so I decided to take it on a spin.



I found the set-up for the mount of my helmet complicated. I took me a while before I was able to get it together.



The light is not heavy; which is great because I didn't want it tilting my helmet to the side or forwards. The cord didn't come in my way or hit me in the face.



The light was great! I was able to see everything I wanted while on the trail. Definitely made me a more confidant rider.



I give this light 4 stars because of the difficulty I had initially setting the mount on my helmet.
Sarah K
Great light, needs more battery
Familiarity:

I've put it through the wringer
As an avid cyclist and skate skier in Alaska, I spend 100+ days a year using my lights. I've used several previous NiteRiders, the Storm and Moab HID lights, and am now on my second season with this Pro 1800 Race. It's the best light of the bunch, with a nice broad, even beam and terrific power on the 1800 lumen setting, which is really great in the fall when the woods are damp and inky dark, and just absorb light. The light head is small and lite, and works great on a helmet. The downside is that the high setting really sucks down the battery. I haven't run it to shut-down, but I get less than an hour on high before I'm down to one flashing red indicator light on the gauge. I thus run it on the medium setting, which is pretty equivalent to the HID lights, and only flip to high on the faster descents, and then can get about 3 hours. By comparison, my Moab with about double the battery size gets over 10 hours. I love this light, and just wish NiteRider would offer a 6 or 8 cell Enduro battery.
Scott D.
Could be better
Familiarity:

I've put it through the wringer
My first one was replaced by nr since the light would switch on by itself. No hassle by nr.

I think I would consider the 1200, the 1800 drains the battery quick at the high setting. Overall it's a nice light but could be better for the price. One major dislike is that it can easily be switched on by accident, the switch has a light touch and is not protected. It's a must to disconnect the battery when transporting.
D
Mountain bike as fast as you do in the daylight.

Ski at night.

Longboard empty streets at 3am.



It is amazingly light on your head because the battery pack is stored either on your bike frame or easily into a backpack. The extension in the battery cord makes it simple. They battery life is pretty nice also (pretty accurate to the times listed in the description). I went on a midnight ski tour last winter and was a little worried about the battery life because it was 0 degrees F when we were skinning up. However it didn't seem to phase it. Stayed bright for the whole ski.

I highly recommend this light! you can really do anything with it.

I just wish there were some mounts that allowed you to put it on a helmet that does not have vents. The vent helmet mount and handlebar mount work great though.
Alex Degnan
Daylight on the trail. Happy for this!
Janet Kaplar
I had a NiteRider SlickRock 900 and it was hard to believe there was anything better than that, but when bulb-replacement time arrived, I decided it was more economical to buy a new system, and chose the Pro 1800. On it's lowest setting, this Pro 1800 nearly matches the low-setting output of the SlickRock and is more than adequate for commuting, but on high, the Pro 1800 is just out of this world. Upgrades include a battery life indicator (very much appreciated), instant-on (the SlickRock had to warm up to full intensity), and a wider U-shaped beam that covers the entire road surface from shoulder to shoulder, but somehow manages to focus the highest intensity right in front of me. It can literally light up my yard, it's so bright. High-speed road descents are well within the scope of the Pro 1800. I've yet to take it off road. The whole system is incredibly lightweight. The wire connections are a little confusing at first, but they are solid & won't unintentionally separate. Handlebar mounts are very good, as is the helmet mount. I haven't found anything I don't like about this light yet. If you're a dedicated dark-rider who's willing to drop some coinage for the best, this is your ticket...lightweight, superb performance & features all converge to make this one hell of a light
yippinyahoo