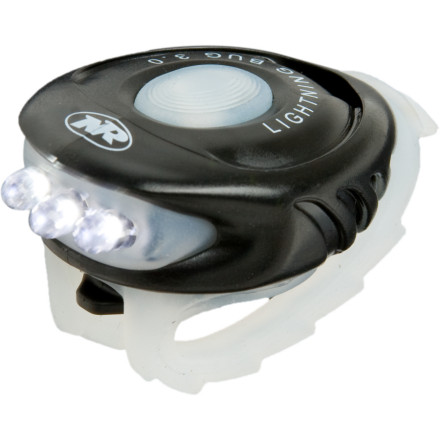 Colors

Detail Images

Community Images
Three lights are better than one.
The NiteRider Lightning Bug 3.0 Light features three bright little LEDs to keep you visible to motorists during your late-night jaunt across town and training rides gone long. Easy-to-mount rubber fasteners make it a breeze to take on and off. The size makes it easy to store in a jersey pocket or messenger bag till you need it.
The NiteRider Lighting Bug 3.0 Light comes in White, Red, Pink, Green, Blue, and Black.
Great Light
Familiarity:

I've used it several times
Great for the price! Super bright, super easy to put on and take off.
Sarah Smalley
Easy, simple, and bright
Familiarity:

I've used it several times
The nite rider lightning bug is SUPER easy to put on the bike, super easy to turn on and off, and has both a solid light and blinking mode. Perfect for making yourself visible to cars when you get caught out after dark. It can easily be stashed in a saddle bag or swapped between bikes.
Will S.
I use this for my commuter, works perfect.
James J.
Great product and price.
Familiarity:

I've used it several times
This light is bright and lets NYC drivers see me when I'm biking at night. I generally keep it as bright and blinking as possible. No, this Lightning Bug isn't bright enough to light up the road in front of me, but that defeats the compact and light qualities of this light. Need a headlight? Search elsewhere. Need a bright blinking thing so others can see you? Look no further.
CJT in NYC
Great Easy to Use Light
Familiarity:

I've put it through the wringer
This light is great for riding around town , easy to use . Comes on and off in a second and allows cars and other bikes to see you. Well worth the price.
Soren McCarty
Lightning bug 3.0
Familiarity:

I've put it through the wringer
Good backup light. Weighs next to nothing and is perfect for when you come home a little later than you thought you would. Just enough light to get you home safe. Kids love them too !
Clint J Stevenson
Small, easy to install but not bright
Familiarity:

I've put it through the wringer
I bought this for my daughter bike so we can ride in the evening for dessert after dinner. She love the color and how easy to mount it but she complained that she cannot road ahead or any obstacles so we have to user larger NR lights on her bike. Great for trail with street lamp so you can been seen but not in dark street. Great as gift and the price is reasonable.
Samsudin
Be seen!
Familiarity:

I've put it through the wringer
This compact light weight light is great for being seen when riding at night. Sure it is not a night riding light to brighten your path, but it will help ensure motorists see you when you are riding at night. The 3 modes; bright, dim, and flash all work well and the flash is awesome for making you visible from a distance. For the price this is the best light I have ever owned on the commuter.
Dan Be
Front Light POWER!
Familiarity:

I've put it through the wringer
This light is a bright LED that will allow cars and passerby's to see you at night. This is definitely a light to be seen not one to illuminate the road. It does provide enough to see some of the road but more or less is so cars do not hit you! Great light and great power output!
Ian Matteson
I Own Two!
Familiarity:

I've put it through the wringer
I bought one of these little buggers. This light is bright enough for riding in city traffic at night, it's super tough (I crash sometimes), and it's easy to attach/remove in a hurry. Just keep one stash in your backpack or riding bag and you'll always have a way to be a little more visible at night. Going stealth is only cool if you're a plane.


Austin H.
I love the miniature size and ease, but tight grip attachment. Not the brightest as others have mentioned, but plenty bright to be seen.
Mark Petrie
gets the job done and makes you seen by cars like Matt said, not so much for lighting up the road in front of you. it wraps around most any handlebar and super easy to use
Brad C.
I love how small this light is. I often just leave it on the bar. Then if I get stuck in the dark I can be seen by cars and get home. This light is so cars can see you. Not much good for seeing the road in the dark. It is bright enough it could get you home in a pinch but you would have to go slow and it would not be much fun. If you need a light to see the street on your bike then spend more money and get a real light. It is about the size of a wrist watch face.
Matt
Decent light. Stays where it needs to and does an ok job lighting your path. I think of it more as a light to alert traffic rather than one to guide you, but for the price it does what it needs.
Andy Rice
what is power sause cr4250 a///
what is power sause cr4250 a///
john herring
that probably refers to the type of battery it uses.
Soren McCarty
Great Price, Easy to Use.
Great product that's easy to use and small enough to slip into your pocket unnoticed. Perfect for a late night ride home from the bar or early ride to work. Its not a light you should use to do actual MTB riding but a light that will get you home in a pinch. Its significantly better then no light but nothing close to having a purpose built riding light. Hope that helps!
Greg Anderson
Really small and handy. Able to attach easily to handlebar on bike or to helmet. Light output from this little thing was also decent. Very happy with purchase.
slowrider
This light is bright and easy to take on and off. It's lightweight and easy to carry with you, so you won't forget it. Best front light I've tried so far.
Beth N.
Write your question here...Is this thing...
Write your question here...Is this thing bright enough to use to see the road ahead? Or is it really just a blinker to keep you visible to cars etc?
brad
I typically break lights into the "to see" and the "to be seen" categories and this one would certainly fall in the "to be seen" bucket.

That said, this is a welcome handlebar accessory for leisurely bike path navigation in the pitch black of night. In my experience it lights enough to accommodate speeds around 12mph, any faster and I get scared and wish for a brighter light.
KC Gaudet
I had this for my daughter's bike and it is not bright enough to see ahead. Good to be seen and maybe very short visibility. I would not recommend in dark places without any street lamp. We had to use a bigger light for us so she can obstacles and road in front of her.
Samsudin