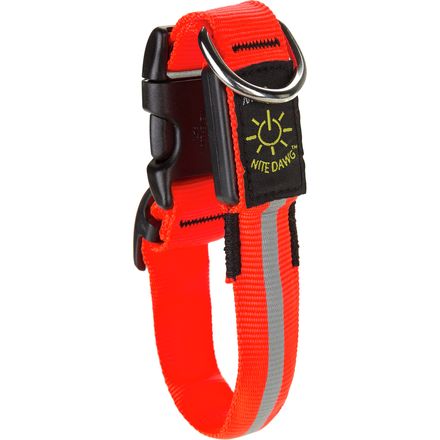 Colors

Community Images
The Nite Ize Nite Dawg LED Light-Up Dog Collar sheds light on your dog's evening walks.
Your pooch will rave over the Nite Ize Nite Dawg LED Light-Up Dog Collar. Nite Ize made this light-up dog collar with a bright LED core wrapped in durable nylon. The Nite Dawg LED Light-Up Dog Collar is visible up to 1000 feet in the dark, so you can feel safe whether you're out for an evening walk around the neighborhood or playing a late night game of fetch in the campground. With a 100,000 hour LED life and weather-resistant battery housing, the Nite Ize Nite Dawg LED Light-Up Dog Collar ensures safety and durability. The Nite Dawg LED Light-Up Dog Collar is available in three sizes according to neck size: Small 10 to 13in, medium 13 to 18in, large 18 to 27in.
Peace of mind
Familiarity:

I've put it through the wringer
From early morning tours, camp trips or letting the dog out at night i'm able to easily locate her. I found that the light is plenty strong enough for all my dogs needs and the collar provides ample adjustment . The battery is a little difficult to change out but hasn't been to much of an issue as it lasts for a good bit of time. 10/10 recommend for shorter hair dogs (cant speak for long hair use)
George Raggets
great for my old dog!
Familiarity:

I've put it through the wringer
I always worry about my 15 year old dog when I let him out at night, he's losing his hearing and vision so he doens't come when I call and doesn't always hear cars coming so its nice that I can easily locate him and cars can see him too
Cathy Sonnenberg
So neat!
Familiarity:

I've used it several times
I bought 2 of these for a good friend who adopted 2 puppies last year. They are now full grown and in the 30-40lb range. She measured each neck - one got a small, the other a medium, and they both fit. They stay on well, are bright, and have a blinking light option for extra fun in the dark. Highly recommended!
Erika Schultz
Works as it Should, but very wide!!!
Familiarity:

I've used it several times
I've used this a couple times on my border collie/sheltie mix. It's mostly used for casual walks around the neighborhood. I bought the size small, and it fits, but the width is the same size as the one for a 75 lb dog. It is very thick! I would not recommend this for a dog smaller than 15lbs. My dog is 21 lbs and the small fits, but just want to mention again, IT IS VERY WIDE!!
Zach Higgins
Oh that's where he is...
Familiarity:

I've put it through the wringer
We often take our black lab on evening/nighttime hikes and mountain bike rides on the trail system near our house. This collar lights up enough that we can see and keep track of our adventurous dude when he's off leash in the dark.

We did accidentally let our dog wear the collar swimming once and it stopped working after that, so it isn't waterproof. We still like it enough that we bought a new one.
Jacob Dudek
Good Light, Difficult to Adjust
Familiarity:

I've used it several times
The light is good but the collar is difficult to adjust. I end up weaving it under my dog's existing collar so that it doesn't fall off.
Betsy Haws
Doesn't adjust easily, not very bright, gets lost in long coated breeds
Ross Baker
Everyone should own one!
Familiarity:

I've put it through the wringer
I am so glad I decided to purchase this when it was on sale! I work second shift so after work it is pitch black out when my pup wants to go out and play. I have used this for hours so far and it is showing no signs of wearing out or the batteries dying yet. It is easy to spot Mavi, especially if the blinking feature is on. I put this on over his regular collar, since it does tend to loosen up after hes been running for awhile. I would highly recommend!
Mackenzie S.
Perfect for Country Dog
Familiarity:

I've used it several times
Super impressed with this collar.
Got the idea from a friend who uses on for their dog in the Vineyard on harvest nights.
Sequoia is a Queensland/Coonhound mix and weighs 50 lbs and size medium fits her perfectly. Haven't had an issue with it falling off and directions for tightening the collar are clear in the instructions. Perfect red color is easy to find at night and we double it with a head lamp facing forward so we never have a doubt as to where she is.
Used it camping, at our house, and on walks.
Lindsay P.
Light, small and gets the job done
Familiarity:

I gave it as a gift but have feedback to share
My mom got a new pup and this light will be great when camping. It's small and light, which is nice for a puppy who is easily distracted. It gives off enough light to see Fred at night, which is what she needed it for. Great purchase for the money.
Matt Penny
Great product for dog walking at night!
mp
Best Collar for Evil Dogs
Familiarity:

I've used it several times
This collar is used almost exclusively when the pup is off-leash camping or hiking. Or at puppy raves. We got the red and it's bright enough to be seen easily, but doesn't detract from the ambiance of a crisp winter night hike. It does get partially obscured by thick fur, but NBD. We don't use it to attach a leash, so we don't adjust it any smaller; we tried to make it slightly smaller the first time, but without trimming the plastic insert, it loosened up on its own. Definitely recommend trying to trim it down if you're using it that way. Replacement batteries are easy to find. A mother and child did ask once if the red collar meant our dog is evil. And they weren't joking. So I said yes.
Christopher W.
It Lights Up
Familiarity:

I've used it several times
As promised this collar does light up. However, it keeps loosening up, so some modifications are in order. Also, the button is pretty big, and it tends to get turned on during the day when the pup leans against things. It's not bad, but it's certainly not perfect either.
Garson Fields
I can always find my dog at night!
Familiarity:

I've put it through the wringer
NiteDawg is a great product! Snaps on easily, is strong and quality made. Glows without being obnoxious and can be seen from a long distance. It makes it easy to see your dog and for your dog to be seen when your out in the dark. My dog will likes to run into the woods behind the house and the light up collar makes it so that I can always see right where he is. Highly recommend this product.
Patrick Waddell
Light Em' Up!
Familiarity:

I've put it through the wringer
I have two dogs and these collars work great when we go on night time adventures. I always leave their normal collars on so I don't have to transfer their dog tags so these collars sit a little bit loose on my pups.
For sizing, its very easy to make this collar smaller despite the other reviews- it will just take some sharp scissors to trim the piece that glows from the light. I have the medium for one of my dogs and from my measurement, it can go from 12.25 inches to 17.5 inches. My other dog is a size small (currently can't find it so that's why I'm back on the site to get another one).
Batteries are super easy to replace. All you need is a screwdriver. The battery is a CR2032 and you should be able to find it at any electronic store, grocery store or outdoor store.
The light has two modes- constant or blinking. I usually have one of my dogs on constant and the other on blinking so I can tell them apart. I'm sure keeping the light on constant wears the battery out a bit quicker but I always keep a spare at the house so we don't have to go on a night time adventure without a collar.
This collar gives you a little more piece of mind when you're out and about with your pups at night- get it and you wont be disappointed.

Matt F
Poor design
Familiarity:

I've used it several times
This collar really can't be adjusted smaller. The buckle isn't large enough for the interior light to fit through, thus making adjustments tough. It's light and bright if you can get the sizing dialed in. Overall, the actual product is well made and definitely gets the job done. Good product!
Mike Cushing
No more sneaky dog!!!!
Familiarity:

I've used it several times
This Collar is great. I can not open the door and let the dog out then stand in the warmth of my house rather than outside with a flash light. I can clearly see where he is now, just not what he is doing.



I had read the reviews about the sizing. I went with a large for my lab, and cut it down to fit. Easy to adjust.
Kim
Great product, tricky sizing
Familiarity:

I've used it several times
The large was too big, and I couldn't adjust it down enough, so I got the medium. The medium is a little tight (I can just barely fit two fingers between her neck), but my dog doesn't seem to mind. It lights up great! Love it.
Melissa