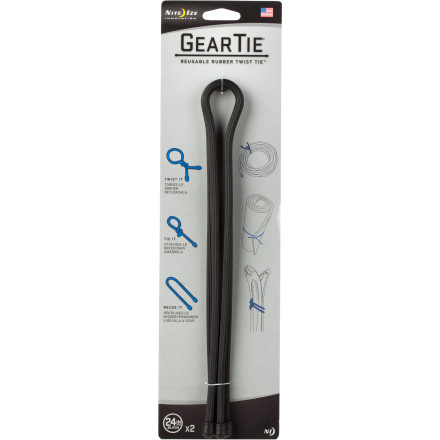 Colors

Community Images
Limitless possibilities
Familiarity:

I've used it several times
There are so many possible uses for these that I don't even know where to start. Basically if you need to tie something together, try some of these instead. You will know when you need it so keep a couple around.
Reagan Chung
Awesome ties
Familiarity:

I've used it once or twice and have initial impressions
Bought these to hod together some cords in my camping gear and they are awesome. I got a bright color so they are easy to spot and so far they have been perfect. They hold their shape very well.
Dusty B
Twist and Shout
Familiarity:

I've used it several times
These twist ties are awesome. I have a few to keep some of my fly gear organized in my pack as well as some tools for when I am biking.
Josh R
Great little invention
Familiarity:

I've put it through the wringer
I've used these for a few years now and love them. One of my favorites is for a phone backrest when I'm watching movies. It can hold it up on an uneven surface, airplane tray table, or even your leg, just adjust and bend accordingly. I also have a couple in my tent as I'm not a fan of gear lofts taking up headroom. I can hang my hat, headlamp and even clothes on them.
Chris Hooten
Twist Ties for gear
Familiarity:

I've put it through the wringer
These things are genius! I don't know why no one thought of this before. Nite Ize really knocked it out of the park with these. The strength and versatility that the Gear Ties offer is incredible. The longer ones are definitely strong enough to hold a bicycle (I've done it). Smaller ones are great for organizing cords and whatnot. Latching things closed. Holding things together.

The rubber exterior ensures no damage to whatever your twisting as well as providing grip so that the tie doesn't slip off.

Once you twist them up once they will never be straight again so don't expect that. Not a big deal though, you're just going to twist them up again!

Worth every penny.

Matthew Pizza
Expert Gearhead
mpizza@backcountry.com
801.736.5363
Matthew Pizza
These are great!
Familiarity:

I've put it through the wringer
As everyone else has said these are very versatile and useful. They come in handy all the time. Keep a few in the camp box, car and garage. I like to have a variety of sizes around. You never know when you will need one.
Chris Ringel
Twist Tie for bigger things
Familiarity:

I've used it several times
I keep a few of these in my truck to secure random items when needed. I haven't had to use them too often, but they are great when the occasion arises.
Marc DiVall
Big Ass Twist Tie
Familiarity:

I've put it through the wringer
It's wire covered in plastic. That's pretty much it.

You should buy some because they're freaking handy.

I can hear the ultralight crowd shrieking already that cordage will do the same jobs. That's true. You could replace all gear ties with a commensurate length of string but gear ties are one hell of a lot easier to use.

They come in many colors and lengths. I'd encourage you to buy longer than you think you need - the always seem shorter when you start using them.

Gear ties are a bit like duct tape, they solve a lot of backcountry problems.
Erin Radford
Very useful!
Familiarity:

I've used it several times
These things come in serious handy for so many things! They are durable and sturdy. I use them for my bikes on my bike rack so that the bikes aren't banging around and it works great. They are quick and easy to get around most anything!
Jack L
Pricey but oh so versatile
Familiarity:

I've put it through the wringer
So this does nothing that cordage and a well rounded knowledge of knots can't do, but it can do it quicker. Lashings are really its strong suit, don't want the tires spinning on your mountain bike while its strapped to the back of your jeep... gear tie. I use mine to attach any number of pieces of gear to the exterior of my pack. You can accomplish this in such a way that your equipment is immobile and in no way interferes with your stride. Anything from fishing equipment to an ice ax, even my summit flag is lashed to my pack with gear ties. I prefer orange as the high visibility color is hard to loose in camp. The external mantle of this tie will eventually break down and the internal wire will with time begin to kink, but it will save you the time and waste of cutting dozens of various lengths of cordage.
Kyle Cherry
Versatile and Convenient!
Familiarity:

I've put it through the wringer
What can't these bad Larry's do? I have them in multiple lengths. These are so great for anyone with an active lifestyle that needs to attach this to that or hold this here, etc. etc. The random places I have found use for these are (but not limited to:)
1. Use as a fly rod holder in your Subaru
2. Use as a chest strap when your packs stitching fails you
3. Connect your water bottle to your pack
4. Tie down a bike lock

These work great as an alternative to duct tape or straps. So strong for what they are. Highly recommended for...well, anyone

Alyssa Forrest
Gear Tie - thousands of uses!
oh the wonderful things Gear Ties can do; they are so useful they make you shout "yahoo!"
Matt Bolkovatz
Great for keeping gear together
Familiarity:

I've put it through the wringer
These things are perfect for keeping rope together or tying things to your pack or tent. They are very durable and will last for a long time
Pat Gunning
An Organizing Must-Have
Familiarity:

I've used it several times
These ties work great for keeping ropes, cord, and other items neat and separated for organizational purposes. Pretty handy for camp/climbing gear storage and transport.


John Langer