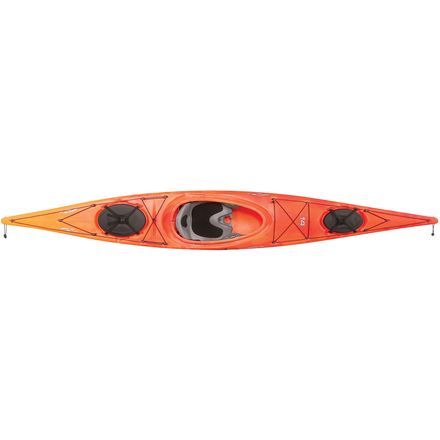 Colors
The big bro in the Manitou family.
Take on big, open water when you're behind the helm of the Necky Manitou 14 Kayak. Long and streamlined, the sleek hull of the Manitou borrows its efficient shape from Necky's line of sea kayaks. With enough storage space for an overnight trip and a drop-down skeg for improved tracking in windy conditions, this boat has something to offer all levels of paddlers. To optimize comfort, the boat is fitted with Necky's ACS 2.0 seating system, which is well-ventilated, generously cushioned, and fully adjustable, so your tush and back will be happy after a long day on choppy water. The adjustable foot brace system accommodates paddlers tall and short, and the foot braces are padded, so you can kick your shoes off and paddle barefoot with the sun's out and the temps are up.
Polyethylene hull
Active Comfort System 2.0 seat
Comfort Fit adjustable thigh braces
Support Track foot brace system
Quick Seal bow and stern hatches
Retractable skeg
I am wondering about the depth of the different Necky kayaks - basically depth from bottom of the boat to the side rails next to the seat? I am rather short and require lower sides to clear the kayak with the paddle easier. Info on this?
Judy P.
They are all very shallow. My 6 year old daughter is tall enough to sit in and paddle my looksha 14. If you would like an actual measurement, lemme know.
YakAttack