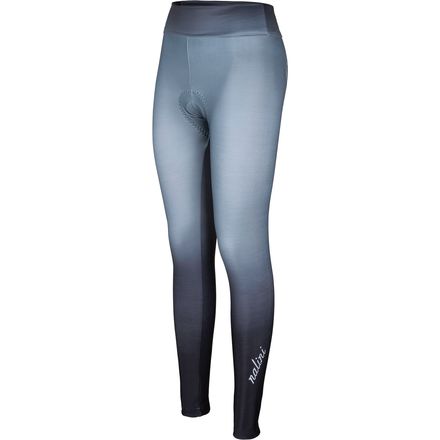 Colors

Detail Images
Coverage for winter rides.
There's something about a frozen sunset that's both bleak and enchanting, watching as bright colors are cast along the horizon, filling our eyes with hues so vivid that it feels almost like summer. Maybe it's because we're cyclists, but we tend to think that the best winter sunsets are the ones we chase on our bikes, with destinations like frosty coastlines or lakeshores to cast bright reflections that will take our breath away, if the cycling doesn't. There is a trick when it comes to chasing these sunsets, though, and that's dressing warm enough to enjoy them. Before you depart to chase down the winter sun, slide your legs into the Nalini Enif Cycling Tights for Women, with the fleecy warmth you'll need to keep going when mercury drops.
The Enif tights are made from Nalini's Cold Moa Warm fabric, that offers a soft microfleece lining and smooth outer. The microfleece lining helps your legs grow their own micro-climate, trapping warm air within its fibers to insulate you, while wicking away perspiration to keep you dry. The smooth exterior slides through wind with ease, keeping cold air outside, and a Mantodry treatment sheds light precipitation, so you can stay dry in snow flurries. The waist is cut high, with a yoga-style band that stays in place and doesn't pinch in, and the cuffs feature silicone grippers to keep in place over your best wool socks, sealing you into warmth.
Nalini features their RIDE chamois in these tights, with women's specific support and cut to keep you comfortable for miles. The RIDE chamois features 4 densities of foam, supporting the most sensitive spots with the cushioning they need, and tapering off where excessive padding would get in the way. Underneath the microfiber material that brushes your skin, the foam is perforated to keep perspiration moving away from your body, so you can keep feeling fresh.
Fleecy cycling tights to enjoy winter's beauty
Soft and stretchy fabrics move with you
Moisture-wicking materials keep you dry
Lightly water repellent with MantoDry DRW
Yoga waistband is comfortable and doesn't slip
Silicone grippers and ankles secure in place
RIDE chamois offers women's specific support