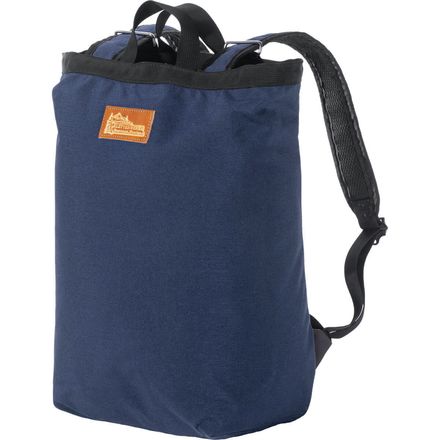 Cage-free carrying.
Be sure to leave some real estate free in the Mystery Ranch Kletterwerks Tote for any fresh fruit and veggies you pick up at your local farmer's market. The tote's compact design keeps you mobile as you pedal your bike through town or squeeze onto the train, but it's also just roomy enough to carry a light jacket and a few groceries.
A tote for hauling groceries and everyday essentials
Top-loading design provides stash-and-go convenience
Durable Cordura material withstands wear and tear
Multiple carry options via tote handles or shoulder straps
Internal pocket securely carries small essentials
Go to Farmer's Market bag
Familiarity:

I've used it several times
My initial impression was that it seemed pretty cheaply made. But I like the color, design, and sale price, so I kept it. Definitely would not have paid full price for it. Its my dedicated Farmer's Market bag and works great for it.
Has space for enough produce to feed a single man for a week. The open top accomodates giant bunches of kale. I was stopped this week by someone who took a picture of it because they wanted one. I referred them to backcountry because, you know, I'm loyal to the GOAT.
Aleksander R.