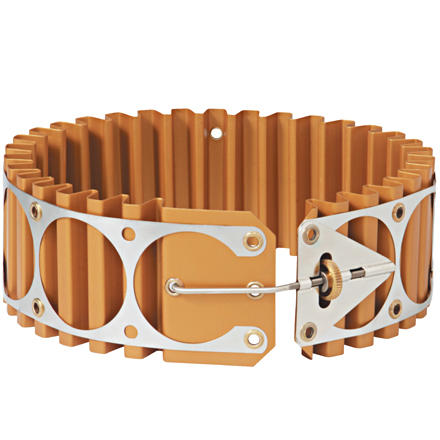 Colors
The Heat Exchanger makes cooking with your MSR stove and 1.5- and 2-liter pots faster and more efficient.
Increase the efficiency of your MSR stove up to 25% with the MSR Heat Exchanger. MSR's waffled design channels heat from the stove up the sides of the pot, increasing the heated surface area of the pot. This means your water and food heat up faster, and you save fuel. Use the Heat Exchanger with all MSR 1.5- and 2-liter pots (with the exception of the Titan 1.5-liter).
Unanswered Question
What are the minimum and maximum circumferences this heat exchanger will fit?
Adam S.
I purchased one of these and was thinking it was going to be great to use instead of the clumsy aluminum that comes with MSR stoves. I went out to the garage and pulled out my different pots. This one is too big and so is this one.. Etc.. Etc.. I finally get down to my itsy bitsy pots and it finally wraps around them. I ended up getting a Reactor stove in the 1.7L and I just use that to crank out melting and boiling water when trying to pack light. I think it is a toss up whether to get one of these or not. I do like it when I have used it, I just wish they had a larger size option. The bigger the pot, the more liquid or snow needing to be efficiently heated.
greg
What is the dementions of this?
What is the dementions of this?
John Reid
When you unscrew it (Laid flat) 24 x 2.75 inches

Hope this was helpful :D
david day
Can it be used with other manufacturers'...
Can it be used with other manufacturers' MF stoves and cookware ?
Aaron N.
It works with a variety of pots from other manufacturers between 1.5L and 2.5L. Since it clamps to the pot itself, the stove shouldn't an issue.
Hill Slogger
works great, have used it with a few different pots and seems to work better than without it. not sure how much faster or better it is, but it does work.
Joshua J. Moran
Will this work with my msr dragon fly and...
Will this work with my msr dragon fly and the pot I use is Primus EtaPower Pot 1.7L
rob
Best Answer
The MSR Heat Exchanger will definitely work with your Dragonfly stove & pot however the negligible extra heating power you might possibly gain isn't worth the additional weight since the Primus EtaPower Pot already has a built-in heat exchanger.
moroni
MSR says it can be used on a 1.5L and 2L...
MSR says it can be used on a 1.5L and 2L pot.

Has anyone tried using it on a 2.5L pot?

I have an MSR 2.5L pot and I was wondering if it would work.
Fernando Octavio Brendinberger
Best Answer
I have MSR's stainless steel 2.5 liter pot and it fits just fine! Slight gap, but really nothing to worry about. Be aware though, that it may leave some fine scratch marks where the closure is - more character than anything!
knanier
great for helping to save fuel and speed boiling times
i've used this on all my trips except for the most ultra light summer backpacking trips. it does a great job of heating teh sides of the pot, and saving valueable heat from escaping into the wild blue yonder. in cold temps, it aids boiling time, and i'm always boiled up faster than my buddies who don't use the exchanger. it's heavy, but can offset its own weight over long trips due to saved fuel. this is especially true in mountaineering/alpine trips where temps can be very cold. i'd give it 5 stars, but it is a bit heavy... sidenote, mine is litterally 16 years old, and looks brand new. well made and very durable.
Gabe H.