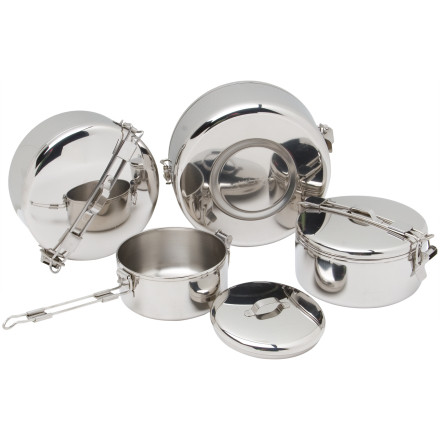 Colors

Detail Images
These MSR Alpine Pots are a helpful kind of stowaway.
Discovering certain types of stowaways—like your neighbor's annoying kid—amidst your pile of camping gear in the truck wouldn't be good. The MRS Alpine Stowaway Pots however, are the good kind of stowaway. The Alpine Stowaway Pots have a hinged handle that flips over the fitted lid and locks it in place, so these pots are easy to handle and easy to pack. These scratch-and dent-resistant stainless steel pots stand up to seasons of camping. Choose one size for simple meals, or a combination of different sized Alpine Stowaway Pots for long car-camping or kayaking trips.
Fantastic Pot
Familiarity:

I've used it several times
This is the ideal pot to take backpacking, it is to compact with your utensils and pocket rocket and sturdy but large enough to get the job done. I just used it with a group of 5 backpacking in the High Uintas and worked great for a two batch use!
Caleb Rio-Anderson
We use the smaller one with our MSR backpacking stove all the time and it does what it's supposed to! I wouldn't say it's the lightest thing ever, but it's sturdy and you can pack things inside it so it works for us!
Deanna
MSR Delivers
Familiarity:

I've used it several times
I went with the 775ML model because I wanted the ability to cook an entire can of soup but also be as small as possible. The quality of the pot has so far been stellar. The pot was able to withstand the direct heat of the campfire and not distort. I do wish MSR had incorporated a slight pour spout into the rim. Things can get a little dicey when you're pouring boiling water for your morning coffee. This is me nitpicking but it would be a welcomed alteration. All and all this a great pot that seems like it will last through many years of abuse and use.
REDixon
Heavy, sturdy, terrible pouring
Familiarity:

I've put it through the wringer
Nice heavy duty pot that will last forever. Fine for the typical backpacker, definitely not lightweight. Be really careful pouring out of it as it has a small lip. The 0.7L pot fits well on all stoves from tiny pocket ones to larger basecamp styles, but the bottom is smooth. The 0.7L doesn't fit an MSR Whisperlite but pocket style fit well. Makes a nice bento box too (not leak proof).
Az
Unanswered Question
Will these pots nest inside of the others?
Specifically will the 1.1L fit into the 1.6l?
Or the .775L into the 1.1L?
Basically, will they fit into the next larger size, or do you need to skip a size for them to fit into the next one?
Oak Lea
I'm a flight attendant and need one to heat food on the coffee pot heater. Is the 475ml the correct size?
karen
Best Answer
Size: 475ml - 2.5"h x 4.5"W
johngchrist
Fantastic design
Familiarity:

I've put it through the wringer
I've owned a Stowaway for around 15 years. It's been on countless camping trips and day hikes. The locking lid is perfect for storing food or cookware within the pot. The handle can be folded over the pot with the lid off to create a loop handle which can then be used to suspend the pot over a fire if needed. The bottom of the pot is slightly raised in the center which creates a stable contact with stove tops.
Tom
Exactly what I needed
Familiarity:

I've used it once or twice and have initial impressions
I was looking for an single pot to replace my Alpine 2 set for quick overnight and weekend solo trips. This holds my Whisperlite International stove, gives me plenty of volume to cook solo meals (1.1 L).
ToddMAC
Simple, Light, Packable and Sturdy
Familiarity:

I've put it through the wringer
These are great pots. I was looking for something to use on an open flame so not to ruin my jetboil pot. This did the trick, held up for many weeks, easy to clean and stores well.
Powder Prince
Best pot
Familiarity:

I've used it several times
Having already owned a MST pot, I bought this one because I love them. It's really durable, easy to clean, big enough for cooking for 3-4 people (1,6L).

Felipe G.
Will the MSR Dragonfly fit in the 1.6 Alpine Stowaway pot?
Yes, the MSR Dragonfly will fit in the 1.6L pot, but you have to take it out of the bag. Fits snugly.
Scott E.
Best all around cook pot
Familiarity:

I've put it through the wringer
The 775 ml is perfect for one person and is in my pack on every trip. After three years of farily hard use their is minimal wear on the pot. I pretty much always use it with a backpacking stove and hardly ever use it to cook over an open fire. All in all a great cooking option, I will definatly buy another when mine kicks the dust.
CLIMB NAKED
A perfect choice for cooking noodles.
Lin Liyun
Not the lightest pot, but great!
Familiarity:

I've put it through the wringer
I have the 775mL version of this pot and have beat the crap out of it. I gladly sacrifice ultra-lightness for the fact that it's not aluminum and that you can beat the crap out of it. I love how everything latches down... I can fit my primus stove, spices, matches, tinder (dryer lint, seriously, I go steal it from the laundromat by the armload because it works so well) potholder and napkins in here no problem. I usually use it for solo camping or boiling water for a couple of people...anything more than that and I'd buy a bigger one. I'd buy it again and again, but I haven't had to because this one has lasted me three years! Four stars because when you try to pour water over it, unless you have the dexterity of a brain surgeon it's gonna make a bit of a mess.
BexOnHood
Will the 1.6 fit on a giga power stove?...
Will the 1.6 fit on a giga power stove? Also can I use the pot on a grate over a camp fire?
Brandon
Not sure on the giga power, but I've used mine over a grate on a campfire and if you're careful and keep it way on the edges it's okay (it got a little blackened on mine but wiped off pretty well). But I don't think I'd put it front and center over a grate. I usually use cast iron for that, if I'm car camping.
BexOnHood
Solid Pot
Familiarity:

I've used it once or twice and have initial impressions
Had a chance to use this for the first time over the weekend. I purchased the 1.1L, and it seems to be a great size for 1-2 people, might be a little small for anymore than that. Boils water great, balances well on my PocketRocket, which was a concern initially. Also, the PocketRocket and a canister of fuel fits inside perfectly, so its a good space saver. It is a tab heavy, being stainless steal, but I'd say its worth the weight with how well constructed it seems to be. All in all, solid, simple product.
Joe K.
Great Idea But Pours Terribly
Familiarity:

I've used it several times
Well built, stainless steel and not aluminum (never use aluminum to cook with), handy snap. I got the one quart. However, the inside rim on the top has a little dip that goes inside the pot, this prevents a steady flow of water out, especially when pour hot water into a small opening. The water doesn't pour straight out, it runs along the outside of the pot and misses the intended hole such as a coffee mug or Nalgene. Bad design on the rim. Burnt my hands a lot. I have been an avid backcountry and mountaineer cook for 20 years and never had this problem. Would not recommend it.
Patrick Fiore
Durable, Functional and Well Engineered
Familiarity:

I've put it through the wringer
I have been a fan/user of MSR for a number of years. Their products are bomb-proof and executed brilliantly. I lived in a MSR Twin Sister tent in NE Washington near the Canadian border for over a year and extensively used the MSR Alpine Stowaway. It performed admirably in conjunction with my Optimus Nova+ as well as over a campfire.
Bryan P.
what would be the best size for a solo...
what would be the best size for a solo trip that requires one night of snow melting?
Nick B
Hey Nick,



It really depends on what your needs are but I would probably go with one of the two larger pots. The great thing about pots is they really don't take up that much extra room in your pack because most anything that could be displaced by the size could just be packed inside it.
Wayne Christoffersen
great little pot
Familiarity:

I've put it through the wringer
I bought the 1.1L pot, works great for 1 or 2 people to boil water for meal. It is not big enough to house the whisperlite inside though.
Israel Garcia