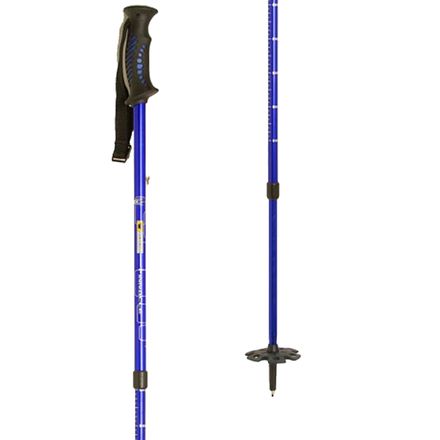 Colors

Detail Images
Strength and stability you can depend on.
Thanks to its practical, lightweight design that maximizes convenience and on-trail utility, the Mountainsmith Pinnacle Trekking Poles delivers stability over uneven terrain and helps lighten the load during long treks. Featuring a durable aluminum shaft, a telescoping design, and built-in shock absorption, the Pinnacle lets you match its length to the type of terrain you encounter.
Aluminum shafts blend weight savings with extra durability so the poles can stand up to life on the trail
Quick-locking telescope shaft sections let you match the pole's length to your height and make on-trail adjustments according to changes in terrain
Shock-absorption system saves your hands and wrists by taking soaking up energy with each pole plant
Carbide tips, removable baskets, ergonomic handle, removable rubber boots, and adjustable wrist straps round out the features
Good stuff!
Familiarity:

I've put it through the wringer
These are cheap. These are light. These are easy to use and most importantly these are super dependable. These are kind to your wrists and forearms with their gentle shock absorption. I've put about 70 miles beneath mine, a friend just bought them on a recommendation and was pleased, and im giving another friend a pair as a gift. If you are a beginner or moderate hiker these will definitely take care of you. PS I'm a 5'5 155 lbs female and I beat the hell out if these and they've got nothing but some scratches.
Samantha G.
18:03 Converting your Walking Pole to
Keith Reis
nice
Familiarity:

I've used it several times
good sticks, I do not think they last long, but they are good for your price. And if you're not a professional, you should buy them
JOSE L P.
you get what you pay for
Familiarity:

I've used it once or twice and have initial impressions
Used these one day as backcountry touring poles. The snow baskets are pretty small and poles feel relatively sturdy. However, a 140 pound person (me) managed to bend these on the first day. They still work great and would be perfect hiking/trekking poles but aren't quite up to the task of real abuse.
Isaac C.
Cheap and Easy
Familiarity:

I've used it once or twice and have initial impressions
Lightweight poles. For the price, you can't beat these!
Sarah Smalley
Quality Poles
Familiarity:

I've used it several times
These Mountain Smith trekking poles do the trick perfectly, and come at an even better price! I usually don't use a trekking pole unless I am backpacking with my heavy pack, so I figured why go all out with a super expensive one if i'm only going to use it a handful of times a year. Awesome and quality poles though, and they do come as a set of two. Lastly, i'm 6' 2" and the 54" adjustable length accommodates me well.
Caleb Lecker
Just what i was looking for
I was surprised by the cost-benefit ratio, very good trekking stick for so little money. The antishock system is a bit hard, peero is fine, I can live with that, I had some Black diamond and I think it is not much difference between both
JOSE L P.
was a gift
Familiarity:

I gave it as a gift but have feedback to share
these where a gift, the person likes them for what they do, but also they are not extreme so not used real hard just normal use.
Dan W.
Cheapest Pair Out There
Familiarity:

I've put it through the wringer
I traded in my maple walking stick for a pair of these Mountainsmith Pinnacle Trekking Poles in preparation for a trip to Mt. St. Helens. For the price, I was surprised at how well these worked.

The Pros: Cheap, sturdy, nice grip, and they come with baskets and tip protectors.

The Cons: Heavy, the baskets broke the first trip out and the locking mechanism is really hard to lock/unlock when the poles are wet or your hands are cold.

I've been able to work around the cons by buying nicer replacement baskets that are out there and by working on my grip so I can use these in all conditions. They've made the trip up Mt. St. Helens, Mt. Adams, Mt. Rainier and countless other day hikes. The tip protectors have been worn through, but the poles are still working well. If you feel silly spending money on things like trekking poles, these are for you. If you are a gear head, spend the extra money for some BD poles with the flippy locks.
Dylan R.
I used these poles on a 5 night backpacking trip to the Maroon Bells-Snowmass Wilderness. Lots of ups and downs. The poles worked well and I didn't have to adjust them during the trip which was fortunate because at the end when I tried to collapse the poles, the bottom pieces wouldn't loosen and now the middle section won't lock. Sent them back to Mountainsmith...hopefully replaced free of charge. My next set of poles will not be interior locking.
John Kyle
Bought these for my son for our 100-mile Philmont Scout Ranch trek. They served him well but the carbide tips have worn out and they're now round. I can't find OEM replacement tips anywhere. Do they even produce them for these low-cost poles, or am I stuck buying a completely new pair?
evillama
Please contact Mountainsmith customer service at 800-551-5889 for additional help.


Keith Reis
Would these poles be ok for snowshoeing?
Becky
Hey Becky,



The Mountainsmith Pinnacle Trekking Poles would work for snowshoeing. They have large baskets that could be used on snow and they are adjustable. You might want to consider something like the Tubbs 2-Part Snowshoe Trekking Poles (Item # TUB000J) which will be a bit lighter and more snowshoe specific. Feel free to contact me directly with any more questions about snowshoeing.



Kyle

Expert Gearhead

klivingston@backcountry.com

801-736-4337
Kyle Livingston
Great Poles for the Price
Familiarity:

I've used it several times
I have used a lot of trekking poles in my time on the mountain and these are just as good as any of the other ones I have used. When you purchase them you do get two of them in one order and the price is great. They do adjust for height very easily and they lock in place great. They do have a shock absorbing feature that is nice and does not compress too much like some others I have tried. If you are looking for a reasonably priced pair of poles for your next out door trip I would recommend them.
Shane Nelson
Sweet and to the Point
Familiarity:

I've used it once or twice and have initial impressions
These poles are nothing to write home about really, but they will do the job just fine! And for the price, they really can't be beat. I haven't used them on the trails yet, but I certainly plan on it soon. I have a bad knee from years of hard volleyball falls, so after recently getting into hiking and backpacking I knew I needed something to relieve myself on long treks. I think that these will do it - no fuss, no frills, no worries.
Kassie Rose
Are these 12 oz for the pair?
Terri B.
Keith Reis
Great beginner poles..
Familiarity:

I've used it several times
Bought 2 pairs of these for me and my wife before our trip to Yosemite. We didn't have the cash or desire to spend a ton of money on premium poles, especially since we would just be using them for day hikes. We had a a great time with them, and they provided great support, even when hiking over rocks/water in a creek. The aluminum construction is pretty sturdy, but is going to bend if you crimp it in a closing door or torque it between a couple of large rocks (um, I assume that info is just common sense?). As for the baskets, I've had no issues with them, either. They've remained snuggly fastened to the poles. I've also had no problem with the locking mechanisms, and have used the poles every day (for balance while walking) since I tore a ligament in my foot. If you want a decent pair of trekking poles at a great price, these will fit the bill nicely. If you want champagne on a beer budget, please get a clue and look elsewhere...and stop knocking a decent product.
Steven V.
Poor quality control
Familiarity:

I returned this product before using it
One of the two poles I received wouldn't lock. Pulling it apart revealed a defective locking mechanism that couldn't be fixed by hand. I didn't expect much for the price but these were decidedly sub-par. Will stick with BD flick-lock for the next set.
Jason S.
i love em.
Familiarity:

I've used it several times
I didn't realize they came as a pair. Even better! Seem to be pretty premium.
Rusty Olds
Great product for hikes of any difficult
Familiarity:

I've put it through the wringer
Great support. Love them after almost a year of usage.
Pavel N.
Nice support during long day hikes
Familiarity:

I've put it through the wringer
I wanted some hiking poles so as to give some extra support while going on long day hikes. I have hiked in Southern CA, Sierras and in Waimea Valley in Hawaii and these hiking poles were of great help. They have a comfortable grip and are well worth the price.
Aman Sohi