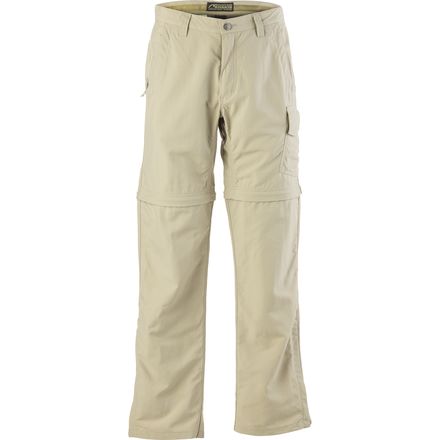 Colors

Detail Images
A technical pant for warm-weather versatility.
Whether you're hunting for cutthroats or backpacking the High Sierra, the Mountain Khakis Men's Snake River Convertible Pant is all you'll need for your lower half. Made from lightweight, quick-drying UPF 50 nylon, the Snake River Convertible features zip-off legs to easily convert to shorts when the high-noon sun beats down. Triple-stitched seams ensure multi-season durability. Mud flap cuffs keep down the spray, and a gusseted crotch provides unrestricted movement when you're hopping boulders or reeling in the big one.
Best Cargo Pants Ever
Familiarity:

I've used it several times

Fit:

True to size

Size Bought:

36x32
These are the best hiking pants I've ever owned - and I've owned a bunch. I primarily like the comfortable feel & fit, the gusseted crotch giving me the room to more freely move. But they are also simply a quality-made product, built to last. I just bought another pair, after using the 1st pair for a couple months.

Wish they made black.
William Stafford
Height:
5'10"
Weight:
185lbs
I absolutely friggin love these pants. If you want a rugged but yet breathable hiking/climbing pant this is the way to go. Plenty of pockets to get you in trouble while going through TSA. Great for hiking, climbing, range day etc.
Jimmy B.
Sizing
Familiarity:

I returned this product before using it

Fit:

Runs large

Size Bought:

34x32
I love my other pair of Granite Creek Convertible Pants; however, sizing is a crap shoot with MK. I figured out a few years ago, size up from my normal size when buying MK, so my last pair of GCCP's was a perfect fit and I wear them almost too much. This pair or run must have been test fitted on normal people this time, because the waist and length were both at least a size too big. Love their products, but disappointed with MK and figuring out their sizing methods....
Steven Swafford
Height:
5'10"
Weight:
175lbs
Ouch
Familiarity:

I've used it several times

Fit:

True to size
These pants have along and sharp against the skin button. Though the waist fits true, the button digs into my stomach, extremely uncomfortable. Forget wearing a pack with hip belt.
Andrew L.
sizing
Familiarity:

I returned this product before using it
Love the MK products. These pants, however were too baggie, especially at the bottom. I am about 6' 159 lb. I got 32x32. waist was perfect(would normally take a 31 but went up) but the legs were a bit long. I think the zipper in the lower leg for the boots is a bit heavy and accentuated the "bagginess". I am returning them for this reason, but the do appear to be of good quality.
Mark M.
about sizes for an Aussie. We size now...
about sizes for an Aussie.

We size now in cm, but I still remember inches, I am 5-7" tall stocky build and now at age 55 have a waist 40" will they have a pair to fit me and with a reg/short leg?????, Tis hard to buy when overseas. Thanks in advance

Chris
Chris
Best Answer
Chris,



The 40x32 size should fit you well enough. The legs might be a bit long for you, but it's hard to say without knowing what your inseam is.
Terran Siladi
Not bad
Familiarity:

I've used it several times

Fit:

Runs small
These pants are alright. The waist seems small. I would prefer the cargo pocket to be on the right leg not the left. I also wish the legs were longer and too many pockets... All personal preferace, I know... They are well built but I prefer the Prana Zion pants.
Jeffery K.
Thigh Size I'm about 5'10", I have a...
Thigh Size

I'm about 5'10", I have a pretty thick thigh and calf. Would these pants be so snug at the top that they ride up or even worse, would I constantly be pulling them down when I sit up because of them being to snug on my thigh? Thnx
Eric L.
Corinthian,

Customer's I have talked to who have worn the Mountain Khakis Granite Creek Convertible Pant say that it fits a little snug in the waist, but that there are no big issues in the thigh and calf area. It sounds like the snug waist can be resolved by going to the next even size up (i.e. 32 should wear 34).
Mike D Hilverda
I think I'll stock up on these pants.
Familiarity:

I've put it through the wringer

Fit:

True to size
WHOA BROA. These pants are great. The Mountain Khakis construction was everything I was hoping for PLUS a gusseted crotch: my favorite kind of crotch. I bought these specifically for my trip to Panama from the end of October to May of next year (I'm in Panama now). I had them shipped just three days before leaving and got them the day before flying out, not really knowing what to expect. I was prepared to send them back if the inseam on the shorts was too long. I find that SO MANY convertible pants zip off under my knee. Why on earth would I want shorts that cover my knees? My knees are one of my favorite things about myself. Anyway, so I got these in the mail and tried them on and instantly knew I was hooked. They are an odd combination of dreamily breezy and tough as nails. When convertiblized, the shorts are above my knees and my favorite pair of shorts ever. When still in pants form, the length is perfect for a pair of boots or even trainers and chacos. I do wear them with Chacos, but they get under my heel slightly, which is perfect for me because I know they aren't dragging the ground. Basically, the proportions are perfect. I am 5'11 and worried that the 30w 32l might be too short, but, in fact, they couldn't be more perfect. They fit just perfectly around my boots and really keep mud out of my shoes. I have hiked miles of jungle in these pants, during rain and sun, and know they will always be my trusty hiking pants. Or lounging pants or whatever kind of pants I might need. I regret even bringing a pair of jeans (which are too nice to just get rid of) because I'm always wearing my MK pants. They dry in a heartbeat, are cool and breezy, and feel like armor against brush or whatever else I'm clambering around in. So, yeah. I like these pants. I would also recommend them to everyone looking to buy some pants. If you aren't looking to buy pants, start looking and look no further! ....
Noah P.
great pants!
Familiarity:

I gave it as a gift but have feedback to share

Fit:

True to size
Bought these for my dad. He wears these so often I almost need to get him a second pair. Not only are they lightweight but also incredibly breathable. We recently went abroad and on his 15 hour plane ride he said these were still super comfortable :) The fit was on the long side for him (since he is a little short) but overall the fit of the pant was great.
ashley b
Nice pants
Familiarity:

I've put it through the wringer

Fit:

True to size
These are awesome convertible pants. They are nice because they put a small piece of fabric under the zipper. This means that the annoying zipper won't rub on your thigh. They are very good quality, I've put them through hell and they seem to be holding up just fine. I really can't think of anything negative to say about these pants.
Mike Cushing
I'm looking for a good convertible pant...
I'm looking for a good convertible pant for backpacking. Al of the convertible pants I've owned or tried on are very baggy. and I'd really like a slim fit pant. Anyone know how baggy these are or care to recommend a different pair? Thanks!
Justin B.
Lexi Dowdall
Best Answer
I'm a twig and these are perfect.
Noah P.
looking to buy these for a mount whitney...
looking to buy these for a mount whitney trip. how well do these pack down?


Brock
Best Answer
Being 100% nylon these are going to pack down pretty small, I don't have a pack size for you unfortunately but you shouldn't be disappointed in how little space these will take up in your pack. Now do keep in mind that these are a brushed nylon so they might be a little thicker than what you are used to but that added comfort is well worth it and shouldn't make much of a difference in its packability.
Wayne Christoffersen
Hey Brock,



Wayne is right. Nylon compresses down to nothing, so if packability is a concern, then throw these along with some other clothing in a compression sack and cinch it down for great space savings.
Alexander S
Thanks. I saw these are "thicker" than your standard pant but just wanted to make sure. I plan on wearing these the entire trip, so I guess Packability is irrelevant anyway.



THANKS AGAIN GURUS!
Brock
Follow up - These pants were great for the whole trek! super comfortable and dried fast when we were caught in a downpour!
Brock
Lightyears better than my Marmot's
Familiarity:

I've put it through the wringer
I bought these after seeing a friend with them on a previous trip. After comparing them to my Marmot convertible's (Cruz), these are just exceptionally better on all accounts.



- Thicker than your average backpacking pants/shorts



- Better pockets (including a flat spot in each front pocket for the clip on your EDC blade)



- Zippers feel solid and tough



- Waist doesn't closet with a snap, but with a rivet button like jeans



- I wore them for 4 days of hiking in the 80's during the day, and low 30's at night. Never got smelly or looked dirty.



- They just "feel" expensive. What I mean by that is they feel, look and function like they are very high end.



- Waist size feels a bit small, but is accurate for me. I wear a 30x3 in blue jeans, and the same in these.



- Zippers inside the leg are covered over. 0 abrasion over multiple miles.



Looks like I'm officially a Mountain Khaki convert...
kzoodan
I can't tell from the pics if the leg zip...
I can't tell from the pics if the leg zip is covered where it is against your leg
Julie
yes it is, better late than never
Sean Rossetter
They are very nice, high quality, and very comfy. Like others said, they run a bit small. I wear a 34 normally, and they fit loose. I ordered a 36 for these pants and they fit awesome!
Dan R.
Freaking amazing pant, just can't say enough good things about this company. Pants that are built to last!!!


Disclaimer: These pants are pretty thick, much thicker than the normal convertible pants I've owned before, I like that, good to have variety, and see where your $ is going, but still, a necessary heads up!

Fit seems true to size, slight on the smaller side, but it could just be my fat a...
Phil Santala
These pants seem to be very well made. I like the material, the construction, and the quality of stitches.

However, I could not really test it further, because the sizing is too tight!
I am usually 32x32, sometimes even 31x32. Snakes River 32x32 were to tight for me, and not only waist; the whole pants.
The next available is 34x32.

These might be good, if pricey, pants. If they fit you.

There's a some review of them:
http://www.backpackgeartest.org/reviews/Clothing/Pants%20and%20Shorts/Mountain%20Khakis%20Snake%20River%20Pant/Test%20Report%20by%20Brian%20Hartman/
http://www.nationaloutdoors.net/gearreview/mountain-khakis-mens-snake-river-convertible-pant-review
Carvedblock