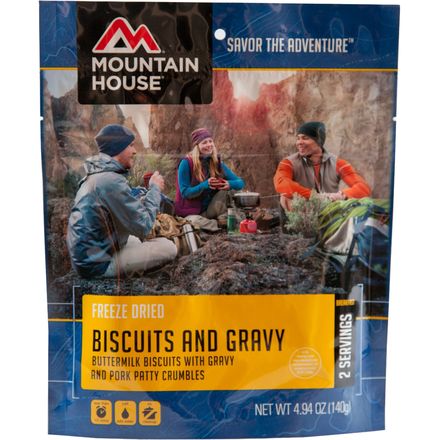 Colors
Fluffy biscuits smothered in sausage gravy.
Fill up each morning on your backpacking trip with the Mountain House Biscuits and Gravy. It's easy to cook, delicious to eat, and simple to clean up afterwards to get you on the trail quickly and re-energized.
Takes (almost) like the real thing
Familiarity:

I've put it through the wringer
Great flavor. Good texture. Great way to mix up the morning routine on a long backpacking trip.
Jason Wanlass
It's biscuits and gravy that's been dehydrated but when you're starving on the trail, anything is good.
Kyle
Quick, easy, and filling. Will definitely buy more for future trips.
mousekewitz
Probably the best one
Familiarity:

I've used it several times
This is way better then the eggs in my option. spicy sausage and good gravy.
Matt Myers
I don't normally Breakfast but when I do
Familiarity:

I've used it several times
I get the mountain house B&G's!! these things are amazing. You may be skeptical at first but let me put them at ease. You'll want to cook them as instructed. if you don't then you'll get a mouth full of well S***. SO they are precarious to cook but they are SO worth it!
Jane Hwang
Gravy YES! Biscuits meh...
Familiarity:

I've put it through the wringer
Savory gravy on the trail? Yes, please. Today, tomorrow, and the next. I would eat this for 9 days straight and be happy about it. It's filling, sits well, and tastes delicious. Did I mention the gravy?
As one can imagine, freeze dried biscuits aren't quite like grandmas. They get the job done as a vehicle for the gravy. But that's about all you can expect.
Make sure you stir the boiling water in well before sealing the bag. More so than usual. Those biscuits are thirsty and need the hydration.
Emily Brown
Delicious
Familiarity:

I've used it several times
Easy to make, lightweight to carry in your pack, and scrumptious to chow down any time of day. Just needed a little tabasco!
William Adjemian
Good breakfast
Familiarity:

I've used it once or twice and have initial impressions
Picked these up for my brother for a recent backpacking trip and he said they tasted pretty awesome and would buy again.
Eric Olofson
I brought a few of these on a long trip just in case we found ourselves in a situation where we needed to quickly make a meal. Luckily for me, we did find ourselves in one of those situations! These are easy to make and extra delicious!
Spencer Marr
Kinda what I was expecting.
Familiarity:

I've used it several times
What can I say it is a freeze dried bag of Biscuits. It wasn't the worst meal I've ever had, it sat in my stomach just fine and tasted nice enough.
Andrew Brook
jordan emery
Best Mountain House Breakfast
Familiarity:

I've put it through the wringer
I love Mountain House meals and this one did not disappoint! I recently decided to take one of these with me on a 24 relay race in case the usual race snacks weren't cutting. Boy was I glad I did! It hit the spot after those hill climbs. These were actually better than the biscuits and gravy I had at a restaurant the following morning. I also like them better than the MH Skillet meals, tho they are good too.
Rory
Damn!
Familiarity:

I've used it several times
better than I expected! Make sure to mix it up real good before you eat it (scrape the bottom). Probably my fav freeze dried breakfast I have ever had. I'm going to buy a few more.

**Update***
loved this so much the first time, I bought 3 more for my recent trip in Escalante. This was hands down my favorite meal (for breakfast, lunch, or dinner). Something to keep in mind when buying meals is the "serving size". We found that the meals containing two servings were almost enough for one person. The single serving size meals left us very hungry. I'm sure if you were using these car camping they would be enough. But if you are hiking long distance/burning a ton of calories, you'll want to eat 3 about "servings".
Tyson Purkey
Not a bad way to wake up!
Familiarity:

I've used it several times
When your sleeping on the ground, biscuit and gravy taste amazing. I would purchase again and wouldn't mind having it back to back days on a outing.
Maya S.