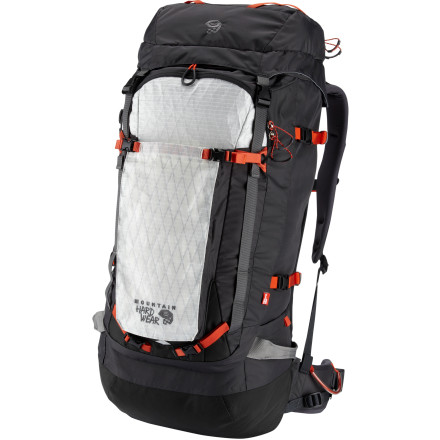 Colors

Detail Images
One pack that functions like three.
Each section of your ascent brings different challenges. You could bring a different pack to handle each one, or you can just bring the lightweight Mountain Hardwear South Col 70 Outdry Backpack, which is basically three packs in one. It's got plenty of space for a two-day winter mountaineering trip, and strips down to the basics to help on the summit push—you can pop off the top pocket, slide out the padded Hardwave suspension framesheet and aluminum stay, reduce the padded waist belt to a simple nylon webbing belt, and go fast 'n' light all the way to the top.
When you're carrying a heavier load, leave the suspension in and walk cross-country in comfort. Along with rugged nylon fabrics, the South Col is kitted out with an OutDry waterproof membrane, which will keep all the gear in the main pocket dry as a bone, and features a front zip pocket that's easily accessible and maintains its volume, even if the bag is stuffed full. There are tons of lash points and straps for carrying skis, ice axes, and poles, an easy-access crampon stash pocket, and a top skirt that extends to give you an extra 300 cubic inches of space. Never bring two packs again.

Removable Alpine HardWave suspension, aluminum stay, padded waistbelt, and top pocket
Small/Medium fits torsos from 16-19 inches
Carries up to 60lbs
Top access
Durablie nylon fabrics with OutDry waterproof membrane
Front gear pocket and easy-access crampon pocket
Ski, ice axe, and pole carry
Compression straps
Carries everything you need and more
Familiarity:

I've used it once or twice and have initial impressions
Got this for multi day ski mountaineering trips. Carries crampons, ice tools, and skis - all on the outside. Still have 70 L worth of space for the rest of the gear.
David Crane
Versatile, tough as nails
Familiarity:

I've put it through the wringer
Love this pack. Wanted to wait until I had given it plenty of use before I wrote a review. In the 2 and a half years I have owned this pack it has served me very well. Bombproof- the outdry material used on this thing feels like it could stop a knife (or crampon points). The loops and gear pockets are very well thought out, especially for alpine use. Honestly there are so many different features on the exterior of this pack I feel like I figure out a better way to load it every time I use it.
I will say this: the one drawback as others have mentioned is the hip belt lacks padding. This is not an Osprey Aether summer pack. I have a Gregory Baltoro that is more comfortable to wear for long trips. However, I find this tool excels in winter/cold weather climbs where I am layered up with clothing so the hip belt does not bother me a bit. The fact that I can strip this down for a summit push makes it worth its weight in gold.
Again, this is a specific tool and fulfills its purpose beautifully. Take a baseball bat to the golf course and you'll be disappointed. If you are after an alpine pack that will give you peace of mind to keep your gear dry and secure, look no further.
Scott Cooper
Truly waterproof & lightweight
I love this backpack for longer excursions where I need to bring more gear. The support in the back takes so much of the pressure off and ultimately makes it feel lighter even when packed full. It also has enough room to fit my tent, sleeping pad/bag, camp stove, food, and clothes perfectly. The bag is also truly waterproof. It's kept my gear dry in complete downpours while hiking through the mountains. The waist belt was a little stiff for my hips because I'm thin and they are bony. So with a lot of weight I had to adjust the bag even higher on my back to avoid pinching my hips too much. Other than that, perfect bag with a huge capacity.
Lindsay Hays
Its dirty as hell and Ill keep using it.
Familiarity:

I've put it through the wringer
I have waited to review this after a couple of trips to give my proper opinion. The Outdry tech is fantastic. I leave this on the glacier and pools of water develop underneath. Nothing is wet on the inside. The bag is spacious and could pack down pretty small. The crampon bag on the outside is clutch and will never buy another backpack without it. The outer most layer on the back is tough as hell. I was bushwhacking through some tough terrain and not a single tear. I do have a couple of gripes so I couldnt give it the full 5. The hip belt loops are helpful. I did some technical alpine rock in this and it carried well. Not ideal and definitely not its function but, carried well.

It is a bit on the heavy side but, it can take a ton of weight.
There is no water bladder functionality (probably because it would ruin the outdry system of "waterproof").
The front pocket does not extend. So if you pack up the bag pretty hard, the front pocket is almost useless. I found this extremely frustrating.
Spencer J.
Any tips on fitting the pack to smaller framed individuals? I'm 5'6" male, 18" torso, got the S/M size. It seems that the hip belt always loosens with heavier loads, and I'm constantly re-tightening it. Don't know if this just the nature of the straps or if it is possible to adjust the pack in some way that does not cause the belt to loosen.
james C.
Hey there James!

Darn that is an annoying problem! Ideally I think an Osprey pack would be awesome for you since we could actually swap to a smaller hip belt for you! You can always try using a rubber band or a hair tie to double over the hip cinch to keep it and the webbing in place! If you want to talk about Osprey more, this mountain hardwear pack or something different you can call me at 801.204.4660 or send me an email to brhall@backcountry.com!

Available Monday-Friday 8am to 4pm Mountain Standard Time!
Brooklynn Hall
Great function, Very light
Familiarity:

I've used it once or twice and have initial impressions
I thought this pack hit its mark pretty well- going with the removable suspension for a lighter load, but still giving you enough structure to maintain a comfortable trip. I love the bomber OutDry waterproof membrane that MHW uses on their packs. It leaves zero feelings of insecurity when it comes to durability and waterproofing. I did think that the waist belt left something to be desired, as it was pretty skimpy for a 70L pack. However, overall I was able to carry a pretty large amount of gear for a trip in big cottonwood canyon. It was getting a little colder so it was nice to be able to pack and carry all of my layers and other luxuries comfortably for this excursion. I've only gotten to use it a bit, but I've really enjoyed it!
Steve Joyce
Love/ Hate
Familiarity:

I've used it several times
I have a love hate relationship with this pack. There are so many great features, but one big miss on this pack. I absolutely love the idea of being able to strip down the pack for the summit bid, the dedicated crampons pocket, the OutDry technology, and the hip belt gear loops. I think one big miss on the pack is the suspension system. It can be quite uncomfortable, as many have noted. I believe this is due to the strip down feature to go fast and light. I think for mountaineering this is a key area in a pack though and I am sure will be addressed in their next go around with these packs. I did give it 4 stars because of the versatility with the built in summit pack and if you're going for a quick/ light trip, it can be a great pack. If you are packing in on a bigger expedition, with a heavier pack, then there might be a better suspension system to accommodate.

Feel free to reach directly out to me with any questions about this pack or anything at all for your next big expedition!

Travis Bivins
Disappointing
Familiarity:

I've put it through the wringer
Had it just over a month and used on the very notable The Enchantments, Mt Baker, and Mt Rainier climbs (among other WA overnights). Love the pack layout,features and suspension. However, literally every buckle has broken and 1 of the 2 strings for sealing the pack have ripped. Totally unacceptable. Backcountry won't allow me to return it despite these defects. Last time I buy a pack from Backcountry.com when REI will allow me to return it.
Richard B.
Disappointing Suspension
Familiarity:

I've put it through the wringer
I used this pack for two seasons, logging hundreds miles of backpacking, and many long approaches and mountaineering trips. I was at first in love with this pack, but quickly realized that it's limited by the build quality and design of the suspension system.

->When it was brand new:
This pack is quite light, waterproof, and has great attachment points. For the first few trips I took it on I could carry 40-45lb loads with no problem.

-> As it aged:
Over time, the padding on the hip belts and the shoulder straps began to deteriorate. The foam padding, which is meant to make the hip belt and shoulder pads bearable, eventually slid out from under the nylon hip belt. After more and more trips with this backpack, the padding became so worn down and misaligned that my hips and shoulders would become scabbed with higher amounts of weight.

-> Design issues:
One thing to note is that this pack has almost no lumber padding. At first I didn't mind this but I soon realized that it puts more weight on your hips, further complicating the problem mentioned above. I've also had two of the lightweight plastic clips break under tension, and one of the zippers has failed.

All this to say, If you're looking for a pack to use occasionally for lightweight loads, this pack may be a great fit. If you're looking for a pack to last a long time and to use for longer trips or weights over 40lbs, I'd stay away from this.
Daniel B.
My Favorite Pack from Mountain Hardwear. What started their Outdry Franchise and one of if not the best mountain packs out there....
Pat
favorite pack
Familiarity:

I've put it through the wringer
I love the many unique features of this pack. The tough material on the outside of the pack is awesome. I'm hard on my gear and this has extended the life of my pack tremendously. I use it to go to and from the crag, I use for weekend backpacking trips with the extension from the 45L to the 70L to fit my stove, food, layers, tent, etc.
Matt Penny
Not sure, pretty cool, I guess
Familiarity:

I've used it several times
So, I've used this for some training hikes and a couple of overnight trips for about a year and now planning on using it for Mt. Rainier. Not sure what the deal is with this pack but the hip belt rides really low with any appreciable amount of weight in it. It's barely tolerable with approx 40lbs but anything over that is uncomfortable. I originally got the M/L and had to exchange for the S/M. It may be the design of this pack but it seems odd that it wouldn't carry more weight comfortably and that it would sag so low, right over where a climbing harness would be. Every time I have used this pack with 30+lbs, it has been to warm to wear any type of insulation layer, which might help, but I just don't see why it feels like a 10 year old hanging off my back when it is built for mountaineering. Removing the frame sheet and top lid and swapping out the hip belts for a lighter summit pack is a pretty cool design which makes me give it 4 stars, but I'm not sure why it doesn't carry a heavier load better. After all, mountaineering packs get heavy! Maybe I'll have to rethink my packing configuration (which makes no sense). Anyone else have this issue? Solutions and/or suggestions welcome. Oh, and B-T-Dub's, I got this direct from Mountain Hardwear and is in no way Backcountry's fault.
Tom Cox
How in god's name do you remove the padded hip belt? I've tried just forcing it off the metal frame inside and felt like I was about to tear the bag in half. Any ideas? Or am I just dumb?
Ian R.
I had to remove the aluminum frame by undoing the velcro fasteners around the aluminum rods. Then it was easy to move it, and slip off the hip belt.
james C.
Unanswered Question
I've been looking at this pack as well as the women's ozonic 58 outdry pack and have seen great reviews on this one but am wondering about the fit for a woman vs a man on this pack. I have a small frame and am concerned this pack may not fit well compared to the other I was looking at. Advice?
nechelle
Backpacking and climbing!
Familiarity:

I've put it through the wringer
I have had this pack for about a year and have put it to the test. I have used this pack for more of a climbing pack to carry all of my ropes, cams, harness, shoes, water, etc, and still had quite a bit of room for more. The durability of this pack is incredible. I have accidentally rolled it off the base of Castleton Tower and the back had no tears or frays in the material. I have even had this pack in a complete downpour and the not a thing inside was wet; even in the brain. The hip strap with single buckle is a neat feature as well. Easy to tighten and loosen and the hip cushions are extremely comfortable. The only complaint I have about this pack is that it sags on to my belt and causes them to sag.
Joel Durden
I just purchased the south col 70L and there's this standalone extra strap with buckle that was in the top removable pocket. Been tryingto figure out the use of it. Is it for the top pocket to transform into a daypack? If yes, how would u strap it and what's the purpose of this part here?
Donovan norris
Hey Donovan,

So thats a replacement waist belt. Lots of alpine packs have this feature so you can strip the pack of extra weight and features for summit pushes. Also a bulky waist belt often will not fit over a climbing harness.

Enjoy!
Reid Pitman
The weight of a piece of foam padding is negligible in my opinion (but I'm old and tough:) Considering the lower comfort and that you have to carry it to begin with, I consider it a gimmick unless you start with it , or re: the harness issue Pitman notes.



That strap you touch in the photo is another matter, the larger belt seems to have two, but those are cinches.
Chris K
Can this bag carry "Snowboard"?
I know it can carry "ski".
KS Han
Best Answer
KS,



This pack can't carry a solid board vertically or horizontally. But if you have a splitboard and have it in split mode, you can carry it A-frame style like a pair of skis.



Shoot me an email anytime you have questions!



Jared D.

Expert Gearhead

801.736.4336

jdowns@backcountry.com
Jared Downs
Of course it can. It looks like it has more than sufficient points where you could attach a couple solid straps, bingo you're in.



You don't need, "... they say that's what this is for," if you can, "do it yourself." I'd bet anyone I can make a snowboard hang on this.
Chris K
Good to summit Baker and Rainier!
Familiarity:

I've used it several times
I used this backpack to submit Mt Baker and Mt Rainier and it worked pretty well. I like the option to go full size for the approach to base camp, then reduced size for summit day. I was a bit concerned by the lack of hydration pocket, but I used the back pocket and it worked well (as long as your hydration bladder as the appropriate tube length). The durable nylon fabric looks good and you don't worry to put your bag in dirt mud, rock or ice.

I left the bag outside the tent each night and no worry to get stuff wet inside. So far I like very much this bag and do recommend it.
Nicolas S.
Well-designed, purpose-built pack
Familiarity:

I've used it several times
I looked long and hard before buying this pack- my needs were pretty specific, but surprisingly hard to satisfy. I was looking for a pack that had capacity of 65-80 L to be filled up with winter camping/ski mountaineering gear and get me to a destination, then be stripped down to be used as a summit/day pack. It had to have a good ski carry system, ice axe carry, and crampons holder. Finally, it had to be reasonably lightweight (4 labs MAX!!) and in general be able to withstand the abuses of ski mountaineering (trees, rocks, snow, etc.)

After spending several weeks looking unsuccessfully, I was preparing myself to go the way of expensive small bag makers like CiloGear, etc... then I came across this bag, which seemed to have been almost tailor-made for my purposes. I've now used it on two, two-day ski mountaineering hut and/or camping trips and it works exactly as advertised! The OutDry system really does work as advertised, as my most recent trip involved lots of rain and a small tent with no vestibule. And the dyneema on the crampons holder is bomber (and can also fit in a pair of ski crampons, nice!) and a nice touch.

Two minor gripes (but not worthy of removing a star):
A) crampon holder doesn't close on top. This is basically just an academic gripe, since I've never had an issue where my crampons would fall out (would require the pack to be fully upside down and shaking, in which case you have bigger problems).

B) There are no other tie loops for attaching a pad, etch to the outside of the pack if you're carrying skis. This has not yet been a problem for me as I've fit everything inside the pack (my preferred way to carry), but if you're up against the limit of what 70L can carry, then it could be a problem for you. Overall, right now, I prefer the clean look without gratuitous features.

So in summary, great pack for multi-day ski mountaineering trips, one of the only ones I could find built for this purpose, and at a great price too!
Alex N.
I read that the pack does not have any hydration options built in. Is there anywhere I can keep a bottle or bladder in the pack easily accessible without taking the pack off?
Cajer G.
I used the outside pocket in the back and it worked pretty well, you just need to check the length of your tube
Nicolas S.