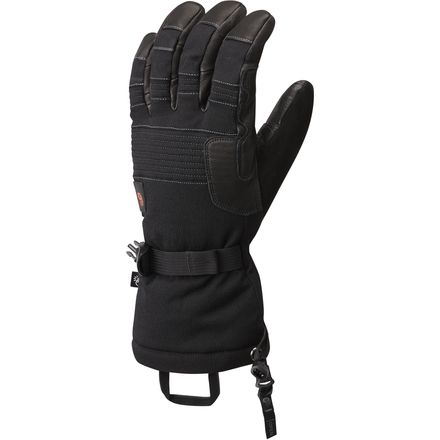 Colors

Detail Images
Why suffer when you could just not?
As one of the most cold-vulnerable parts of your body, your hands deserve quality protection. The Mountain Hardwear Cyclone Glove was thoughtfully designed with your needs in mind. It's got your basic necessities, like warmth, water protection, and grip where you need it, but it's also got that little extra something that you didn't know you were missing. It's got webbing loops for easy pull-on and a two-step cinching system so the cuff can sit comfortable over or under your sleeve cuffs. The best part, though, is the soft patch of fabric at the back of the thumb so your runny nose doesn't chafe. That, my friends, is innovation.
A glove built with practical cold-weather use in mind
Breatheable membrane seals out wetness
Flexible fabric lets you squeeze your ski poles like your life depends on it
Soft patch make wiping your nose less regrettable
Stimulus technology on thumb, index and middle fingers for easy screen time
Great high altitude climbing glove
Familiarity:

I've used it several times
SUMMARY
Bought this glove for a climbing trip in the Cordillera Blanca. I've been using it on moderately technical routes - up to AI3, M4ish. Also, lots of routes with steep snow climbing, where you are doing a lot of plunging or punching ice axes. Worn them for ~30 hours up to 6160 m.
This glove has been amazing. I'm used to having to switch into belay mittens, but this glove has been warm enough to leave it on all day, even during cold belays and rappels at night. I literally haven't worn a different glove once on route.
5/5, will buy again.

PROS
-Quite warm - as mentioned, I haven't used mittens or another pair of gloves on any routes, including 2 above 6000m (only exception is liners on approaches).
-Comfortable to take fingers out of glove and ball fist, if cold. I've done this a couple times during long belays, very comfortably. It's helped me avoid any screaming barfies, which my partner has had a few times.
-Great dexterity for moderate technical challenges. I haven't gotten over gripped, I've been able to place cams, manipulate biners, fiddle a stuck tricam, prepare rappels, etc. in these gloves. Haven't dropped a piece of gear in many hours climbing, which has happened with thicker gloves
-Durable outside - stiching is solid and no real sign of wear yet. Used on some mixed climbing with quite sharp rocks.
-Nice Glove keepers for easy removal. A few times, some mixed climbing has worried me, and I've gone bare handed. I've had no worries of dropping the glove - keeper cords are solid, and its easy to take glove on and off.

CONS
-Would be too much insulation for climbing steep ice. Way thicker than my lead gloves. I have not found a glove to wear for WI/AI 4+ at 6000m. Embrace the barfies, I guess.
-My puffy sleeves doesn't fit around them. However, with good keeper cords, I've worked around it by putting my arms through as much as possible, then pulling glove through sleeve of puffy, then putting my hand back in glove. Doesn't work as well when taking off the puffy.

SIZE
-I bought online without trying them on, using the Mountain Hardwear measurement guide. Seems true to size.

MY BIAS
-Haven't had a lot of great gloves - used some OR ones, some lobster claws, some dachstein mittens, but a lot of my glove systems have been haphazard.
-Pretty ideal fit - I have a tiny bit of extra space in the fingers, so not 100%, but definitely fits quite well.
-Haven't put through the wringer yet, so don't know 100% how they will hold up.
Taylor L.