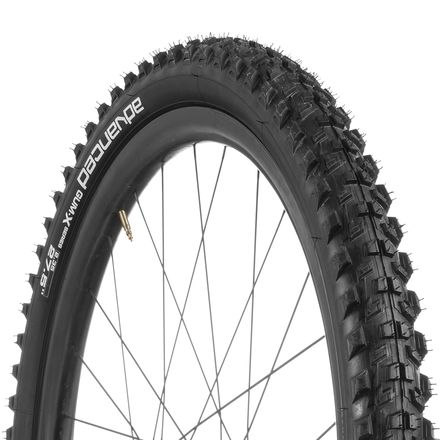 Colors
Inspiring enduro enthusiasts.
When you're hungry for a hefty helping of trails with variable conditions, seating up a tire with dirt-locking grip is an essential item on the menu. With the Michelin Wild Grip'r 2 Advanced Tubeless Tire you'll find just that, with rugged lugs to keep you connected through loose berms, slick mud, and dusty desert classics, plus puncture protection for some peace of mind when you dive down backcountry trails laced with debris.
These tubeless tires start off with siped, block lugs that hold tight to the trail, and pull mud and water away from the tread to keep your grip secure. The blocks alternate between being bridged together and standing solo to give you hold in different conditions. Along the outer edge, beefy square lugs sit tall and bold to dig into loose dirt to boost confidence when rolling into steep, banked berms.
A tacky tire for train and enduro endeavors
Aggressive lugs lock into all trail conditions
Stay secure on dusty berms with beefy side lugs
Alternating bridged and solo knobs reduce flex
Tacky compound boosts longevity and grip
Withstand sharp trail debris with 33-TPI casing