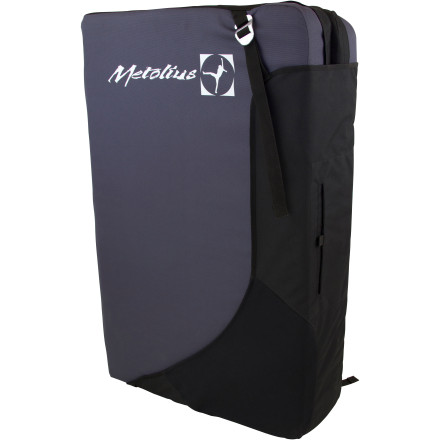 Colors

Detail Images
Your go-to pad for a quick bouldering sesh.
An hour is all you need to hit up the local boulder field with the Metolius Session Crash Pad underneath you. Metolius made this lightweight crash pad out of a burly nylon fabric that takes the beating when you bushwhack through trees and over rocky terrain, and the carpeted cross-clipper logo cleans your shoes so you don't muck up the problem for others. Inside the pad, you get an ideal combination of 1-inch closed-cell top, 2.5-inch open-cell middle, and another half an inch of closed-cell foam that absorbs the impact of your fall so you can get up and try it again without any pain. The innovative angled hinge eliminates any dead spots on the pad so you don't end up rolling your ankle and ruining the climbing season. Backpack straps and a hip belt help with toting, and a flap closure lets you store all your gear in the pad and get trekking to and from boulders without a hassle.
Nylon outer fabrics and carpeted cross-clipper logo
4-inch sandwich foam padding
Backpack straps, hip belt, carry handle
Angled hinge
Flap-closure system
Awesome pad for the price
Familiarity:

I've used it several times
This is a great pad for the money. The quality is apparent as soon as you take it out of the box. Solid, durable, and a well-thought design. I've been using this pad every day for the last few weeks and haven't been able to find any weaknesses. The closure system leaves the perfect amount of space for shoes, chalk bag, and a small pack. Solid straps make it easy to carry on the longer approach. Good quality, good price, good pad.
Doran M.
Lightweight, great features
Familiarity:

I've used it once or twice and have initial impressions
Got this pad at great price, after researching pads for weeks and swooning over the Organic products. Pulled the trigger at $112 and I have no regrets. Super lightweight, holds a daypack, shoes, and chalk bag comfortably and securely when folded. Durable material, easy to use buckle, integrated scratch pad for cleaning off shoes before a send. After a four-hour Central Park test run, no complaints!
Aaron V.
Great lightweight pad
Familiarity:

I gave it as a gift but have feedback to share
Bought this for a friend and the feedback has been positive. As others have mentioned, a good balance of weight, size and price.
John Judd
Rad Pad
Familiarity:

I gave it as a gift but have feedback to share
Good first pad for beginner/intermediate climbers, and a great supplementary pad if you've got something bigger as well. Good thickness at 4 inches with fairly firm foam is a good balance of protection without being overly heavy or cumbersome to move around. Good secure closure and solid carry system keeps the pad higher up so it doesn't get in your way while scrambling or hiking steep approaches. Solid pad overall and pretty unbeatable for the price.
Drew R
Great Pad!
Familiarity:

I've used it several times
It is the perfect beginner pad for a good price. It is a good size and then you can buy more small ones or trade up for a bigger one if needed. I love that this pad especially compared to bigger ones, this one fits in my trunk perfectly and it is really light and easy to carry. The only down side it is hard to fold back up because the closure system is tight, other then that you can use that closure system and put some items in there such as your climbing shoes and chalk bag!
Talina Carlon
Desiree
Great beginner pad!
Familiarity:

I've used it several times
Being new to bouldering and wanting to get my own setup, I was definitely trying to save money. Got this pad on sale for about $120. I've taken it out about 10 times and its held up pretty well! For a beginner I think its a great pad. Foam is great and makes bailing less of a worry. Not sure why there are lots of complaints on the closure system, I think its pretty easy to close and nice having a secure bottom for storage. I've only stored a couple pairs of shoes and a chalk bucket in it, plenty more storage left with those things in there. It also feels great on your back when hiking to your destinations. All in all a great pad for a beginner like me and it doesn't break the bank, compared to other pads.
Pavel Berezyuk
Decent Pad
Familiarity:

I've used it several times
Being fairly new to bouldering outside I found this pad to be nice. The closure flap system was a bit frustrating at first, but the more I used the pad, the less of a problem it was. Overall its a good beginner pad.
Meghan Cline
Great pad for the price
Familiarity:

I've used it several times
For the price, I'm loving it. It's a bit small compared to other pads I've seen, but that was actually a quality I was looking for - fits easier in the car.

I've seen some complaints about the flap closure system, I've had no trouble with it, definitely appreciate having the strap go around the bottom. I've only put a 28L pack into it, but that fit just fine - was pretty balanced still, and held solid. My buddy had a different pad but a great idea - use a pack rain cover around the top during rain, keeps everything inside dry.
Daniel C.
Pretty Good Pad
Familiarity:

I've used it several times
For someone who is not a stellar or a very serious climber, this pad is great. I can stuff everything in the sling at the bottom just fine, and the foam is comfortable yet firm (trust me, I fall quite a bit). Only complaint is that there isn't an additional handle/loop at the top of the backpack straps. Not a big deal, but it'd be nice to have.
heyEulora
I ordered the orange and black pad. While the box says 'orange/grey' the pad has no orange. Black background, grey diamond and red climber. Was looking forward to the orange pad but I guess this will work. The pad itself seems well made but the closure flap is very tight and difficult to get on and off.
Gina P.
Decent Value
Familiarity:

I've used it once or twice and have initial impressions
This pad is pretty decent. It's in the midrange for size, thickness, cost, and landing. The wrap method of closure does have it benefits although some may not like it. I have found it to be easy to use. I would have liked to see a strap to hold up the back portion so you can use the pad as a camp couch. There may be another brand that provides this on their pads. I have a hard time giving anything 5 starts (Alien Cams would warrant 5 stars) so this is a pretty good rating considering the source.
Donald S.
Great for the price!
Familiarity:

I've used it several times
I love this pad; the foam is great considering the price and it's perfect for anyone looking for a high quality pad who doesn't want to empty the pocket for an Organic. My only complaint is the closure system, which can be pretty tight and hard to work with especially after a session when my hands already hurt, but no grievances otherwise!
Angelina N.
Good Pad, Frustrating Closure System
Familiarity:

I've used it several times
The Session is a good pad with a ton of features for the price. Carry handle, easy access external pocket, carpet, pretty good backpack carry system, and it is easy to access gear without opening the whole thing. In short, lots of good features, and a solid pad to fall on.

It has one major frustration, however: the new "flap-panel" closure system. Once it is closed, you could carry a bunch of loose change in the thing and it would not fall out, but getting it closed is a real pain compared to other pads.

The previous design had two separate flaps that you joined at the lower corner with velcro. The new design replaces this with a single flap that has an elastic section that goes over the corner - there is now only one bit of velcro (on the bottom, at the hinge) and this keeps it closed tight. However, this means you have to pull the elastic corner up and over both halves of the pad. This takes some maneuvering in ideal conditions, but throw in mud or more gear than just shoes and a chalk bag, and it gets needlessly tricky for the benefits.

The flap covers most, but not all, of the backpack straps when the pad is open, so those will still get dirty. When the flap is folded under the pad this way, it also reduces pad traction against the ground, especially on non-level surfaces. I simply have stopped folding it under as a result.

Also if you are the sort who cares about these things, they have changed the logo on the carpet to red.
Matt
Home wall they're great too!
We use these outside and for the home wall. Not too bad backcountry folks, get yourself a couple!




Jonathan
These are great pads for the price...
Familiarity:

I've put it through the wringer
I'm not sure if anyone else has seen the prices on crash pads from other companies, but they're not cheap!



This provides a soft fall and they are relatively sturdy.



We've used ours in Bishop, Moab, Joe's Valley, Lake Tahoe, Yosemite, Lost Rocks and now the East coast for the summer and they seem to be holding up nicely. I won't lie, they do get softer over time, but ALL crash pads do after heavy usage. That's the nature of the beast.



That being said, I think these mid size pads do the trick, but if you're high balling make sure to grab at least a couple.



I've had some close calls and a broken ankle early in the summer sounds terrible.



Be safe. Trust falls. Great crash pads over all!



(Pic is Bishop, CA, warming up on "Birthday Left")
Jonathan