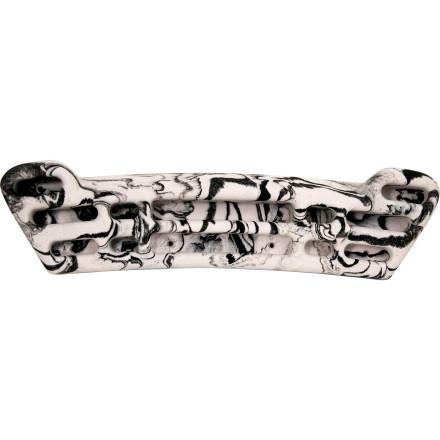 Colors
You can do without that free gym bag.
The multiple holds and natural arc of the Metolius Project Board brings the gym to your bedroom so you can train year-round. Before the canyon warms up, you'll train hard every day on the fine-textured Project, so when it does, you'll top out your route before your friends can say 'climb on.' It is compact (24.5 x 6in) so it'll fit in your tiny apartment without disturbing the feng shui. The Project comes in assorted colors, so although we're not sure what color you'll get, we do know you'll develop tendons like steel cable. In addition to all the mounting hardware, the Project comes with instructions and a training guide to get you off the ground in no time.
If it's a climb worth projecting, you're going to need this board
Vast assortment of jugs, slopers, crimps, and pockets
Fine grain texture is skin-friendly
Includes training guide, instructions, and mounting hardware
Great little board
Familiarity:

I've used it several times
Easy to install and plenty of holds for a novice like myself. I can already see some improvements after only having this a few weeks. Great little board.
Peter Tew
Awesome board, but a little awkward
Familiarity:

I've put it through the wringer
This Metolius board had been awesome so far! Plenty of holds, awesome feel and quality, and good look. The only gripe I have with this board is the screw-hole mounts are not sized to meet standard studs, and thus makes the board a little awkward to mount directly to a wall. This is easily remedied by a wooden board on the back and a little knowhow.
Trevor Livingston
Rock Solid Hangboard
Familiarity:

I've put it through the wringer
Plenty of holds and a great price
Austin M.
Think strong
Familiarity:

I've put it through the wringer
Easy set up, solid feel, good construction. Can't ask for much more out of a project board.
Sunn Kim
Great Beginner/Low Head Space Hangboard
Familiarity:

I've put it through the wringer
Here's an updated review now that I've had it for a long time.

Of the training boards on the market, Metolius is making some of the best training boards out there. I picked up this training board because it is not as tall as the Contact or the Simulator 3D so it's perfect for going above a door that does not have enough space for a taller training board.

Jugs:
Jugs for days! You can hang on these forever and bust out pull ups for as long as you'd like. Plus I like these for offset hangs when working up to harder holds.

Slopers:
These are a tad harder than the middle sloper and smaller width wise.

Middle Sloper:
This is the easiest sloper on the board. But it's one big sloper so if you're aiming to get two hands on it for an easy sloper hang, that can be a bit tough to maintain because of how close your hands are.

Crimps:
The number of crimps across the board is great. There are a couple edges/crimps that are deep 4-fingers, a mid depth 4 -finger and a shallow 3-finger. Great for progressing as you get stronger from training. If you find the shallower holds harder to use, try doing an offset hang to easy up the difficulty.

Inner Rails:
I love the inner rails for offset pull ups or offset hangs and working on general finger strength!

Ease of Installing:
This training board is super easy to install. Eight screws total. I'd recommend attaching this to a backer board with the backer board secured properly into studs.

Chalk:
I've covered mine in chalk to try and remove the greasy feeling that the board has when you get it. Sometimes they use to much mold release agent when making them and they have a greasy feel.
Jared Downs
Unanswered Question
How deep are the holds? I don't think it was listed anywhere in the dimensions.
Jason Cho
Stuck on v5? this will help
Familiarity:

I've put it through the wringer
Every climber hits this plateau around V5 it just happens to EVERY climber. If you want to get better you have to facilitate your climbing with training. Professional climbers are professionals because they train for it. YOU HAVE TO DO THE SAME. This hang board was one of the first that I got and it helped me condition my fingers arms and shoulders so that I could push past my plateau. It's pretty reasonably priced and below is a link to a youtube vid on how to mount it without drilling holes in your walls :D

https://www.youtube.com/watch?v=mFUxZF0evVM
Jane Hwang
Unanswered Question
Hello, so I was wondering how and where is it best to attach this?
sotia zenios
I love this thing. I hung it by my door and hang on it every time I walk by. With constant practicing even a little a day your hands strengthen rapidly. Climbing becomes easier before you can realize what is happening.
Jonathan G.
Cheapest board, best quality
First of all, this board delivers all the necessary holds to become serious about hangboard training with the exception of any pinch grips.
When I first got this board, I could barely stay on the slopers and could maybe get my feet off the ground on the small 3F pockets and edge. Now, just after THREE sessions I can hang for 5 seconds easily on the smallest edge, and crank out pullups on both the slopers. I was blown away. But this could be with any board I assume.
I rent an apt and I set up the board so there aren't any holes in the wall or marks. I also made my own wooden jugs, slopers and campus rung on the sides.
adk climber
I got this for my girlfriend and she uses it every single day. It's a great alternative if you can't get out and climb. Definitely great to practice on!
Jake Whalen
Excellent Product
Familiarity:

I've used it several times
We're new to the climbing world (just started about 4 months ago) and have a very long way to go before we can hang with the big boys at our climbing gym... I purchased this product in November and after a few weeks of hanging, we have noticed definite improvement in our grip strength! The quality is excellent (it's way heavier than you think), great texture, and feels very secure when installed properly to the studs (we used additional deck screws for added security). Since we're newbies, we've only been able to use the bigger/deeper holds but I have no doubt that this board will help us continue our progress.
Melinda T.
Brings the whole house together
Familiarity:

I've put it through the wringer
Me and all my roommates share this hang board and we love it. It is a great first hang board . The only flaw is that the middle holds are useless. Other than that I love this board.
Jack Hall
The Real Deal
Familiarity:

I've used it several times
This board is great, has excellent grip and a lot of holds. Don't think it is necessary to get a big board unless you are doing some serious training.
Louis P
Great hang board for training
Familiarity:

I've put it through the wringer
This board is just what I needed for mid-week, non climbing gym workouts. I use it 2x per week (along with 2-3 gym workouts per week). The only reason I didn't give it 5stars is because the training guide that comes with it is horrible. Luckily there are plenty of youtube videos available to give you ideas.
Steve S.
Simply perfect.
Familiarity:

I've put it through the wringer
I didn't want anything fancy or over the top, but wanted something that had the durability and reliability needed for a long lasting hang board. This has fit the bill perfectly. It's been used regularly, and has held up, keeping my finger strength up when I'm not able to make it to the crag or gym. No complaints!
TenfoldDean
this thing is great! it's perfect size and has a good amount of holds to work with. my only problem was screwing in the wood board behind it, I had a hard time finding the studs in the wall but I found them eventually! great product double thumbs up!!
Kambry Pehrson
Grip Training!
Familiarity:

I've used it several times
This board is great for grip variety. Super helpful for climbing and other sports where grip is important.
jes105990943-0
Almost Perfect
Familiarity:

I've put it through the wringer
I needed a hangboard that isn't too hard to start and small enough so my other fingers don't smash against the board will hanging. This board is perfect for that. It has a wide range of holds from 2 finger to 4 and sloppers as well. They have deep enough pockets for beginners and smaller ones for more of a challenge. I would recommend only one thing and that is that they should also install a hold for pinches at this size so fingers don't get smashed again. Then it would be perfect. Other then that I love using it and use it anytime I have a chance.
Aaron T.