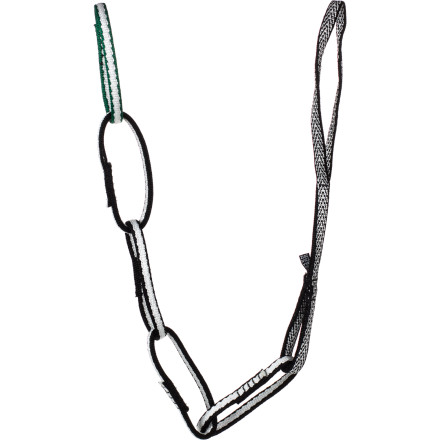 Colors
Rip-and-clip action.
After gaining the chains and pumping out, the last thing you feel like doing is fiddling around with excessive slings, daisies, or quickdraws. The Metolius Personal Anchor System streamlines your anchor-setting process for increased convenience and safety.
Dyneema webbing resists water absorption to avoid taking on excess weight
Strength rated to 22 kN so you can rest assured knowing the PAS can handle more than a little hanging action
Use beyond body weight applications makes the PAS safer than a traditional daisy chain
Stows compactly to maintain pack space
Carabiner not included
Does what it needs to
Familiarity:

I've put it through the wringer
i love the new style upgrade from the older ones.
Dustin dwayne Easterling
easy as pie to use and feels real sturdy. didn't flinch at all on my first time anchoring in after leading a route!
Zachary
Super Secure but Slightly Bulky
The PAS 22 offers convenience and security when locking into an anchor. The only downside compared to the alpine PAS is that its bulkier and can get in the way during the ascent, especially with harder sport climbs.
Nicholas Fontaine
A must have!
Familiarity:

I've put it through the wringer
So easy to use. Also setting up the correct length on it at the chains if they are not even is easy to do. This is a must have for anyone climbing outdoors.
cole addison
Check out this video describing the differences between the PAS systems that Metolius offers.
Wesley Eads
a must-have
Familiarity:

I've put it through the wringer
I don't know why it took me so long to pull the trigger on one of these. After years of using slings or 6mm cord as a PAS, I finally purchased this one and I will never go back. I love how easy it is to adjust the length and equalize your anchor when you get to a belay. This is a must-have for any multi-pitch climbs, but it's also really handy for clipping in real quick to clean single pitch sport routes. It's pretty much always on my harness unless I'm at the gym, and I don't feel like it adds too much bulk. I'd rather carry a slightly bigger, more adjustable PAS with me all day than have to fumble with the length of slings or cord every time I set up a belay.
Zina Bougri
Amazing
Familiarity:

I've used it several times
Adjusts quickly. very versatile. love this pa.
George M.
If you don't own one already, buy it now
Familiarity:

I've put it through the wringer
If you plan on climbing at all outside, do yourself a favor and just pick one of these up now! You will use it just as much as your shoes in your climbing career. Girth hitch it on your harness and have it be a staple that is part of your system. You will thank yourself later. The ease of use with multiple loops is very nice for equalizing yourself to your anchor.
William Bowen
Great Construction from Metolius
Highly adjustable and has solid construction on each loop to be certain it won't fail.
Benjamin August
When it comes to your PAS, it doesn't get much better than this. You can adjust the length, and easily clip in twice to anchors for redundancy. It's exactly the peace of mind that you need at the top of a multi-pitch so you can sit back and enjoy the view!
Logan Hastings
Easy Extension
Familiarity:

I've put it through the wringer
This is a great PAS for those who chose to use an extended rappel. From bolted anchors the transition from cleaning to rappelling is seamless. This PAS takes a lot of the guess work and possible mistakes that regular daisy chains can cause. For natural anchors this may be a bit unnecessary and you may want to opt out for a sling. This piece really shines in bolted anchor environments when you are close to the anchors. If you are looking for a little length check out the Ultimate Daisy. Remember if you leave these on your harness to regularly check both your hard points on your harness and your slings for their integrity and climb safe out there!
Wesley Eads
PAS, especially the static kind have a very specific breadth of use and once I figured it out, this thing excels. On muti-pitch routes, I like clipping in direct when I get to the anchor point and then adjusting the length with a second 'biner on another loop. It also makes organizing a rack easy if you use different loops for different pieces.

Where this really shines compared to other PAS systems (non looped) is when you top out and are setting up your rappel. I have a big beard and I like my rappels well away from my face, I can be clipped to the anchor and set up my rappel and unclip in one go, super clean and quick. Those minutes futzing with a rappel setup really add up.
Amir Najam
Great addition to my rack!
Familiarity:

I've put it through the wringer
Moving from slings to the PAS, I think I am in love!
Sean Mines
Essential gear
Familiarity:

I've used it several times
This piece of gear is a life saver and it is always on my harness in any case I need it. The piece going through your harness is a good length for a girth hitch and all the PAS extension pieces. I use a few carabiners and hook them to two of them to the chains. It is actually longer then I thought but such a good anchor system.
Ty K
Safe and Simple PAS
Familiarity:

I've used it several times
The contrasting colors and each loop rated to 22kn makes it simple to use and safe. The versatility of this thing makes it my go-to personal anchor system for multi-pitch and long rappels.
Max Pauer
>slings
Familiarity:

I've used it several times
I know these get a lot of hate from those who prefer slings, but the quick adjusting length, strength ratings, and quality are too good to overlook.
John Martin
Great PAS
Familiarity:

I've put it through the wringer
This is awesome. Using a daisy chain over a typical sling is so easy for adjusting the length you need. It does tend to be a little short for me sometimes though so that could be a pain. I ordered the ultimate daisy to correct that problem. Overall a great daisy chain
Rain Keating
Essential
Familiarity:

I've put it through the wringer
This is my favorite anchor system that I've owned. I think it's a good length, and I'm a fan of its versatility.
Kevin R
Life Saver
Familiarity:

I've put it through the wringer
Don't do do any mulit pitch climbs without this piece of gear. As far as Anchor systems go you can't go wrong. The many loops provide plenty of options for different lengths. would highly recommend
Nick Watson