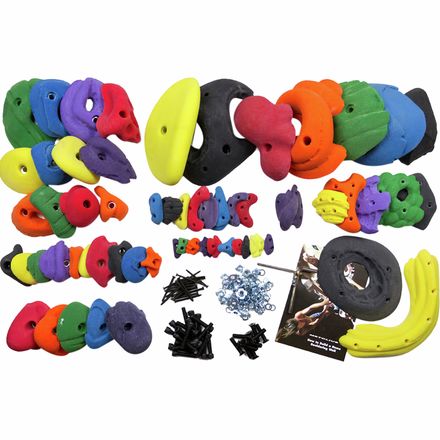 Colors
Variety.
With packages ranging from 30 to 60 holds, the Metolius Mega Pack Hold Sets have all you need to fill out your home climbing wall. Foot jibs, crimpers, slopers, massive jugs, screw-ons, bolt-ons—these sets dish out serious variety to keep you stoked on training. Whether you just started your wall or it's already taken over your entire garage, you'll get what you need form the Metolius Mega Hold Sets.
Massive pack of climbing holds for training on home walls
Random assortment of feet, hands, modulars, mini- and macro-jugs
Bolts, t-nuts, self-drilling screws, wrench, and instructions
The 30-hold set does not include the Metolius Multi-Wrench
Great Set
Familiarity:

I've put it through the wringer
We have used Metolius holds for years in our home climbing gyms. The variety of holds in this set are perfect to start out with, adding others along the way. Solid materials and always a fun time!
Z-Family
What are the size of the screws in the thirty pack?
Seth A.
The bolts are 3/8 inch in diameter. The length of the bolts varies to accommodate the variety of holds. However, the bolts are long enough to go through each hold then another ¾ inches beyond that to screw into plywood. Hope this helps!
Luke
Great for a home wall!
Familiarity:

I gave it as a gift but have feedback to share
Got these for my dad to start on the bouldering wall he built in their basement. Great quality holds with enough variety to get him started. He will be buying a couple more sets in the near future.
Tyler Hull
Fantastic starter set
Familiarity:

I've used it several times
I made my 2 year old a small climbing wall for her birthday. We had (almost) two full pieces of plywood, but had to cut off about 8 inches from the top so had a total of 54 bolted holds in a 8x8 pattern. Between the bolted holds and screw ons in this pack the wall filled up pretty nicely (knowing that we wanted it a little extra dense as it was made for a 3 foot tall toddler), and could make it much more dense if we wanted to add on some of the additional footholds, but not really worth it quite yet. As other reviewers have noted, all the large holds come individually packed and in flawless condition, no chips or other issues. Great set.
Jacob H.
Even better on steep walls
Familiarity:

I've put it through the wringer
I've been climbing on this pack for over a year. Mixing them in with my other holds and volumes makes for excellent variety. I have a 40* 8x12' wall and some of these holds can offer a good amount of tech and difficulty when setting problems. The texture is good and fairly consistent but comparing them to my element holds the metolius do not offer as much grip or feel .
CrAwLeR
Good starter set for a home wall
I picked one of these kits up to get the garage wall going. I would definitely recommend picking up a few other sets of your favorite holds as well.
Andrew Meehan
Great Starter Set
Familiarity:

I've put it through the wringer
This set has variety of unique shaped holds that work well for vertical walls. The holds' texture/feel is great! However, there are few hand holds that work well for an overhang.

No regrets for my first holds, but I'll need to purchase more.


cory F.
Good starter kit
Familiarity:

I've used it several times
I built a small wall for my kids for Christmas and the 40 piece set was more than enough to fill a 4'x8' space. I'm using just the bolt on holds for now and it covers enough of the wall to be fun for my 6 and 7 year old.

Maybe its been a while since I counted up to 40 but I was surprised how much comes in this kit. There's even a little booklet with instructions for building your wall. The set comes packaged well enough that none of the holds were chipped or broken.
Andy M.
I ordered the set of 50 because I am working on a rock wall in my back room. Every hold is so cool and they came carefully packaged so nothing was damaged or chipped. I got the set discounted on cyber Monday so it was a really great deal! Totally recommend these sets to anybody!
Scott O.
Solid!
Familiarity:

I've used it several times
Got this pack for the hubs for Father's Day to expand his project possibilities on our home wall. We LOVE it! Opening it was like Christmas morning! A super well rounded set with lots of great, medium sized holds, a few awesome large ones, and appropriate amount of foot chips (not like a lot of sets where half the holds you get are tiny!). We honestly kept being surprised as our daughter pulled more and more good sized holds out of the box (would the goodness never end?). A great start for a small wall or an awesome addition for a larger one! Highly recommend!
Jodi C.
Mostly great holds
Familiarity:

I've used it once or twice and have initial impressions
So I love the quality of the holds and they have great texture. My only complaint is that this pack came with 5 or 6 holds that were so ridiculously small that I can't really use them effectively on my overhanging backyard wall. Still great holds though and it's a good pack to get you going.
Paul Baker
Unanswered Question
I just bought the Metolius Mega Pack 60 pieces... seems that I does not come with t-nuts bag, is that right? if I buy the t-nuts, can they work together?
Joaquin B.
Great starter set
Familiarity:

I've put it through the wringer
Pretty good variety as long as you're building a vertical wall. I included a significant overhang and don't really have enough jugs for it. However, that's to be expected with a starter set - I'll just need to supplement with a couple jugs from somewhere. Plenty of hardware, lots of sizes, good color variety, great feeling holds. Definitely recommend!
Alex W
They work
Familiarity:

I've put it through the wringer
They definitely do what I expected
Ryan
Hi Looking to buy the 60 pack. I wanted to confirm that the tbolts are stainless steal. I am near the ocean and want to make sure they don't corrode. I also wanted to varify that the 60 pack with all the bolts is under 50 lbs (I know you said 35lbs before but I need confirmation so that a friend can bring them from the states to east africa. I also wanted to know how long till delivery if I order today. I need to confirm delivery by august 12 - is that even possible?

thanks
Jessica
Jessica, just got off the phone with Metolius and the hardware is not stainless.



Feel free to hit me up at bporreca@backcountry.com or 801-736-6398.
Bill Porreca
One of the best values
Familiarity:

I've used it once or twice and have initial impressions
I just received the 60 hold set in the mail. Everything was great except one of the macro/roof jugs had a chip broken off near the bolt hole, likely from some point in the box's travels from factory to retailer to me. I emailed customer service at Metolius over the weekend, and on Monday morning I got an email that they'd be sending me a new hold- matching my broken one by my request.



Plus, they let me keep the broken hold, which may still be fine to climb on. They just needed pictures of the broken one for quality control and to match it. Metolius is an awesome company.



As for the use of this set, it's the foundation set of holds for my 12' by 8' 40 degree overhung home wall. The holds are plentiful and positive enough that just from this set I already have a few full-length routes on the wall. I'm supplementing this set with the Metolius 15 mini-jug set available from Backcountry, and I think this will provide enough positive holds that I can start getting in proper training sessions.
Multi-Sporter
Metolius Mega Pack Hold Sets
Familiarity:

I've used it several times
This set is awesome ! Totally solid professional set for a set-up of a multitude of routes . well worth the money for the quality especially for your safety (nobody likes holds breaking on them) which won't be a problem with this set from Metolius.
John J.
Great video showing all holds before they are mounted on the home bouldering/training wall.



Enjoy and take it from us, this is worth the slightly extra cost than other holds on the market. They come with customer service, warranties, and a name you can trust!!!



I've used other companies in the past and they really let me down when it came to crappy holds and even worse customer service.



Get the best-buy from Metolius/backcountry.com!!!



(The video isn't self produced. I found it on YouTube. At the end it recommends purchasing from Amazon and this I DO NOT RECOMMEND because it doesn't come with backcountry.com's lower rates and customer service. Do yourself a favor and order from backcountry.)
Jonathan