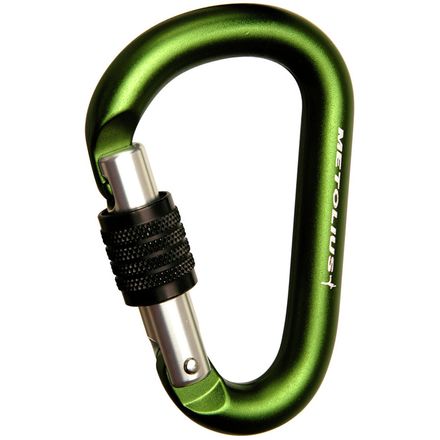 Colors
Built for belaying.
Metolius gave the Element Key Lock Belay Carabiner a pear shape with round bar stock to make belaying effortless and secure. The keylock gate keeps this Metolius carabiner from snagging on anything when you're clipping and unclipping gear. Metolius made this carabiner just large enough that you can use it with a Munter hitch, but not one bit bigger, so you don't have to carry around any extra aluminum.
Strength and Weight
Familiarity:

I've put it through the wringer
Thick biner that's great for belaying or multi-pitch lockers.
Suzy Williams
The new Attache'
Familiarity:

I've put it through the wringer
After Petzl got rid of the old bar stock Attache' I kept looking for an equivalent biner. This is the closest thing I've found to that classic biner design. A guides favorite pear shaped biner this thing is perfect for a rappel device or for use in a rescue kit. Like others have said it is slightly smaller than the old Attache', but it doesn't bother me at all. I use it on a spectrum of ropes from 8.6mm to 10.2mm in diameter with my BD ATC guide, and I love it.
Greg Gavin
Could be bigger..
Familiarity:

I've put it through the wringer
This is a great carabiner. A little small for a belay carabiner, but a good size for an all around locker.
Gavin Andrew
Reed
A Freakin Workhorse
Familiarity:

I've put it through the wringer
at first, I really wanted to like this thing. If you don't know about metolius, they're a phenomenal company. they climb. they experiment. they give us great products. These guys really are the stereotype of climbers-gone-equipment-manufacturers.

I used it as a belay and against my wishes, just wasn't pleased. it takes soooo many turns to unlock this thing, in the gym, its rather inconvenient. (Ive switched to the magneto for that and LOVE it.)

This led to me beating the absolute mess out of my set of three of these guys outdoors and really growing fond of them.

Ive been doing quite a bit of climbing photography lately which to do right means rigging all sorts of contraptions and zipping up and down lines, wearing carabiners all the while. my goal of just demolishing these fellas truly proved their worth in my opinion. though I wouldn't pick them for a belay, Id actually use them for just about every other task a little carabiner could do. absolutely bomber. just a workhorse.



Plus its a pear shape, prob the most versatile shape out there. just great for anything and everything



Note: these little buddies are quite small by comparison to a standard carabiner. in my experience, this is 80% of the time a plus. you can always get further away, but that half inch actually makes a substantial difference when you need to get close.
Daniel L.
the unwanted middle sibling
Familiarity:

I've put it through the wringer
This biner wishes it could be larger, smaller, lighter, and heavier at the same time. The durability and lock are good- maybe too good- but the size is off and for its limited uses the weight is too high for a non-belay locker. With skinny cords it works fine for belaying but who belays only on a 9.2 single? I've also gotten the screw gate stuck to the point of needing vice grips, which isn't so good. I obviously haven't used these in the alpine yet.
Ben C
Too Small
Familiarity:

I've used it several times
This locker is just too small while belaying or rappelling. Especially while rappelling, it is difficult to clip around the belay loop on any harness. I'd recommend a larger locker for those looking for a new belay locking biner.
Nick Shuey
Preferred belaying biner!
Familiarity:

I've put it through the wringer
This is my go to belaying biner. It's a little narrow for rappelling off double ropes. With it's smaller size, the biner is easier to manage and less likely to cross load. It's shape lends to super smooth rope handling and the lack of a hook prevents the rope or cord from binding up in the gate. The gate is a bit off center, which causes it to grind a bit when opening and closing. Also, the locking sleeve has to travel a bit further than my other locking biners. These things in mind, this is still my #1 locking biner for belaying. Would I use it for anything besides belaying? Likely not. A+ metolius!
Ben
It is really nice right now it is on my grigri. I will say that it is a little small I prefer the Petzl attache. However I do prefer the price of the metolius much more. The action on it is very nice also and all around good product.
Gregory Luber
Love these, my goto biener
Familiarity:

I've put it through the wringer
These little carabieners are great for a lot of things but like everything else in the world, not the right choice for everything that you may do. They have been with me through dirty sandstone canyons, climbing sport & Trad routes, high angle rescue work,... , they have never let me down. The round shape reduces friction when hauling & the small size is convenient.

These are always on my tether for quick easy attachment to an anchor. Red & green aids in quick ID'ing whatever it is attached to, wish they had more colors. No need to over-tighten the gate, so never an issue with unscrewing it. Theses are tough, small, light & strong.
Fred S.
The size is nice, but as others have mentioned:
- The screwgate squeaks and feels shoddy.
- The screwgate becomes hard to unscrew after the biner has been weighted.
- It requires about twice as many turns to screw/unscrew compared to other popular screwgate lockers.
- If there's snow around the screw anywhere, you're going to have quite a tough time escaping from the biner's clutches.
David Grant
This is a great carabiner for belaying. The fact that it has a round stock means it will add friction to the rope and wear less on the rope. Yes it does have a somewhat slow locking action. However if you put a few drops of gun oil between the locking sleeve and the gate all you have to do is flick it and it will spin open and shut on its own.
Jamey Stanley
Haven't had a chance to use the biner, but looks like a roomy belay device.
Eric B.
They work I guess would be the point of this. This is a locking carabiner and so far its worked well enough for making sure a biner doesn't open unexpectedly, but there is nothing special about this model other than it may be a little small for most uses of a locking biner. I tend to find myself locking off gear on anchors to create a fully closed system with these.
Dane H.
Is this a good rappel biner for a twin...
Is this a good rappel biner for a twin rope system?
Michael K.
It will work if you want something small. Otherwise consider the Petzl Attache or the Wild Country Synergy for something bigger.
Ryan Hamilton
I have the Petzl Attache and the DMM Big Boa, the Boa is my main belay biner.
Lyric Rosatti
Not going to lie... these things are a pain in the *** to screw open and closed. for the price you can get better.
Thomas Ogasawara