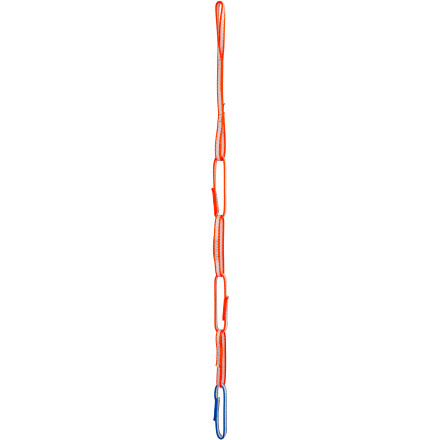 Colors
A safe, adjustable alternative to slings and quickdraws.
Metolius made its Alpine PAS (Personal Anchor System) 40% lighter than the original so alpine climbers don't have a reason to leave it behind. Six durable and lightweight Dyneema Monster slings make up the entire daisy chain so you can adjust how far you are from the anchors, and the slings are the slimmest slings out of the Metolius lineup to keep it compact and easy to pack. Unlike most daisy chains, this design eliminates the risk of pocket failure so you can stay safe at each belay stance. Just be sure to use it as a personal tether only because it isn't CE/UIAA certified and probably won't withstand a fall.
11mm Dyneema Monster sling webbing
12kN strength
Use as a personal tether only
Carabiners not included
Check out this video describing the differences between the PAS systems that Metolius offers.
Wesley Eads
Easy adjustability
Familiarity:

I've used it several times
I bought this because my sling i was using was rarely at a length i wanted while hanging on belays (even with a few, added knots). This allows a lot more options in terms of how far away I want to be from my anchor point.
John Martin
I trust this with my life regularly and have purchased one for my partner as well because they are so nice
Adam
love it
Familiarity:

I've put it through the wringer
I really wouldn't consider using anything else.
jason lorberbaum
Some info direct from Metolius
Familiarity:

I've used it several times
I like its light weight and low profile, but was slightly concerned with it's specs - 12-14kn is pretty low for Dyneema stuff - so I went directly to Metolius with some questions. Here's what I learned:

Q: What's this thing made out of - really?
A: 11mm, 60% Dyneema, 40% Nylon (called Monster webbing)

Q: Cool, but why are they rated to only 14kn if the 11mm Monster Slings ("Open Loop Slings") are rated to 22kn?

see more in comment below...
Zach Winters
An Overall Impressive PAS
Familiarity:

I've put it through the wringer
You can't beat this PAS when it comes to price and weight. In general, I wish this device had a few more loops for length, but it still gets the job done. I've used it from BCC to Maple, and I'm sure I'll be taking it on climbing trips for years to come.
Mackenzie Martin
Perfect
Familiarity:

I've put it through the wringer
I love this PAS mainly because it is not bulky and never seems to get in my way. . Its perfect when you and your partner are stuck on a uncomfortable anchor and you need to quickly and safely adjust where your sitting on the wall.



For me it has been perfect and I have no complaints! Its the Perfect Lightweight PAS!
Nick Watson
Versatile and space saving.
Familiarity:

I've put it through the wringer
I love this PAS for how little room it takes up on my tie-in points. The anal-retentive side of me wants a nylon PAS like the Sterling Chain Reactor for the load absorption benefit over Dyneema, but anchor falls typically aren't big to begin with and you can't argue with the difference in bulk.
Adam L
Limited uses, but worth it
Familiarity:

I gave it as a gift but have feedback to share
Although some climbers look down on PAS—because they have limited uses—I don't. I love this PAS because it's convenient and way easier for me to adjust than slings or some other form of protection.
Andrew Mark
Super light, super convenient
Familiarity:

I've used it several times
extremely light and compact, I notice it less than other slings I've used in the past.

Plus the variety of clip-points makes finding the right length fast and easy.

highly recomended
Troy S.
Reliable
Familiarity:

I've put it through the wringer
I have used this as my personal anchor device for 2 full years now and I am very satisfied and recommend it to my friends for a nice reliable and affordable daisy.



It is easy to use and very nice that you can pick which link you attach yourself with for varying locations of chains or anchors.



I will be buying a brand new one soon for the upcoming season and definitely recommend you do the same!
Grant Kates