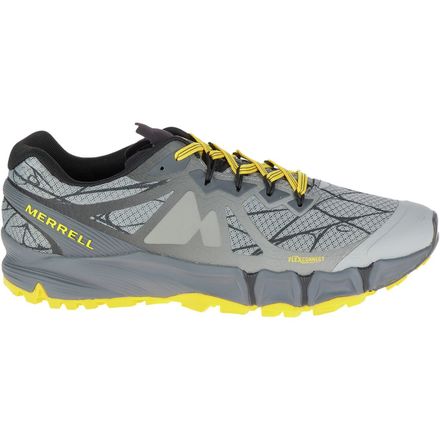 Taste The Terrain.
Varied terrain doesn't stand a chance when you don the Merrell Men's Agility Peak Flex Trail Running Shoe. As its name suggests, the Agility Peak provides unencumbered mobility, so you're able to high-step through root-riddled steeps and tricky descents alike.
The secret to the Agility Peak's success lay within its intuitive FlexConnect design, which consists of an interconnected, multi-piece system. Starting with its HyperLock heel cup, the Agility Peak keeps your foot secure and stable as you navigate uncharted terrain, while the dual-directional flex grooves in the midsole allow you to pivot or shift without having to think twice about your shoe restricting you. Meanwhile, the EVA in the midsole provides shock attenuation and run-long cushion, and the M Select Grip+ assures rip and grip in all sorts of conditions, ensuring that you're able to focus on your run rather than your shoes.
A flexible shoe for trail running in tricky terrain
Breathable mesh provides passive ventilation
Synthetic overlays double as structural support
M Select Fresh treatment keeps post-play funks at bay
M Select Omni-Fit assures a personalized, pressure-free fit
Midsole flexes, pivots, and attenuates shock with ease
Grippy outsole maintains traction in varied conditions
underrated shoe
Familiarity:

I gave it as a gift but have feedback to share
Got these shoes for a buddy and here is what he told me about the merrell agility. When I tried on these shoes I noticed they were very comfortable and the size was dead on. Color is great and very happy with these shoes.
Mark Walter
These made me switch brands
Familiarity:

I've put it through the wringer
Originally ran in Brooks Cascadia's (almost whole series, 8's through the 11's) and also ran in Altra Lone Peak's from 1.0's to the new 3.5's and that's where Altra lost me as a customer, with the LP 3.5.
Looking for a new trail shoe, I took a gamble on these Merrell Agility Flex's and have not looked back, they are that good. Very good in the protection category, a balance of cushion, feel and protection, no stone bruises on ball of foot, arch area, nor heel (Altra's are notorious for heel bruising-LP 3.0 & 3.5).
The Merrell's are Very flexible fore to aft and side to side, the shoe conforms to the terrain, it does not do the "Altra roll" and roll in or allow your ankle to roll out when running down hill on fast, technical, rocky trails here in North AZ and SW CO.
Very stable and solid heel support, minimal rise/drop at only 6mm. If you liked Altra's early efforts, you may find these Merrell's are even better.
One thing you have to actually see with these shoes, feature wise, is the anatomically engineered support these shoes have. Go to an actual store that has them and take out the insole and look at the ball of the foot inside the shoe, there are individual supports for your foot metatarsal bones. Look at the sole of the shoe and how it is engineered to behave as an extension of the bones in your feet. Once you try these on and run in them, you can easily feel how much thought Merrell put into this shoes design. No more sore feet on rock trails! Hard to believe but, this is probably the most under rated and highest performing trail running shoe out there currently.
I bought another pair once I put 250 miles on the first pair, they're still solid, they take about 20 miles to break in and loosen up, feel slightly stiff at first, have patience.
Hope Merrell does not ruin this shoe and change it.

Oh yeah, these are Dead On with regard to sizing, I'm a 10.5 and the 10.5 shoe has just enough room to allow for toe movement and foot swelling if you run more than 10-15 miles at a time. Very durable and grippy sole, surprisingly grippy in wet rock, or in and around creeks and rivers.
Highly recommend giving this a go if you're looking for legit Trail runner shoes.
Michael N.