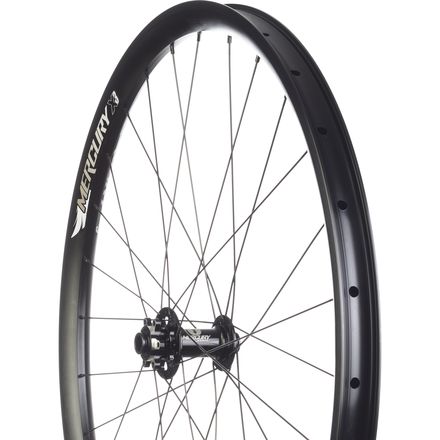 Colors

Detail Images
The plush touch.
The mountain bike cup has runneth over with tire size options in the past few years. The benefits to trail rubber's ever expanding waistline are obvious with the first rock garden, but some of the bigger tires making the rounds feel sloppy because narrow rims make them sit a bit too tall. Mercury Wheels' generously wide X3 Enduro 29in Wheelset provides a platform that's wide enough to let those sub-plus tires expand laterally.
Given Mercury's ambitious approach to dimensions, it's important to stress that when we write "wide," we mean capital-w Wide. The X3 Enduro's 29mm internal width is enough to almost swallow most models of so-called high volume rims. That width lets plump tires — which can feel unconnected and floppy on narrower rims — sit low and wide instead of tall and narrow, creating a plush platform that doesn't sacrifice trail touch or feel floppy during low-speed maneuvers. The wider rim also boosts stiffness, helping you power up climbs and stick lines while coming down the other side.
Having dabbled in all the new radness, we think tires around 2.5in are the future of all-mountain riding, and the X3 Enduro is well-suited to that width, so they're pretty much future-proof on the tire front. The hubs are also convertible to different axle standards, so the wheels will be able to rock whatever new dimensions the industry comes up with in the next few years.
Unanswered Question
Can these be run quick release in the rear? If so, are the adapters included? Thanks
srpinaz
Very solid upgrade
Familiarity:

I've used it several times
The first thing you notice is that these wheels are solid. Not in a heavy way, but made from good material and well built.

I got mine built up with tubeless tires very easily and was off.

After several rides i am just in love with how they feel. They are significantly wider than the stock WTB i19s i was riding and I could tell a difference immediately. I'm not the best rider out there, so having a sturdy wheel that i don't have to baby is great.

All in all a very solid upgrade for someone who wants a wider rim without going to carbon.
Donald F.
Unanswered Question
Are the hubs convertable and Do you sell the conversion end caps for 15mm thru axle front.
Warren G.
Interested in a beefy 29er wheel. Curious if any of the Backcountry.com shredders have any experience with this wheel, and can compare it to the Stan's Flow EX MK3 in terms of stiffness? Wheels would be used on an Evil The Following, so need to be bulletproof. Thanks!
Evan P.
Hey Evan,



I have a few friends with these rims and they are bulletproof. I would say you will see similar performance from these as you would the stans flow's as they are really stiff. Please reach out with anymore questions to my contact info below!
Justin Morgan