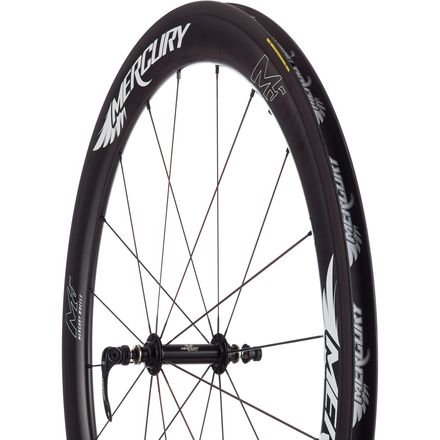 The god of stealing races.
It's appropriate that Mercury Wheels' name and logo reference a Roman god who is the patron of, among other things, travelers and thieves. Atop Mercury's M5 Clincher Wheelset, Eric Marcotte journeyed from his day job in Arizona to Chattanooga, Tennessee to nab the 2014 US national championship ahead of the pros of the European peloton. It's the ultimate race wheel for the working cyclist.
If you're in the market for deep dish carbon rims, then you've probably already made the assumption that the number in the M5's name denotes a depth of 55mm. The rim's width is left out, though, and rim width is a big deal these days. The M5 is a solid 23.5mm wide, which means you can run lower PSI for a more comfortable ride that corners with unparalleled confidence. Wider rims also have some counter-intuitive effects when compared to those standard 19mm rims: they actually decrease rolling resistance and increase aerodynamics.
The M5s' construction uses Mercury's Dual Carbon Layer Process, or DLP. DLP blends high- and mid-moduli carbon fibers to tease out the best balance between the lightweight and stiffness of the former and the fatigue-resistance and durability of the latter. DLP has also recently been updated with a newly engineered brake track material, improving stopping power over the previous, basalt-infused design. This increased confidence goes a long way toward addressing the poor braking that is one of the most common critiques of carbon wheels.
The aerodynamic benefits of a deep dish rim are further complemented by Mercury's Seamless Transition Technology (STT), which integrates the brake strip with the rest of the rim in order to eliminate any obstructions to wind flow and reduce drag-causing turbulence. The result of this construction is a wheel that balances the above qualities with considerations of weight for what Mercury claims is its "most popular wheel by far."
The M5s are finished off with Sapim's indefatigable CX-Ray spokes and Mercury's own hubs. The rear hub includes a generous six pawls for an engagement that's as close to immediate as anything we've seen on the market today, and the front hub has an extra-wide 72mm flange for reduced flex under hard efforts and confident stability at speed. Both hubs have a 15mm axle that reduces to accommodate a traditional quick release and two and four oversized bearings in the front and back, respectively.
The Mercury M5 Clincher Wheelset comes with a Shimano/SRAM 11-speed compatible freehub body and includes skewers, valve extenders, brake pads, and rim strips.
Steal a march on the competition with carbon race wheels
Blend of carbon moduli to balance stiffness and strength
Brake tracks incorporate basalt fibers for better stopping
Integrated brake track reduces drag-inducing transitional ridges
Wide rims straighten allow lower PSI for smoother, faster ride
CX Ray Spokes and wide flanges for stiffer overall system
Mercury Wheels proves you don't need to spend a fortune to race on carbon
Unanswered Question
I have Campagnolo Record 11 model 2017, could I use this wheels? Is there any hub that can I use for this wheels?
OscarAcuna
Unanswered Question
Would these work well for Tri s? Could I run 25 mm tires on these rims on a 2017 Cervelo P2?
Michael
Fantastic Wheelset!
Familiarity:

I've put it through the wringer
I absolutely love my Mercury's, I've put over 4,000 miles trouble free miles on them in the past year. Ride great in the flats, climb well, have excellent cornering and do great in the wind. They are a fantastic all around wheel set, I love them so much I order a pair for my wife's bike.

Greg L
Expectations surpassed!
Familiarity:

I've used it several times
Great wheels at a bargain price. I would compare this wheel set to be equal to my previous roval cl40'™s and Zipp 404'™s. The Mercury's setup perfect with conti gp4000 25'™s. I setup brake pads as mercury suggests and braking has been quiet and surprisingly powerful. The wheelset build quality is extremely nice. I wanted a quality aero set for riding my local routes with short punchy climbs and rolling hills, and these are plenty light to roll up and over my favorite routes.
Chris L.
Fast Wheels!
Familiarity:

I've put it through the wringer
I own a couple of sets of carbons wheels from other brands and wanted something new for my Trek. So I pulled the trigger on these Mercury M5's and couldn't be happier.

Rod Franklin
Unanswered Question
Does anyone know what the internal rim width is?
Joseph O.
Great wheelset!
Familiarity:

I've put it through the wringer
Best carbon wheelset I've ever had. I've had them for over one year and have never had issues. They roll super fast and are very lightweight, extremely great wheelset for the price. I recommended these wheels to anyone who wants the go fast. All of my race times improved dramatically. Also they're great looking.
Carlos R
bang for buck
Familiarity:

I've put it through the wringer
I've raced these in pro 1/2 events without any issues. I've been on Zipp, Vision, HED wheels. These are light enough and plenty stiff enough to handle constant accelerating in crits.
Johnny P.
Great Performance wheelset
Familiarity:

I've put it through the wringer
I purchased a set of the M5 wheels for my wife and myself. We ride in CA where the roads are not in the best shape and I love the feel of them. The wheels look great, are light weight, and made with excellent quality. These wheels come with excellent hubs with good engagement. Buy yourself a set, you will not regret it.
Aaron Fritz
Wow!!!
Familiarity:

I've put it through the wringer
I recently upgraded my BH Quartz to these M5's. These were my first set of carbon wheels. Relatively light, stiff and fast too! They roll extremely well and the hubs are great. No issues at all. Love the way they look, plus at great value.
Curtis S.
I am seriously considering purchasing these but I am not sure what the "black" set looks like. The product photos show the wheel decal color in white and a dark grey. Are there any other photos to show the exact coloring of the black wheel set in stock, or is black the dark grey pictured?? Thanks!
Kayla F.
NevaSummaLuva
What is the actual outer brake track width? The specs say "[external] 24mm" but the description states "The M5 is a solid 23.5mm wide", further the Mercury website says "The M5 is a solid 24mm wide". Also what is the inner diamteer?
Bobby Fischer
I actually posted this question on their website. Someone named "Karen" from Mercury replied almost right away with this:



"If you're looking at the current year model, the rim shape is toroidal shape. The current year (2017-current) width is 24 at brake track; 25.5 at the sidewall."
Joseph O.
Nice set of wheels
Familiarity:

I've put it through the wringer
I bought a pair of these wheels from CC for a good reliable training wheelset and for racing in Merckx Class TT's. I have already done one of these TT's (10.0 miles at an average speed of 25.7 mph) on the M5's and these wheels performed wonderfully and compare very favorable aerodynamically speaking to my Hed 6's that I used in many of these same TT's. The price was right so I gave them a shot after reading through plenty of reviews. As the owner of four pairs of Zipps, Zipp discs, Reynolds, Mavic's, and HED's I can say these are a very fine set of wheels and I haven't had any issues with them. They are pretty stiff and I don't get the dreaded front brake rub when I get my 180 lb body out of the saddle to sprint up to speed. This wasn't the case with my Reynolds as they rubbed at the slightest hint of a sprint. I might have to revise my thinking and say that I would even race criteriums as well with these wheels - they are that good. As for road races, I would choose a lighter wheel for that purpose but these wheels could be used for RR's too - especially if the RR doesn't have any really long climbs in it. The only issue I can say is that I'm not fond of the valve extensions (you know, the ones that fit over the existing inner tube presta valve and leak horribly when fitting the floor pump's jack to it). So I dumped them for the far better Zipp extensions with the presta valve installed at the end of the valve extender. Presto, and no leaks. This is but a minor inconvenience but I thought it should be stated anyways.
John M.
Are there any pictures available with the included grey decals?
Max H.
I'll email you pics of mine with no decals.
Kyle Br
Will these wheels work with 10 speed?
Jamal
yeah. You place one of the included spacers on the cassette body before the cassette goes on.
Woody
Big Bang for the Buck
Familiarity:

I've put it through the wringer
Great wheels! I have close to 2700 miles on them with no complaints at all. Mercury has provided the perfect mix of a solid ride with quick acceleration, excellent braking and tremendous durability. Great price and highly recommend them.

Darryl A.
Great Wheelset - Fantastic Value
Familiarity:

I've put it through the wringer
I purchased my Mercury wheels earlier this year. Very pleased and impressed with these wheels. They are great for hard acceleration/sprinting on flats or uphills. Plus they are very stable in corners. Very low maintenance and arrived true. Can't be any happier!
Dale S.
Hi, just to clarify, the included rim strip/tape is for running the wheels with tubes, not tubeless, correct? Thanks.
Blair O.
Best Answer
Hey Blair,

You are correct, These wheelset some set up to use tubes only. This wheelset is not laid up to use tubeless tires. If you have questions or concerns, reach out to me, 801-619-7482
Greg Celentano
Correct. The pair I bought has the high pressure rim strip and not the rim tape to make it tubeless.
Woody
Excellent wheelset!
Familiarity:

I've put it through the wringer
The M5s are a excellent set of wheels. They handle very well, aren't twitchey in crosswinds, and I really like the depth for flat races or crits. The pads grip well with no braking issues. Great price and highly recommend them.
Roland K.