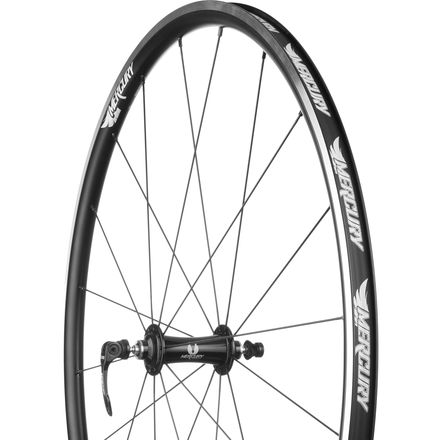 Colors

Detail Images
A solid training partner.
The days of clear delineations between delicate race wheels and bombproof training wheels are largely past, but it still feels wrong to head out the door into a looming weather forecast and risk putting our beautiful carbon wheels through the stress of high winds, rainstorms, and the road grime that often accompanies those conditions. Instead, leave the carbon at home for more fair weather endeavors and swap out your brake pads to roll under the clouds with calm peace of mind on a solid set of aluminum training wheels like the Mercury Wheels M1 Clincher Wheelset.
Made from lightweight yet durable alloy, this wheelset is the ideal training companion to give your race wheels a break from the elements and a more than capable option to have waiting patiently in the wheel pit or follow truck on race day. A 17mm rim width sits on the narrow side of ever-widening rim trends, which we feel makes this wheelset well suited for riders who prefer 23mm or 25mm road tires over something beefier.
A reliable aluminum road wheelset
Alloy rim construction balances strength, weight, and cost
Shallow rim depth remains stable in the wind
Aluminum braking surface provides stopping power in variable conditions
Internal rim width promotes ideal road tire shape
Laser etched logos won't peel away
2 Years and Running
Familiarity:

I've put it through the wringer
These have treated me well. I have other wheels that I race on but these spend more time on the bike than anything else. Lightweight, somewhat responsive and durable.
Have not needed a true but after two seasons the shop recommended they be re-tensioned, nothing out of the ordinary just a little TLC.
The wheels roll extremely well for not being an aero rim.
HIghly Recommend.
Erik
Nice wheelset at Great price.
Familiarity:

I've put it through the wringer
I picked these M1's up roughly a year ago and I'm very happy with them.. Very well made wheels with great rolling hubs.
Pete S
Very Happy With Them
Familiarity:

I've put it through the wringer
Running 25mm tires on them. Very well built wheels with over 2800 miles on them so far. No complaints at all.
Eric G
Awesome Wheelset At A Great Price
Familiarity:

I've put it through the wringer
I've had these M1's for 10 months and they have held up great. Well built with even tension; months of hard riding and everything is straight and true. Riding with 28mm tires makes for a perfect combo.
Goerge
Sweet Wheels
Familiarity:

I've put it through the wringer
I'm not an avid racer or anything but I think these wheels have held up quite well. Being on the heavier side of the road (195) I was worried about some of the reviews. I won't say they have never needed a true, but after a couple of sneak attacks from pot holes, what can you expect. After the shop trued them though they have remained as straight as an arrow.
Peter
So far so good!
Familiarity:

I've put it through the wringer
I've put on1300 miles so far with no issues at all. Definitely an upgrade from my original oe wheels. Wheels roll good and are still true.
Robert H
Broken Spokes Seem to be an issue
Familiarity:

I've used it several times
Don't but these. Much like David M's review, I had the same issue. Had a broken spoke after three months and less than 700 miles. I was told they don't normally warranty this. I'm only 160lbs, over 50,000 miles on a bike and have never had a broken spoke. Now I have one on a brand new wheel and I'm told they don't warranty this.

I would buy from a local shop and manufacturer who backs up what they sell. A three month old wheel should be backed and done quickly.

Bot one mark on my wheel, it looks brand new, don't use the excuse that it was misused. If you can't stand behind your product, don't make them.
Mike A.
Great Wheelset at Great Price
Familiarity:

I've put it through the wringer
I have used these wheels for over a year as my daily training wheels. I'm running Conti 25c tires on them. I've hit several pot holes and the stay true. Very durable and well made wheels. Also they look great. I would recommend these wheels to any serious roadie.
Jason Wilson
Terrible Wheels! Stay Away!!
Familiarity:

I've used it several times
Buying these wheels is the worst cycling experience of my life - getting hit by a car is at least an honest mistake and I got insurance money without a huge hassle.

2 broken spokes in less than 1000 miles and I am not a big guy, 150 lbs.

Manufacture rep bashed my mechanic, I have been with my mechanic a decade, he is not the problem, these wheels are the problem.

Stay away from Mercury!
David M.
Great wheels!
Familiarity:

I've used it several times
I have these M1's on my Trek for training wheels. Great quality and price! Highly recommend!
Ken N
Nice wheels!
Familiarity:

I've put it through the wringer
I use these as my main training wheels with Conti tires mounted on them. Have over 1800 miles with no issues. Great quality and price!
Robert M
Unanswered Question
are these the tubeless compatible version as currently listed on the Mercury website? And as Jen C. asked below, what is the true weight without or without skewers?
Anthony F.
Unanswered Question
Why are the weights listed different on different websites for this same exact wheelset? Here says 1690g, Nashbar 1500g and Mercury's own site says 1580g. Which one of these is a false weight? You think the manufacturer site would be the most accurate?? Are these on sale everywhere due to quality issues? 1500g might be ok to me if pretty good all around wheels, but closer to 1700g isn't.
Jen C
Nice!
Familiarity:

I've put it through the wringer
Placed them on my Giant for some training wheels and can't think of a better set to roll 1000's of miles. Riding with 25mm tires makes for a perfect combo, especially on rides longer than 50 miles.
Cyclist41-0
Avoid
Familiarity:

I've put it through the wringer
Everything at first glance looks great but three broken spokes in less than 1000 miles is a problem. There is a build quality issue that is inexcusable. As a 145-150lbs rider there is no reason for this kind of issue.
Michael M.