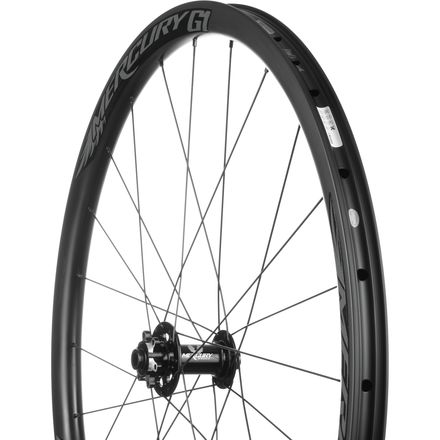 Colors
Designed for the long haul.
Bumpy gravel roads, light-duty singletrack, and tours across state lines call for a stout and supportive wheelset that's wide enough for running larger rubber, yet light and snappy when you're hammering up climbs and pedaling across miles of countryside. Designed for this very purpose, the Mercury G1 Carbon Disc Wheelset offers a superb balance of rolling efficiency, proven strength, and high-volume support for gravel exploration, bikepacking adventures, and long-distance tours.
Sitting at a whopping 30-millimeters across (external width), the G1 Carbon Disc Wheelset supports higher volume tires in the neighborhood of 35 to 40-millimeters across, give or take a few millimeters for your riding preferences. Tubeless-ready rims allow you to drop the pressure of wider tires, in turn lending a smooth and supple sensation across rough roads and gravel surfaces. Ultimately, this means you'll conserve energy without the fatiguing feel of jarring bumps and excess vibration you've become accustomed to with gravel road exploration.
Carbon construction maximizes stiffness, meaning you'll feel its snappy acceleration the instant you step on the gas. It's also stronger than its aluminum counterparts, ensuring longevity when you inevitably thrash 'em over jarring roads and unpaved surfaces. The G1 Carbon Disc Wheelset is designed for disc brakes and thru-axles, but is also adaptable to a front quick-release skewer, making it a great choice for a modern gravel world where no "standard" is ever really standard. Plus, its disc brake-compatibility means you won't have to worry about the loss in braking composure normally associated with a carbon road wheelset.
Stout and supportive hoops for gravel exploration
Carbon construction maximizes stiffness and strength
30mm rim width for running larger tires of 35 to 40mm
Tubeless-ready for gaining traction and bump compliance
Mercury hubs sourced from mountain bike wheels ensure longevity
24 Sapim double-butted spokes for low weight, reliable strength
Works with the disc brakes and thru-axles of modern gravel rigs
Converts to SRAM XD with Mercury's XD freehub body
WHEELS LOOK AS GOOD AS THEY RIDE!
Familiarity:

I've put it through the wringer
I have had G1 wheels for 7 months now. I'm running Schwalbe 700x38 tires on them. This combination works great. .These wheels are amazingly light and tough as nails plus they look great. Thanks Mercury!
Ross H.
Awesome Upgrade
Familiarity:

I've put it through the wringer
I couldn't be happier with these wheels. For the price, I really don't see how they could be beat. They came with every type of hub configuration so I have options as to which bike I mount them on. I'd say it's the best investment I've made for one of my bikes.
I accidentally threw away one of the end caps because it was stuck on the protective cap and the Mercury crew was nice enough to get one to me within a couple of days so I could get rolling.
Out of the gate it was easy to notice these are fast wheels. The acceleration was mind blowing, felt like I was cheating. Riding with friends that I'd struggle to keep up with was no longer a challenge. First time hitting the dirt was great, being able to shoot up punchy climbs with ease really helped shave time off of the overall ride.
Hats off to Mercury!
Tim
Broken rim, no warranty
Familiarity:

I've put it through the wringer
Products don't hold up and warranty coverage is worthless. I rode wheels that were less than one year old in Dirty Kanza 200 2018 and broke the rear rim. I was riding the G1 carbons, which are specified for gravel use and they were less than one year old with 40mm tires. The rim broke on a hit that I would consider standard for a gravel road and I watched literally hundreds of riders hit the same spot after me with no problems (though occasional cussing). There is no obvious point of impact on the rim, and certainly nothing hit it from the side. Nevertheless, Mercury refused to warranty it and wants to charge me $299 to replace the rim, plus $100 for shipping to Canada. So to summarize: a brand new wheelset runs $999 from Competitive Cyclist, but Mercury wants me to pay $399 to replace a rim that failed under proper use in less than a year? I'd be hesitant to ride a replacement wheel if it was free as it should be under the warranty. But pay $400 to replace a rim when I can get a brand new wheel for ~$500? Um, no thanks--I'll put that money toward more dependable wheels from a company will stand behind their warranty. (FWIW, Competitive also didn't help or respond to email about this.)
Paul D.
Light and Fast!
Familiarity:

I've put it through the wringer
Couldn't be more impressed. For as light weight as they are I was a little worried about them flimsy on rugged descents but these are still plenty stiff.
Currently running 40c Clement X' Plor and they fit and roll great.
Ron
Love these G1 wheels!
Familiarity:

I've put it through the wringer
Purchased a set of these wheels initially for a 100 mile gravel race. I am a bigger guy and put a lot of pressure on wheels and have had issues in the past with wheels not holding up. These wheels are amazingly light and tough as nails needless to say, will now be permanently on the bike not just for racing. Highly recommend!
Tom N
Great wheelset at great price
Familiarity:

I've put it through the wringer
Very happy with this new carbon wheelset as an upgrade to my factory wheels. These are very light and extremely durable. Over a 1000 miles on them with no issues. Get yourself a set and you won't be disappointed.
James C
Wide and Light
Familiarity:

I've used it several times
First off, these are the widest rims I've been able to find, apart from full-on MTB hoops.
I'm an eager bandwaggonner on the wide-tires-are-faster trend, so I've been looking for affordable 28mm+ wide rims for a while.
Zipps are deeper and lighter, but also cost more than 2x these and have narrower inner AND outer rim widths. Similar for ENVEs.
Hunt wheels have a gravel wheelset that's similar to this, but a bit narrower, shallower, and more expensive, albeit a bit lighter.

My plan is to use these for some collegiate road racing and cyclocross in the near future, and probably more bikepacking and gravel grinding later on. I'm confident these wheels will be awesome for just about anything.

Some other bits of info not on this page:
1. Seems like 26 point engagement in the freehub, has a good sound. XD driver (for 10-42t cassette) upgrade is about $60 on Mercury site, looks easy to swap.
2. Wheels come with 12mm, 15mm, and 9mmQR axle adaptors for front, and don't need more than a strong grip to swap. Super easy.
3. decals had some bubbles on the glossy top layer, so I took it off. Left a bit of residue, but once that's gone, bam, you have matte decals.
4. Comes with tubeless tape, but you have to install it yourself.
5. The rim well is pretty deep, tire mounting isn't bad at all (with 28mm GP4000SIIs, which I've been told are tough).
6. Non-hooked beads, which don't really affect anything, but it makes them a bit lighter apparently
Adrian H.
Amazing Quality at a Great Price.
Familiarity:

I've put it through the wringer
Super happy with this carbon wheelset as an upgrade to the factory alloy wheels on my gravel bike. Out of the box, they are incredibly true. Great product totally worth the money.
Thomas H
On the Mercury website it states that these wheels ship with the adapters to switch to QR and to 15 mm in the front. Do those come included if the wheels are purchased from Backcountry? If not can you get them and for how much?

Thanks.
Clay S.
My set came with 12mm and 15mm Thru-Axles and QR adaptors for the front. The back didn't come with any adaptors, just the 12mm Thru-Axle. I think you can get a QR adaptor for the back from the Mercury website though.
Adrian H.
Amazing wheels!
Familiarity:

I've put it through the wringer
I needed new set of Gavel/Cross wheels for my Trek Domane. These are light, responsive and durable. I have 600 miles on these with no issues at all.
Tom Rice
Great finish to my Ridley X Night
Familiarity:

I've used it several times
I just built up my new Ridley X Night and needed a set of wide, but not too wide, wheels to due it justice. The Merc G-1 fit the bill with a 25mm wide (internal) spacing. I read a few of the previous reviews and everything they said was spot on.
Woody
Stiggy likey
Familiarity:

I've used it once or twice and have initial impressions
The wheels are a big change from the WTB set. Lighter, wider and feel more responsive. Tubeless set up easy and the tires now feel a bit floatier (probably not a word). Nano's now measure out at 41mm and barely fit in the back of the Stiggy. Longevity? Who knows just a few miles so far. They were dead straight out of the box.
Paul Bowman
Wow!
Familiarity:

I've put it through the wringer
Amazingly smooth and quality is unmatched. I just love my new gravel wheelset.
Henry James
the description mentions they have adapters for QR skewers but only specifically state the front wheel is adaptable. is the rear wheel also adaptable to QR skewers?
Anthony F.
Hey Anthony, yes the rear can use a qr adapter.
Kyle Br
Versatile cross/gravel/XC wheelset
These are currently on my Pivot Vault CX bike with Schwalbe Pro1 28mm tubeless tires. I use this bike as my daily driver trainer, and, the 28mm tires look, and, ride beautifully. I've also run Maxxis 700X40 Re-Fuse tubeless for winter tires, seating the tires has been effortless with just a floor pump.

Two layers of quality rim tape, and, gorgeous red aluminum tubeless valve stems that were the perfect length were included.

I settled on this set because the rim is actually lighter than most narrow carbon road clincher rims due to the hookless (stronger) bead, and, I'm ecstatic that the 28mm tires fit perfectly, they are almost the same width as the rim.

Best part was that I purchased 135mm QR axles and they were the easiest axle swap I've ever done, allowing me to swap these to the 29er effortlessly.....no vise, no cursing, no re-dishing the wheels..........Yes, they were easier than DT swiss axles to swap

What well-kept secret Mercury wheels are!, I was so Impressed, I looked them up, and met the owners and staff that build these great wheels......great people too, and, was even more impressed with the build quality when they showed me the process and, materials. Look them up if you're ever in Utah
jesse Westergard