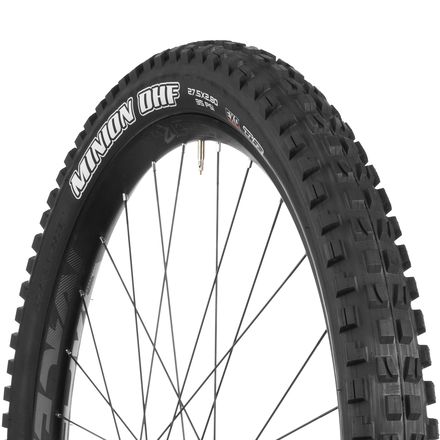 Colors
Old friend, new size.
In its decade-plus existence, the Maxxis Minion DHF has sat at the helm of trail and enduro sleds and dug in around switchbacks, floated through rock gardens, and straightlined singletrack more times than anyone can count. The classic tire continues its trail dominance in a new plus version with the Minion DHF EXO/TR 27.5 Plus Tire. We can't think of many better ways to get rowdy on the trails than wrapping your beefy plus-sized front rim in a Minion DHF. This higher-volume version comes endowed with the same assortment of tall, square knobs that made its predecessor so successful, and when considering the added plushness and stability compared to 29 and 27.5 that 27.5 Plus brings, the Minion DHF stands to give you a hell of a ride.
Maxxis uses dual-compound rubber to construct the Minion DHF to give it stable grip in corners and the ability to take off on smooth sections. Equipping this version of the tire to excel in the kind of sharp, repetitive rock gardens that often slice open sidewalls, Maxxis surrounds the Minion DHF in EXO protective casing. We can't promise you'll never flat, but you definitely shouldn't hold your breath when you round a quick corner and slam through a rock-encrusted section of trail. Plus, since it comes tubeless-ready, you'll be hard-pressed to flat during a ride unless you're trying to.
Front-specific tire floats down rocky, bumpy singletrack
Tall, squared knobs stay glued to the trail on switchbacks
Dual-compound construction adapts to changing conditions
EXO protection for beefier sidewall strength
Tried and True in a Plus Size
Familiarity:

I've put it through the wringer
I have this on my Niner Sir 9 as a front tire and absolutely love it. Its hard for me to add more to what hasn't been said in the reviews below, but here's what I've found so far.

- On a Raceface Affect Plus (40mm internal rim width), the 2.8" tire is true to size.

- Plenty of traction and the wide DHF has plenty of bite. I personally run my front tire around 15-18psi depending on what and where I'm riding, though I probably like riding with a touch higher of many people with plus size wheels. Rolling speed isn't phenomenal but I'd take the traction and reliability over speed any day.

- Durability has been great so far. My hardtail isn't my daily driver of a bike, but do ride it enough to say that the tire has plenty of life after 400 miles on it!

- I am currently running a Rekon 2.8" as a rear tire, but may pick up another DHF or DHR to replace it.
Connor Johnson
Standard Enduro Tire
Familiarity:

I've put it through the wringer

Its no secret at this point that you can't go wrong with a DHR DHF set up. Pretty much the standard against which other tires are measured, these roll reasonably well, and grip like mad. Threw these on a 27+ hardtail and I am a big fan. Also a true 2.8 here, no 2.6 masquerading as a plus tire.

Craig L
Great traction and durability
Familiarity:

I've put it through the wringer
I have 2500 +/- miles on this tire with no flats and a still a fair amount of tread left. I've had some pretty hard hits on the sidewall with no tears. Will replace this with the same tire when it finally wears out.
Courtney Anderson
rollin
Familiarity:

I've put it through the wringer
slow rolling but tons of traction Wears a bit longer than it's 3C counterpart. I prefer the 3C in the front for the added softer grippiness
johngchrist
grippy
Familiarity:

I've put it through the wringer
TONS of grip kinda slow rolling. I am deff going to run these again when I need new tires. They live up to all my exceptions!
johngchrist
It's a Gripper
Familiarity:

I've used it several times
Installed the DHF on the front of my 27.5+ and used it for downhill in fairly dusty and dry conditions. The traction was awesome particularly when diving into the banked switchbacks where there was a lot of loose dirt at the base -- no worries at all about the front tire washing out. The tread is fairly aggressive really dug in. Don't know how long it will last but after two rides I love it.
Darin Cisneros
DHF For the win
Familiarity:

I've put it through the wringer
The DHF is my favorite tire of all time. This is a great plus tire, and is super burly. Love it
Braydn Tanner
Down hill fun!
Familiarity:

I've used it several times
I am lovin' this tire paired with a Recon+ on my Pivot Mach 429SL. Nice rolling with sure grip on the turns and rough stuff. Mounted on 40 mm wide rims, the tread profile is perfect.
Eric B.
So Much GRIP!
Familiarity:

I've used it several times
Exactly what you would expect. Minion performance in a plus size, and I thought I was in love with my bike before these tires. Grab one, you'll be glad you did.
Justin Long
Kaboom!
Familiarity:

I've put it through the wringer
Replaced my Specialized tires that came on my specialized stumpy 6+.

Better rolling- faster.
Actually lighter- a nice benefit.
Traction- redonkulous!

Much stiffer so I feel the trail better (which isn't always welcome) than the specialized tires which felt like clouds. Regular slow trail riding these are a little harsh, but steep tech sections, downhill, and riding slick rock in Moab- these are the best.
ddegraaf
Holy Traction Batman!
Familiarity:

I've put it through the wringer
If you are looking for the burliest plus tire on the market, look no further. This thing is a beast! I love that Maxxis has taken the tried and true minion platform, and brought in a plus sized offering.
Andrew Meehan
Big tire big traction.
Familiarity:

I've used it once or twice and have initial impressions
The Minion plus tire has the most traction of any tire I have ever ridden. Best front tire I have found in the plus sizes. No need to move up to the 3.0, the 2.8 is massive and as big as you could ever need.
BJ Platte