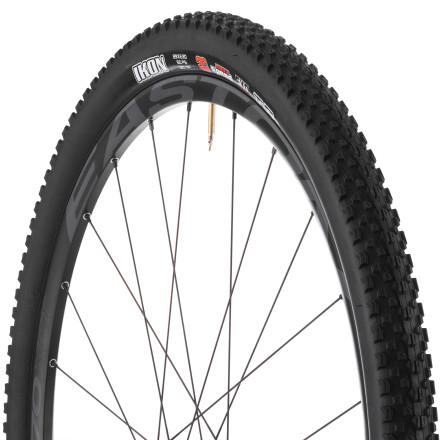 Low profile tires might roll fast in the right circumstances, but the one constant in mountain biking is that conditions constantly change. That's where this race-ready, 2.2in-wide Maxxis Ikon EXO Tubeless Ready Tire comes into play.
It's a lightweight, tubeless-ready tire that mixes biting knobs with three rubber compounds to create a truly versatile tire. The Ikon uses a 120tpi casing with EXO protection. What's this? Well, EXO protection consists of added pinch flat and abrasion protection at the sidewall for an enhanced resistance to cuts. Even better, it does this with overloading the tire with bulk.
The casing is then wrapped in a tread pattern that favors both buff and loamy conditions. This is possible due to the spacing between the center lugs and the raised side knobs. Those center lugs are also ramped to resist folding under braking and acceleration. However, the 3C compound is what really allows this tire to bridge the traction gap from packed to loose.
Maxxis made the center knobs from a harder compound. So, it resists wear and flex in the knobs. The supple casing, however, allows it to conform to irregularities, and it also permits the softer side compound to grab. As a result, you gain a positive traction over wet roots and rocks. Also, as a three compound tire, the transitions from straightaways to turns are utterly seamless.
The Maxxis Ikon EXO Tubeless Ready 29in Tire is UST compatible and is available in a 2.2-inch width.
Rear tire only.
Familiarity:

I've put it through the wringer
These are great for tacky and consistent surfaces as a rear tire. The EXO protection is the best in the business from what I have found. They have low rolling resistance but aren't the best when surfaces get loose.
Shawn Craig
Bigger IS better...
Familiarity:

I've used it several times
Increased my tire size from 2.2 to these....love them.
Mike Newberry
Great rear tire
Familiarity:

I've used it several times
Fast-rolling, lightweight, high volume tire. I mounted this 2.35" tire on my hardtail's rear Roval Fattie SL rim and it is performing extremely well. Good traction, fast rolling, and enough volume to confidently run at 25 psi.
John B.
Maxxis Ikon tire
Familiarity:

I've used it once or twice and have initial impressions
Great tire for cross country.
Joseph
Maxxis Ikon 3C/EXO/TR Tire- 29in
Familiarity:

I've used it once or twice and have initial impressions
A nice rear tire
Brian F
Perfect Tire
Familiarity:

I've put it through the wringer
When mountain biking in the Ozarks, it can be difficult to find a tire that can handle all of the flint rock. I have gone through several tires on the first ride and nothing can be more frustrating than mounting a new tire and slicing the sidewall first ride. The only tires that have held up the best in my opinion when sharp rocks are all over the trail is any tire from Maxxis with their thickest compound. I have gotten the most life out of tires with the 3C/EXO/TR sidewall compound. I am also a huge fan of the Ikon tread pattern, it is super fast rolling, with alot of traction. It's a go to tire for me.
Clayton Otto
I bought these
Familiarity:

I've used it several times
So, these hook up quick. They're light, and they're fast. I used two strips of Gorilla Tape and two and a half scoops of Stan's on an el cheapo set of Mavic CrossRides. Voila. Ready to rock and I inflated them, first time, with a floor pump without any of that silly 'poof of air' crap they're trying to market on us. Thing is, everybody told me I was using the wrong tape/tire/rim/wheel/approach.

This weekend, I made it up (and down) Zippety Doo Dah without putting either foot down. Not saying I'm good or bad, but that's a definite improvement over my previous attempts. Dumped some air, rode even faster.

Ride them to work occasionally, and though they're not road tires, they're fast even on concrete. If I can find these again at $38, I'll buy two sets. For the North Fruita Desert, it gets no better.
Patrick R.
My favorite tire. Wears out fast
Familiarity:

I've put it through the wringer
These are my favorite tires i have found. I use a 29x2.35 setup and the 2.35's feel great, as I am a bigger rider. They are perfect for most trail conditions, and perform quite well in sandy/ball bearing conditions. My only complaint is they do wear out fairly quickly. I have had to buy new sets 3 times per season with moderate use.
Kevin
Sidewalls made of paper mache
Familiarity:

I've put it through the wringer
I love the tread pattern on this tire. The first one I bought got pierced by a stick - first time ever for me, but I conceded it could happen if hit just right, so I bought another. After a few weeks a riding - the tread still looks new, I notice a bulge/slash in the sidewall. Now I'm convinced the sidewalls are made of paper-mache. Time to move on to a new tire - in fact, probably a new brand.
Peter S.
Great all around tire
Familiarity:

I've put it through the wringer
Riding 2.2s front/rear on a 29r hardtail on the SLC and PC Utah trails. These work well in dry to tacky (aka, hero dirt) conditions. I was able to set them up tubeless with a floor pump. The rubber wears down fast though (within 3 months of 2-3 days/week of riding)....especially pavement to trail head. Would buy again.

Z-Family
worked well
Familiarity:

I've put it through the wringer
I am just back from riding the Great Divide Mountain Bike Route. These tires were fantastic for most every terrain we crossed. My complaint is that after 1500 miles I started to get flats and more flats. So, rotate them a little sooner than you think they need it and then change them out after the first flat as that seems to be the single that they are wearing thin.
Ed A.
Great cross country tires
Familiarity:

I've put it through the wringer
I run the 2.35 in the front and 2.2 in the back of my Tallboy. Perfect tire for everything from dirt roads to technical singletrack. Fast rolling with good cornering. A little slick when the trails dry out but you get used to it.
Steve Cook
Perfect for Florida!
Familiarity:

I've put it through the wringer
Love there tires! Light weight and grippy for our hard packed (and sometimes sandy) trails. Therese things make you feel faster!
James S.
If you're after a tire that destroys climbs without sacrificing much on the downhill then look no further. Super light, but can still rail a turn.
Steve Simpson
Rock this in a 2.35 on a Tallboy LTc in UT. In the super loose stuff you need to be a little careful, but it grips great for what it is. I love climbing fast but also like ripping fast techy descents. This tire does it all.
Jason True
Faaaaast amd grippy
Familiarity:

I've put it through the wringer
As low rolling resistance and light weight tires usually suck, this is an definite exception to the rule. Its no minion but it is a ton lighter and hooks up great in cross country and light all mountain use
Tyson G.
Low rollers
Familiarity:

I've used it several times
I've been running these on my single speed 9er for about 4 months now. The tread pattern and hardness is the perfect combo of uphill grip and down hill speed.
Jamoney
I would disagree with other comments that this a great front tire. I only run this as a rear tire on my Pivot 429. It offers low rolling resistance but can be a bit loose when cornering hard. I run it in a 2.35 with a Ardent 2.4 in the front. It gives pretty solid corning abilities for the Salt Lake and Park City riding conditions.
Shawn Craig
Great front tire
Familiarity:

I've used it several times
I bought these a couple of weeks ago on the advice of a friend. They are probably the easiest to set up tubeless tires that I've ever used. They have nice traction for the somewhat loose trails in SE michigan. Compared to the schwalbe racing ralphs that I previously used the sidewalls are a bit stiffer - I'm not sure if that's inherent to the tire or because I went tubeless with the Ikon's while I was using tubes with racing ralphs.
Neal B.
I have tried Conti's, shwal, etc. This is the best front tire I have ever used. Durable and hooks up well in the corners with great rolling resistance.


DGK