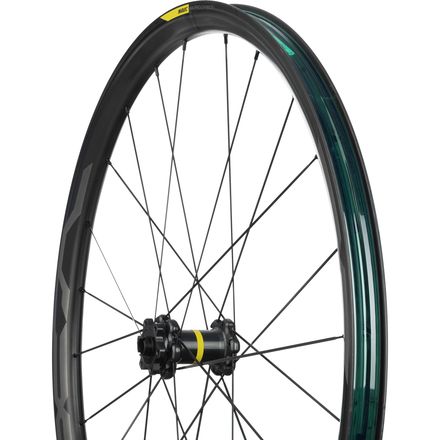 Colors

Detail Images
Progress.
For trail and all-mountain riders who aren't racing, carbon wheelsets have traditionally been something of an afterthought. A large crew of weekend warriors and after-work dirt hounds don't consider themselves fast enough to see a benefit from carbon hoops, and plenty that we know are content to bash through chunky rock gardens with the reassurance that their aluminum rims can handle a few dents and bumps. Of course, wheel tech, as its wont to do, continues to improve. With its tantalizing mix of compliance and responsiveness atop an affordable, trail-specific platform, Mavic's Cross Adventure line stands poised to convert even the staunchest alloy devotees, especially considering the improved durability of modern carbon. Take a spin on the new XA Pro Carbon 29in Wheelset and you'll have a hard time not noticing a pretty serious difference.
As we mentioned, Mavic's main objective when creating the Cross Adventure line was achieving the elusive balance between responsiveness and harshness. It carefully shaped the rim's unidirectional carbon fibers to achieve lateral stiffness, but managed to create palpable vertical compliance at the same time that observant riders will be able to feel in the spokes. Rail steep berms on snaking switchbacks aggressively, then pop out the other side and into a small, bumpy rock garden without feeling jarred and shaken; the wheelset manages, impressively, to avoid sacrificing a hint of energy for its kinder nature. All-day trail rides or after work spins, your hands will be grateful for the balance.
When you get ready to wrap the included Mavic Quest Pro tires around the Cross Adventures, you'll probably notice the hookless perch Mavic built for them to sit atop. This once unsettling technology has proven itself over a few short seasons, using a more natural profile to create a smoother interface between tire and rim that results in noticeably less burping over square hits and white-knuckle drops, especially when coupled with the rims' stable 32mm external width. The Quest Pro tires that sit atop the rims, though lacking the mountainous topography of other mainstream trail tires, aren't afraid to dig in and hang on over rough singletrack, and they skillfully balance low rolling resistance with capable all-around grip.
Inside the rim, Mavic's lightweight, reliable ITS-4 alloy hubs hum reliably. They deliver quick engagement as you claw your way up rocky cruxes using two sets of two pawls. 24 straight-pull, steel spokes adorn both the front and rear wheel, laced two-cross and prepared to take on energy that other carbon hoops deliver straight to your hands. Though the wheelset comes with front and rear thru-axles, Mavic includes quick-release adapters and BX601 skewers if you'd prefer to swap them out. The system also ships with Mavic sealant, tubeless tape, and an adjustment wrench for quick tubeless setup.
Speed up your trail game with these intelligent new hoops
Vertically compliant carbon rim limits harshness on bumps
Lateral stiffness brings energy to accelerations
Wide hookless bead creates stable interface for less burping
Included tires roll quickly without losing grip
Light alloy hubs respond eagerly on loose, steep terrain
Basically Perfect
Familiarity:

I've used it several times
These wheels transformed my all-around, quiver-killer bike. Light wheels are just a joy to ride and these do everything you could want from, "light wheels" while being the right width, reasonably priced and seemingly pretty tough.


Ben M.