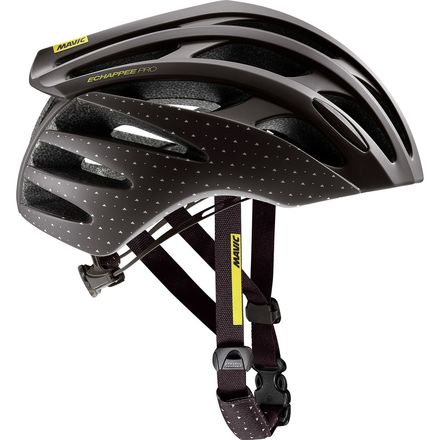 Colors

Detail Images
Comfort for every mile.
Lightweight and comfortable, the Mavic Aksium Elite Helmet for women will happily join you on your next ride whether you're crushing personal records up winding mountain climbs or enjoying a relaxing ride on a scenic byway through vineyards. The Aksium name has been well known for quite some time with Mavic's Aksium wheelsets, which pack an impressive ride into their price tag, so we're not entirely shocked by the Aksium helmet's quality-to-price ratio. A combination of high end features from Mavic's pricier helmets and shaved weight make this a spectacular option for riders of many different varieties.
Though it comes at a lower price than its higher end helmets, Mavic packs a multitude of high-end features into the Aksium Elite that were missing from the more basic Aksium helmet before. Improved vent placement helps to keep you cool while hammering up climbs in the heat, and the Elite Fit Pad not only increases padding, but it also helps absorb sweat to keep it out of your eyes. Together these improve both fit and comfort while riding.
The shell has morphed into a more aerodynamic profile than the Aksium, but not quite as aerodynamic as the Ksyrium—but that's actually a blessing in terms of grams. Without the addition of more materials to the helmet for aerodynamic shaping, Mavic is able to deliver the Aksium Elite with a claimed weight 25g lighter than the Ksyrium lid.
The Ergo Hold SL retention system offers incredible fit adjustability, and while we can't guarantee that it will fit flawlessly for every rider who gives it a shot, we're quite confident that with multi-directional adjustability it'll provide more than adequate comfort for most riders. Finally your focus can shift away from the painful pressure points in your helmet and forward to the light that dances through the oak trees arcing around the road as you climb through a tunnel of vivid colors this autumn.
A lightweight helmet with ample ventilation for road cycling
Less aerodynamic but 25g lighter than the Ksyrium helmet
Anti-bug mesh protects you from scalp bites and stings
Aksium Elite Fit Pad for exceptional comfort
Ergo Hold SL retention system for adjustability