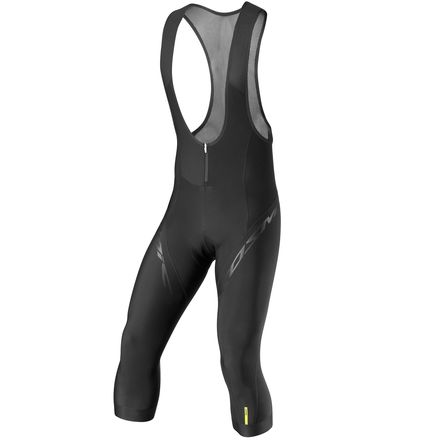 Colors
Cut through the chill.
It might be a stretch to say that knee warmers are the bane of our existence, but they can be pretty darn annoying with all the shifting, bunching, and uncomfortable pinching if they're tight enough to stay in place. Stay protected and comfortable with a pair of Mavic Men's Cosmic Elite Thermo Bib Knickers. Made from soft, brushed DuPont Teflon fabric, these knickers are infused with Warm Tech Teflon protection to create a surface that repels water and road soil without hampering the stretch or breathability of the Lycra. This provides the right amount of warmth and protection for damp, shilly days that are too much for shorts but don't quite warrant the protection of full-length tights.
Of course, the most important aspect of water-repellant knickers is that they help keep your chamois dry. It doesn't take long for a wet chamois to turn against you, a transformation that's especially pronounced when the chamois is as comfortable as Mavic's Ergo 3D insert. Built with progressive cushioning in three different thicknesses, the Ergo 3D provides cushion for the kinds of long, four to six hour rides we typically log while rediscovering outdoor training in early spring.
The Cosmic Elite Thermo Knickers' design minimizes seams in order to reduce the points of watery ingress, and it's finished with reflective details that help keep you visible to other road users when you're out alone under overcast skies because no one else wants to brave the elements with you.
Cycling knickers for training in inclement weather
DuPont Teflon treatment equips you to brave the elements
Lightly brushed Lycra insulates and breathes
Long distance chamois for comfort during long rides
Minimized seams help keep the weather out