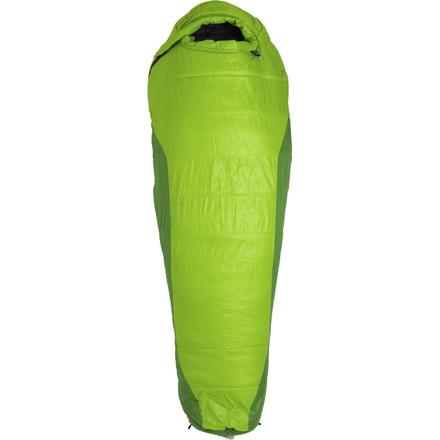 Colors
Warmth you can count on in damp conditions.
Humid conditions can make 40 degree temps feel like the 20s', which is why Marmot stuffed the Women's Sunset 30 Sleeping Bag with Thermal R synthetic insulation and treated the shell with a water repellent finish. In addition to reliable three-season warmth, the Sunset 30 features a female specific cut for maximum comfort and body-mapped insulation for a low trail weight of under three pounds without compromising on warmth.
With an EN comfort limit of 32°F (comfort limit refers to the average woman's comfort zone), this bag is best suited for camping in the spring, summer, or fall
Thermal R synthetic insulation is highly compressible, maintains its loft, and insulates better than down in wet conditions
Nylon ripstop shell with a DWR treatment provides reliable wind and water resistance
Women-specific fit features a wider hip zone and extra insulation in the body and feet for those cold nights
3D hood construction with a Velcro-free face muff enhances warmth and comfort
Snag-less draft tube keeps warmth in and eliminates annoying stuck zippers
Sunset weighs in at just under three pounds, exceptionally light for a synthetic bag
Includes a stuff sack
Cold sleeper/Female perspective
Familiarity:

I've put it through the wringer
I've had this sleeping bag for 4 years and it has held up very well with moderate usage for mostly 2-7 day backpacking trips. It was comfortable for me in temperatures above 45 degrees. I'm a cold sleeper (like many women), often sleep alone and found this bag to be better suited for summer weather, not so much for shoulder seasons, and definitely not 32 degrees (though I've done it and made it through a mostly sleepless night). I almost always use a silk liner with this bag to bring up the temperature. It is decently lightweight for a synthetic bag, but the temperature rating is deceiving. After 4 years, I'm upgrading to the Western Mountaineering UltraLite Sleeping Bag 20.
Katherine M.
Very light bag for a synthetic back. My GF loves it and it keeps her warm throughout the night. The long bag is big enough to fit me as well. I'm 5'9" 160 and fit it just fine.
Spencer Marr
Is the foot circumference really 46" for the long? That seems bigger than most and I can't find it on any other sources. Thanks.
Matt H.
Hi Matt,



According to Marmot the foot circumference on the long is going to be 41", not 46".



Feel free to hit me up for anything else you need.



Matthew Pizza

Expert Gearhead

mpizza@backcountry.com

801.736.5363
Matthew Pizza
I am going to camp in Yosemite at 2,500m altitude in August. Temperatures might reach down to 7C. And I am going to camp in the German Alps in September. Temperatures might reach down to 4-5C. Does this sleeping bag fits my needs? I am confused whether to buy this sleeping bag or the Marmot cloudbreak 30. Any suggestions?
Paula
Best Answer
Paula, I think this is a better option for you than the Cloudbreak because it is women specific. The put a little more room in the hips to accommodate a woman's specific body type better.



If its going to get down to 4 Celsius the bag should be just fine! You will probably have some type of fleece with you so even if it gets colder you could just wear that when you sleep and boost the warmth a bit.



Feel free to hit me up at bporreca@backcountry.com or 801-736-6398.
Bill Porreca
I think bag could fit the bill. To explain the temperature rating in the specs, you should concern yourself with the Euro Norm rating. This is what a woman wearing a base layer should be kept warm to using a given bag. This bag has a norm rating of 32f. For the temperatures you will be encountering a bag that has a rating of 42f will be cutting it close. You will get more flexibility and a more comfortable nights sleep out of the warmer sleeping bag. In the even you are ever cold a hat helps, you can wear extra clothes to bed, or put a jacket over the top of your bag. A sleeping bag liner can add a couple degrees of warmth also. I would also seriously recommend you to consider some of Marmot's down offerings. They are lighter, more compressible, and will have a longer life. Pair a down back with a lightweight roll top sil nylon stuff sack and you will be good to go. If you want to chat bags with me give me a ring at 800-409-4502 ext 4755 or email at amanfred@backcountry.com haha i just saw bill's response. We seem to agree :)
Alexander Manfred
How long to ship to Australia as I would like to buyt a tent and other items?
chris brooks
We cannot ship any marmot item to Australia, there are certain restrictions with some vendors on what we can sell outside the U.S.

Typically we cannot estimate a shipping time because some orders get tied up in customs. Feel free to email me at ndriggs@backcountry.com and we can find an order suitable to be shipped to Australia.



Thanks!
Nate Driggs
Like it better everytime i use it.
Familiarity:

I've used it several times
I bought this for my girlfriend last summer, wasn't sure about quality due to the very reasonable price. I was very happy to learn that this bag is really warm! and it fluffs up really nice. the compression sack is a little small, but if you stuff it properly it will fit, with room for a liner too. I've used this bag all winter, in combination with a down summer bag - slept warm down to -15(celcius) I no longer bother with my winter bag. And when i can choose, i pick this bag over my three season down bag which is just as varm, compresses better and weigh less... Should say something about the amazing feel of this bag. Well worth both the money and the weight:) I'm not looking forward to the warmer season when the missus will want this bag back - considering getting one for myself as well.
Anti85-0