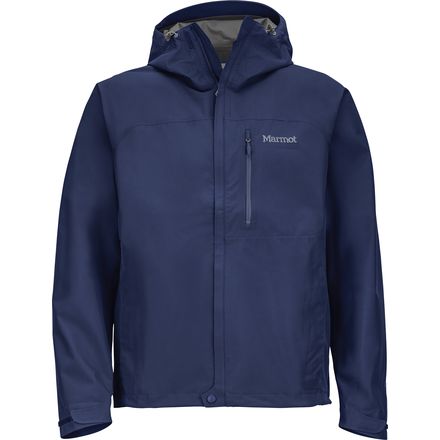 Colors

Detail Images
Little impact in your pack but a big impact during sudden summer storms.
The Marmot Minimalist Jacket trims down your pack weight for long hikes and treks into the unknown while its Gore-Tex Paclite technology guarantees it can keep you dry during torrential rains. With just the features you need for a safe, comfortable experience in the storm season, this 15-ounce rain shell keeps the rain out without weighing you down or letting you overheat during muggy summer storms.
Polyester shell stands up to abuse and keeps down the weight, while the fully taped seams and Gore-Tex Paclite membrane keep out all moisture
Adjustable hood, hem, and hook-and-loop cuffs further seal out the monsoon rains
Zippered underarm vents dump excess heat and interior humidity during rainstorms
Front pockets hold necessities and are easily accessible while wearing a pack or harness
Water-resistant zippers and a front storm flap reduce vulnerabilities to near zero for ultimate protection
DriClime-lined chin guard provides comfort and a little insulation for your face during mountain storms
Angel-Wing movement and lower back hem ensure coverage no matter how you stretch and contort your body in the backcountry
Just Ok
Familiarity:

I've put it through the wringer

Fit:

True to size

Size Bought:

Small
Pros:
-Go to shell for going out when it's semi dry.
-Good fit for me. I'm a thinner, 6' person and the length of waist and arms are a tad short but good for me.
- I like the construction with the seams, sinches, and breast pocket. Great windbreak and deals nicely with a little moisture.

Cons:
-Not even close to water-proof (TBH, I only expect that quality from clothes that feel like they are made of rubber). The coat wet out soon after I bought it. I have not tried to treat the gortex yet, otherwise it wets out on my shoulders all the time when I shovel or am out in rain.
-Velcro AND zipper pocket closure? Don't know why this was a design choice. Scratchy on the hands whenever you put them in.
Cameron B.
Height:
6'00"
Weight:
140lbs
Had worn this jacket for less than ten days. Wore though on the pocket where I kept phone in a couple of days. This was from fabric on fabric rubbing not from bushwhacking or scrambling, I was on relatively open trails. Shows wear at edges of sewn-in velcro strip pieces and here the zipper sits. This is on a garment that's had just a few days of use.
Worst thing though is that it wet out the first sustained rain storm and had moisture dripping down the internal surface. As far as the wear, I knew this was a lightweight item so maybe its not really a backpacking item. But there is no excuse for a gore tex item wetting out the first rain storm it encounters.
Backcountry doesn't process warranty for Marmot. Marmot warranty process, is not very user friendly set-up. DWill probably just right this up to experience, and do better research on the next purchase.

cqm
Fantastic rain coat
Familiarity:

I've put it through the wringer

Fit:

True to size

Size Bought:

Large
This my second Minimalist Jacket. I lost some weight and bought a smaller one. I wore this jacket while traveling in England, sailing in bad weather, and hiking in the woods. I have been caught in heavy down pours with no leakage at all. The hood gives very good protection. it over hangs enough to protect your face and neck. It minimalist is lighter (you barely feel it on) than other rain coats and sailing foul weather gear that I have used. The vent zippers under the arms and Gore-Tex allow for excellent breathability. I highly recommend this jacket. I only wish Marmot would bring back the gray color they dropped last year.
Leonard T.
Height:
6'0"
Weight:
195lbs
Works great, very nice.
Familiarity:

I've used it several times

Fit:

True to size

Size Bought:

Large
I got this jacket since I wanted something to keep my dry and also when it is not raining as a layer. To keep dry it works great specially because it has vents you can open to keep you cool and if you close them you will get warm.
The fit is precise since it fits me well and snug, I have no problems with sizing.
As for layering up, if its cold outside this is my last layer since it will prevent water from coming in and wind as well.
Also I like that the hood will cover your head and your face.
I really like it.
Miguel Meneses
Height:
5'10"
Weight:
188lbs
The coat didn't even last a year before it began soaking through. Definitely not waterproof like it claims! I bought a precip for my wife that has out performed the goretex. I was soaked through after a 20 minute light rain hiking off the blue ridge parkway. Save your money and do not trust marmots goretex.
Kristen A.
A step up from the precip!
Familiarity:

I've put it through the wringer

Fit:

Runs large

Size Bought:

Medium
I use the minimalist for when it's not a constant down pour but a light persistent drizzle. The minimalist packs well and offers a premium feel at a price you can swallow. I love all the high quality features liked tapes seams and sealed zippers. The dwr is not the best, and can be a little discouraging to those not super gear savvy. I would recommend reapplying nikwax tx direct after a few uses and keeping the jacket clean as the goretex pax light material tends to not keep the dwr coating very well due to the two layer construction. If you have any questions feel free to reach out!
Andrew Butterworth
Height:
6'1"
Weight:
174lbs
Great basic rain layer
Familiarity:

I've used it several times

Fit:

True to size
While not the most lightweight, the benefit of this rain jacket lies in its durability and reliability. You don't have to worry about all the potential snags from the branches you're walking through - this jacket just works. I've found the best success by reapplying a waterproof wax layer after heavy use, especially if I'm frequently carrying a backpack (the straps wear the coating away).
Losaunne
I really "wanted" to like it......but...
Familiarity:

I've used it once or twice and have initial impressions

Fit:

True to size

Size Bought:

XL
Ok. Bought this jacket. Love the way it fits. Looks to be a quality piece of gear. Just used it yesterday on a 6 mile round trip hike in light to moderate rain here in the mountains of North Carolina. Temps hovering around 45-55, depending on elevation. Foggy in the higher sections. Very humid to say the least. I was absolutely soaked after the first 3 miles. Inside and out. I had the armpit vents unzipped, but I could literally wring the water out of my clothes. I had to stop and find a rocky ledge to get under and do a complete clothing change. I don't necessarily want to blame the jacket, because I did sweat a lot, but am I missing something here? Could I have done anything to prevent getting soaked inside and out? My Precip pants fared the same, as my pants were soaked as well. I really thought the goretex would breathe better. Any advice from anyone who has experienced the same? Or is this just a fact of life when hiking in the rain. I honestly wouldn't have been any wetter if I had not even put the jacket on. Cold, yes. But not any wetter. I do think if I had just been sitting and not moving around, i would have been dry. Also think it will make a great shell for the cold and snowy conditions I plan on hiking in this winter. We shall see. Like my title said, I really want to like this jacket. Maybe someone could tell me what I was doing wrong?
David M.
Height:
5'10"
Weight:
210lbs
Worth Every Dollar!
Familiarity:

I've put it through the wringer
I love this Jacket! Had it for over a year and it still keeps me dry. I used it working on boats during the summer and bike deliveries in the pouring rain. Its lightweight and doest feel heavy in hot weather. Side vents help keep it breathable or close them up when you want more warmth. After one year it still keep me dry! I never have had a coat work this well. Worth the money for sure.
Masta Bruce Amateur Snowboarder
Didn't live up to expectations
Familiarity:

I've used it once or twice and have initial impressions

Fit:

True to size
I went from my car to a building a couple of times over the course of a morning in a pouring rain and the jacket did not keep me dry. Water was in the shoulder area and the upper arms. Maybe I got a bad jacket. I expected more from Gortex.
James H.
Best rain jacket for the money
Familiarity:

I've put it through the wringer

Fit:

True to size

Size Bought:

Medium
FIt as expected. I got rained on for 8 hours straight while in a canoe paddling and not only did I not get wet but I also didn't create a micro climate inside the jacket. I didn't get any wet spots by the seams either. All in all this jacket is just as good as any Paclite Gore Tex you would get from Arcteryx in my opinion.
Forbes S
Height:
5'9"
Weight:
160lbs
Great Jacket
Familiarity:

I've put it through the wringer

Fit:

True to size

Size Bought:

XL
This jacket has kept me dry during torrential rains for two days. Impressive.
Charles C.
Height:
6'1"
Weight:
210lbs
Great Rain Jacket
Familiarity:

I've used it several times

Fit:

True to size

Size Bought:

Large
This is a great jacket for the price point - it's kept me dry without issue (although I haven't had any half to full day excursions in it yet). It's lightweight and packable, and has become my go-to rain jacket around town. Fit is good - not overly large that it feels baggy but not so tight that you can't layer effectively underneath.
Andrew
Height:
6'0"
Weight:
170lbs
Exactly What I Wanted
Familiarity:

I've used it several times

Fit:

True to size

Size Bought:

Large
I was looking for a very basic and lightweight rain shell to replace an older rain jacket (a jacket that I had run into the ground, so to speak, after years fishing and abrasive outside activity) and this jacket is just that; very basic in design, extremely lightweight yet seemingly pretty darn rugged. Couldn't be happier with this purchase!
Darren Green
Height:
5'10"
Weight:
200lbs
Great gear
Familiarity:

I've put it through the wringer

Fit:

True to size

Size Bought:

XL
I live in Florida and work outside a lot. I've needed a jacket that can take a downpour and not get saturated. This is finally the one.

I've had this in a few Florida heavy rains now and it has held up beautifully. Everything stayed dry from the rain, but typical moisture from sweating in the heat stays in during exertion. The pit-zips are great and the pockets stay dry. The water wicks right off.

I'm 6'01", 210 lbs with a 36" waist. I bought an XL and it's just loose enough around the waist to cover my pouches and meter on my belt. A large might have been sufficient, but I wanted a little room to cover the tools on my waist.

It's very easy to stuff in my gig bag and has not snagged on any of my sharp tools.

I just ordered a second one that I can keep in the car and wear out without it smelling and looking like a work coat.
Martin
Height:
06'01"
Weight:
210lbs
Right price
Familiarity:

I've put it through the wringer

Fit:

True to size

Size Bought:

XL
I bought one of these during a sale at my REI. I've used it on three weeklong expeditions, one in the Tetons in January and two to Moab since then. It is my go-to rain and snow shell front country and back. It has never let a drop through. My only qualm is when you cinch the skirt it rides up more than other jackets I've owned. Not a big prob.
Sam Doran
Height:
6'2"
Weight:
185lbs
Not fully waterproof
Familiarity:

I've put it through the wringer

Fit:

True to size

Size Bought:

Small
I've had this jacket for about 8 years now. Initially it was great—I used it on the requisite hiking and backpacking trips, but also as a rain jacket on my motorcycle in the Texas summer showers. Initially it worked incredibly well, but over time, even with reapplication of DWR, it's less than what I need.

When I first got it, I used it heavily in downpours while riding my motorcycle, frequently at 70mph on the freeway. It kept me ALMOST bone dry, with the exception of one little dribble that worked its way through the front zipper. I couldn't complain, I was subjecting it to harsher conditions than it was designed for.

However, over the last three years, I've been using it here in New England as my hiking, backpacking, and mountaineering shell, pulling double duty as my bicycle commuting rain jacket. During this use, the waterproofing has suffered.

in early 2014, one of the seams inside the left armpit started experiencing delamination. I contacted Marmot, and they fixed it up (for free under warranty, I believe). When I received it back, I decided it was probably due for another DWR treatment. I always use spray-on rather than wash-in for membrane products. Shortly thereafter I started to notice that my shoulders felt cold and wet under my pack straps, primarily when biking but also when in the woods. At first I thought it might just be heat conduction from the cold water on the face fabric. But eventually I noticed actual soaking on the garments beneath the jacket. I've retreated DWR several times, and always give the shoulders some extra love, but no matter what I do they always soak through after a short while.

About two months ago, the seam that Marmot had repaired started delaminating again. The shoulders are still wetting through.

While this jacket keeps me fairly dry, I can't give it a decent rating because it doesn't live up to expectations. From what I have heard, Gore-tex products should last 10-15 years when treated with care. Mine goes in the wash after every second or third use (unless I'm riding, in which case it gets washed as soon as there's sunshine in the forecast). I retreat the DWR at least once a year. I wash with soap, not detergent, and do a second rinse. These are all care guidelines from both Marmot and Gore-tex. Even with this care, the jacket doesn't hold up as much as I'd like it to.
Ian Lemley
Height:
6'0"
Weight:
155lbs