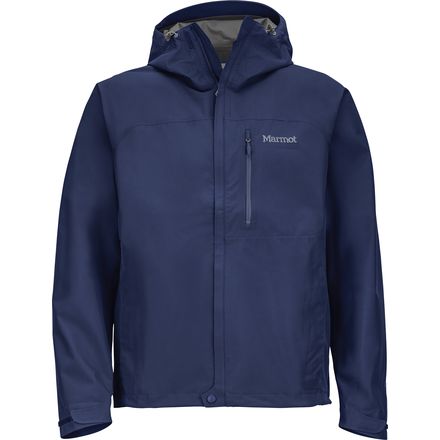 Colors

Detail Images

Community Images
Little impact in your pack but a big impact during sudden summer storms.
The Marmot Minimalist Jacket trims down your pack weight for long hikes and treks into the unknown while its Gore-Tex Paclite technology guarantees it can keep you dry during torrential rains. With just the features you need for a safe, comfortable experience in the storm season, this 15-ounce rain shell keeps the rain out without weighing you down or letting you overheat during muggy summer storms.
Polyester shell stands up to abuse and keeps down the weight, while the fully taped seams and Gore-Tex Paclite membrane keep out all moisture
Adjustable hood, hem, and hook-and-loop cuffs further seal out the monsoon rains
Zippered underarm vents dump excess heat and interior humidity during rainstorms
Front pockets hold necessities and are easily accessible while wearing a pack or harness
Water-resistant zippers and a front storm flap reduce vulnerabilities to near zero for ultimate protection
DriClime-lined chin guard provides comfort and a little insulation for your face during mountain storms
Angel-Wing movement and lower back hem ensure coverage no matter how you stretch and contort your body in the backcountry
Great basic rain layer
Familiarity:

I've used it several times

Fit:

True to size
While not the most lightweight, the benefit of this rain jacket lies in its durability and reliability. You don't have to worry about all the potential snags from the branches you're walking through - this jacket just works. I've found the best success by reapplying a waterproof wax layer after heavy use, especially if I'm frequently carrying a backpack (the straps wear the coating away).
Losaunne
I really "wanted" to like it......but...
Familiarity:

I've used it once or twice and have initial impressions

Fit:

True to size

Size Bought:

XL
Ok. Bought this jacket. Love the way it fits. Looks to be a quality piece of gear. Just used it yesterday on a 6 mile round trip hike in light to moderate rain here in the mountains of North Carolina. Temps hovering around 45-55, depending on elevation. Foggy in the higher sections. Very humid to say the least. I was absolutely soaked after the first 3 miles. Inside and out. I had the armpit vents unzipped, but I could literally wring the water out of my clothes. I had to stop and find a rocky ledge to get under and do a complete clothing change. I don't necessarily want to blame the jacket, because I did sweat a lot, but am I missing something here? Could I have done anything to prevent getting soaked inside and out? My Precip pants fared the same, as my pants were soaked as well. I really thought the goretex would breathe better. Any advice from anyone who has experienced the same? Or is this just a fact of life when hiking in the rain. I honestly wouldn't have been any wetter if I had not even put the jacket on. Cold, yes. But not any wetter. I do think if I had just been sitting and not moving around, i would have been dry. Also think it will make a great shell for the cold and snowy conditions I plan on hiking in this winter. We shall see. Like my title said, I really want to like this jacket. Maybe someone could tell me what I was doing wrong?
David M.
Height:
5'10"
Weight:
210lbs
Worth Every Dollar!
Familiarity:

I've put it through the wringer
I love this Jacket! Had it for over a year and it still keeps me dry. I used it working on boats during the summer and bike deliveries in the pouring rain. Its lightweight and doest feel heavy in hot weather. Side vents help keep it breathable or close them up when you want more warmth. After one year it still keep me dry! I never have had a coat work this well. Worth the money for sure.
Masta Bruce Amateur Snowboarder
You Already Know!
Fit:

True to size

Size Bought:

M
its amazing, warm, soft, and is truly a must have.
Take a 20% OFF coupons from coupon-code.info
Cain
Weight:
170lbs
Didn't live up to expectations
Familiarity:

I've used it once or twice and have initial impressions

Fit:

True to size
I went from my car to a building a couple of times over the course of a morning in a pouring rain and the jacket did not keep me dry. Water was in the shoulder area and the upper arms. Maybe I got a bad jacket. I expected more from Gortex.
James H.
Best rain jacket for the money
Familiarity:

I've put it through the wringer

Fit:

True to size

Size Bought:

Medium
FIt as expected. I got rained on for 8 hours straight while in a canoe paddling and not only did I not get wet but I also didn't create a micro climate inside the jacket. I didn't get any wet spots by the seams either. All in all this jacket is just as good as any Paclite Gore Tex you would get from Arcteryx in my opinion.
Forbes S
Height:
5'9"
Weight:
160lbs
Great Jacket
Familiarity:

I've put it through the wringer

Fit:

True to size

Size Bought:

XL
This jacket has kept me dry during torrential rains for two days. Impressive.
Charles C.
Height:
6'1"
Weight:
210lbs
Great Rain Jacket
Familiarity:

I've used it several times

Fit:

True to size

Size Bought:

Large
This is a great jacket for the price point - it's kept me dry without issue (although I haven't had any half to full day excursions in it yet). It's lightweight and packable, and has become my go-to rain jacket around town. Fit is good - not overly large that it feels baggy but not so tight that you can't layer effectively underneath.
Andrew
Height:
6'0"
Weight:
170lbs
Exactly What I Wanted
Familiarity:

I've used it several times

Fit:

True to size

Size Bought:

Large
I was looking for a very basic and lightweight rain shell to replace an older rain jacket (a jacket that I had run into the ground, so to speak, after years fishing and abrasive outside activity) and this jacket is just that; very basic in design, extremely lightweight yet seemingly pretty darn rugged. Couldn't be happier with this purchase!
Darren Green
Height:
5'10"
Weight:
200lbs
Great gear
Familiarity:

I've put it through the wringer

Fit:

True to size

Size Bought:

XL
I live in Florida and work outside a lot. I've needed a jacket that can take a downpour and not get saturated. This is finally the one.

I've had this in a few Florida heavy rains now and it has held up beautifully. Everything stayed dry from the rain, but typical moisture from sweating in the heat stays in during exertion. The pit-zips are great and the pockets stay dry. The water wicks right off.

I'm 6'01", 210 lbs with a 36" waist. I bought an XL and it's just loose enough around the waist to cover my pouches and meter on my belt. A large might have been sufficient, but I wanted a little room to cover the tools on my waist.

It's very easy to stuff in my gig bag and has not snagged on any of my sharp tools.

I just ordered a second one that I can keep in the car and wear out without it smelling and looking like a work coat.
Martin
Height:
06'01"
Weight:
210lbs
Right price
Familiarity:

I've put it through the wringer

Fit:

True to size

Size Bought:

XL
I bought one of these during a sale at my REI. I've used it on three weeklong expeditions, one in the Tetons in January and two to Moab since then. It is my go-to rain and snow shell front country and back. It has never let a drop through. My only qualm is when you cinch the skirt it rides up more than other jackets I've owned. Not a big prob.
Sam Doran
Height:
6'2"
Weight:
185lbs
Not fully waterproof
Familiarity:

I've put it through the wringer

Fit:

True to size

Size Bought:

Small
I've had this jacket for about 8 years now. Initially it was great—I used it on the requisite hiking and backpacking trips, but also as a rain jacket on my motorcycle in the Texas summer showers. Initially it worked incredibly well, but over time, even with reapplication of DWR, it's less than what I need.

When I first got it, I used it heavily in downpours while riding my motorcycle, frequently at 70mph on the freeway. It kept me ALMOST bone dry, with the exception of one little dribble that worked its way through the front zipper. I couldn't complain, I was subjecting it to harsher conditions than it was designed for.

However, over the last three years, I've been using it here in New England as my hiking, backpacking, and mountaineering shell, pulling double duty as my bicycle commuting rain jacket. During this use, the waterproofing has suffered.

in early 2014, one of the seams inside the left armpit started experiencing delamination. I contacted Marmot, and they fixed it up (for free under warranty, I believe). When I received it back, I decided it was probably due for another DWR treatment. I always use spray-on rather than wash-in for membrane products. Shortly thereafter I started to notice that my shoulders felt cold and wet under my pack straps, primarily when biking but also when in the woods. At first I thought it might just be heat conduction from the cold water on the face fabric. But eventually I noticed actual soaking on the garments beneath the jacket. I've retreated DWR several times, and always give the shoulders some extra love, but no matter what I do they always soak through after a short while.

About two months ago, the seam that Marmot had repaired started delaminating again. The shoulders are still wetting through.

While this jacket keeps me fairly dry, I can't give it a decent rating because it doesn't live up to expectations. From what I have heard, Gore-tex products should last 10-15 years when treated with care. Mine goes in the wash after every second or third use (unless I'm riding, in which case it gets washed as soon as there's sunshine in the forecast). I retreat the DWR at least once a year. I wash with soap, not detergent, and do a second rinse. These are all care guidelines from both Marmot and Gore-tex. Even with this care, the jacket doesn't hold up as much as I'd like it to.
Ian Lemley
Height:
6'0"
Weight:
155lbs
Tough and no piggy banks were injured.
Familiarity:

I've put it through the wringer

Fit:

True to size

Size Bought:

large
My brother has had this for 5 years now. He definitely has put it through the wringer. He spends full days out in the high alpine, searching for rare, native plants. He doesn't ever go inside, so he needs a very waterproof jacket. He always stays dry in the Minimalist.

He was nervous to spend so much and at full price, but he hasn't regretted it. He wears a very heavy pack, up to 75 lbs or more and carries sharp tools. So, having a strong jacket is necessary. This has been impressive, considering is a light weight rain jacket, and not a bomber ski jacket. It's still is very good shape.

The minimalist packs down. There are some that will get smaller, but you'll pay a lot more. Same with the breath-ability. It breathes fine, but you'll pay more for a little more breath-ability.

He is pretty beefy. His bulk is in his chest. He has big shoulders and arms. He is typically a large and the large is right for him in the Minimalist, as well.

This is a solid jacket that I sell confidentially. It will keep you dry for days!
Emily Jenson
Height:
5'10"
Weight:
185lbs
Didn't keep me dry.
Familiarity:

I've put it through the wringer

Fit:

True to size
Hiked for 4 hours in continuous light rain. By the end of my route drops were falling on the back of my neck through the hood. The matching Marmot Minimalist pants were soaked wet, as if they just came out of the washing machine. Won't trust this product with anything but short walks from car to office and back. I hoped the concept of waterproof-breathable fabrics can do what the manufacturers claim, but now I sincerely doubt it.

It did keep me dry on shorter rainy hikes, for about 2h. I also make sure to restore DWR and re-apply nikwax every year or so. Have it since 2013.
Michael S.
You wont get wet
Familiarity:

I've used it several times

Size Bought:

large
I work in the yachting industry and needed a light jacket for the summer months that would keep me dry. With big vents and a lightweight design thats exactly what you get. I can stay dry without getting over heated. The sleeves are long and the hood is big for optimal water protection. The jacket does fit a bit short. I wish it had just a bit more length for a taller body/fit. Overall I have had to adjust the lines of the boat during rain storms blowing sideways, and this jacket kept me dry.
Masta Bruce Amateur Snowboarder
Height:
5'11"
Weight:
175lbs
Awesome
Familiarity:

I've put it through the wringer

Fit:

True to size

Size Bought:

large
LIghtweight, waterproof, packs easily. Breathes reasonably well. If you can get it on sale, it's a no-brainer.
Duckberry
Height:
6'0"
Weight:
185lbs
Great rain jacket
Familiarity:

I've used it several times

Fit:

True to size

Size Bought:

Large
I keep one of these in my day pack at all times in case I encounter storms on any hikes. It's a lightweight rain jacket with overall good quality. It doesn't restrict my movement and seems to be pretty durable. So far so good.
Brock Price
Height:
5'11"
Weight:
200lbs
Will this jacket stop wind from stealing body heat?
Curtis R.
Hey Curtis! This is a bomber jacket for water and wind protection.

If you have any more questions feel free to hit me up directly. My phone number is 801 204 4694 and my email is kswistak@backcountry.com
Koly Swistak
Easy to pack, breathable, and no problems in light rain. Runs a little longer lengthwise.
Hanh H.
Unanswered Question
I'm 154 lbs,5 ft 9,chest:98cm,neck:39cm,sleeve:75cm,I kinda in the middle of the S size and m size,so should I get the bigger one or the smaller one that would suits me better?
hayden tse