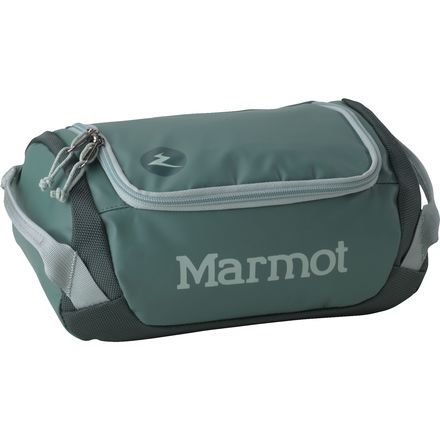 Colors
What smells like toothpaste?
Why would you want a toiletry bag as tough as the Marmot Mini Hauler? As any seasoned traveler or car camper who has experienced the unhappy moment of discovering your shampoo has opened, leaked through your bag, and is now covering your entire clothing ensemble knows, it pays to stow your stuff without fear. The Mini Hauler's D-shaped zip opening and organizer pockets make the ease of use as nice as the durability of this bag.
1000D TPE Laminate
1680D ballistic nylon
D-Shaped zip
Internal zippered nylon pocket
Mesh PU zippered pocket under lid
Easy carry handle
Does this have a loop I could use to hang it up while open?
Lucy
Excellent first impression
I am an inveterate organizer when I travel. I just received this item today and I immediately ordered two more of them, as I could imagine hundreds of uses for them, during my upcoming medical mission trip and trekking trips in the tropics.

I just wished that the Marmot name was printed in smaller letters :)
Brad
Perfect for the traveller
Familiarity:

I've used it several times
Been using this a few weeks and love it. Easy, clean and lots of room for a weekend away or 2-3 weeks on the road.

Sturdy and well made, definitely should be apart of everyone's travel kit.

Dallas
just what i need for my meds
oly
An Essential
Familiarity:

I've put it through the wringer
This is one of those pieces of gears that comes with me on every camping trip, and is essentially my medicine bag. It is able to hold everything you would need; such as deodorant, medicine, a brush, tooth-brush, tooth-paste and some first aid stuff. It is able to pack down with out damaging the items inside, making it very low-profile and store-able.
Patrick Boner
Will use for many years
Familiarity:

I've used it several times
I've already taken this bag on a few trips, and I can tell its going to last for a LONG time. In the past I've had a hard time finding mini travel bags that actually fit everything I need to take on a trip. Problem solved. If you have questions on this bag, or any other gear, hit me up directly!
David Harris
Awesome little pouch
Familiarity:

I've put it through the wringer
Great for traveling and you can put quite a bit of stuff in it. Super durable too. Expect this to last a long time.
Reagan Chung
This bag is deceivingly big which is awesome. It fits everything you would need for a camping trip or regular travel, we sometimes even use it for two people. I recommend it!
Dani
Miniature duffel bag
Familiarity:

I've put it through the wringer
Perfect little bag for carrying all sorts of essentials, with the expected durability and style that comes with anything Marmot.
Lindsay Wetzel Polin
This is a great and tough bag, I've used it a fair amount. However, be careful with the zippers. I accidentally zipped up a piece of the hanging cloth and couldn't get it out. In my frustration, one of the zippers broke. 😢. Not the bags fault though.
Jeffrey B.
Best Purse Ever!
Familiarity:

I've put it through the wringer
So most peeps use this as a toiletry kit (which btw it makes a great one) but I use it as a purse. It holds all my essentials (wallet, key, phone, lip gloss/balm) but it also has room for a small note book and pens for school. Also there is enough space for small snacks too! For winter it's nice because I don't have to worry about the snow or rain ruining the exterior. For climbing I don't have to worry about getting chalk on it or it getting scratched/torn against the rock. The ballistic nylon is bomb proof I swear. It's perfect for the outdoorsy woman . The open D shaped handles on each side make it easy to carry or even clip (with a carabiener) to another bag, belt loop, keys, chair, etc. Basically I use it everyday and I love it.
Jane Hwang
trousse de secours
Familiarity:

I've put it through the wringer
I was searching for the perfect pouch-bag for the kids' ski races...something in which I could have all the essentials ready (emergency cash, hand warmers, granola bar, extra mittens, lip balm, sun screen. etc) and just keep everything in one organized place so we don't forget important items. I wanted something water resistant, the right size, and nothing with a toiletry kit type hook, which is harder to find than you might think. These fit the bill perfectly. they would also be fine as toiletry kits, though I think they are better suited as a mini-hauler. They are also very cute!
Rebecca S.
Great organizer
Familiarity:

I've put it through the wringer
These mini haulers make great organizers. I have two of them and use them all the time when I travel. I have also bought a couple as gifts because people were so stoked on them.



Highly water resistant and rugged exteriors really stand up to a beating. 2 internal zippered pockets make for even more organizations. 2 handles, one on either end, makes a great spot to clip a caribiner and get the bag up and out of the way. D ring opening allows you easy access.



Lots of people use these as a toiletry kitI have found that for me, their best use is to put all those little odds and ends in one that you don't want rolling all over in your duffel while your in transit. In the other I put all those small things that I usually need quick and easy access to upon arrival and always want to know exactly where they are at.




Matthew Pizza
indestructible, indispensable
Familiarity:

I've put it through the wringer
This little bag is great! I have used it for everything from a toiletry kit while traveling to holding ice screws and spare picks so they don't shred my pack. the little pockets are great for keeping alan wrenches for adjusting gear or changing out picks on your ice tools. basically Marmot put as much attention to detail and quality materials that they would in a pack or duffel bag and made a small indestructible bag that is super useful.




Matt Park