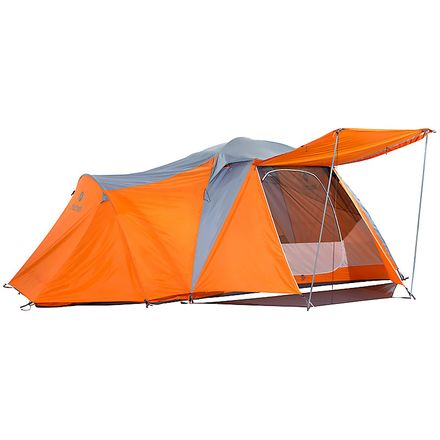 Ditch your house for a new tent.
If your house isn't big enough for all the people in your life, get the ginormous Marmot Limestone 8-Person 3-Season tent, sell the house, and invite all the in-laws to live with you in spacious, durable, waterproof comfort. It doesn't have a bathroom or running water, but the Limestone has plenty of things your old house didn't, like a waterproof polyester fly with fully taped seams, breathable no-see-um mesh, and rugged polyester and nylon walls and floors that can stand up the abuse that's an inevitable part of living outside.

It's also ridiculously easy to set up, needing only five DAC aluminum poles that pair with color-coded clips and sleeves, and comes with two doors and vestibules for storage space, so you don't have to bring wet gear inside with you―think of them as your new dual mudrooms. If the youngsters get rowdy, or the grown-ups need some alone time, you can set up the removable room divider and tell the kids to go to their room. They'll have plenty to do, since the interior pockets will probably be packed full of games, books, and snacks. There are other thoughtful touches, too, like reflective guy-out points so you don't trip over the lines at night, and jingle-free zippers so the breeze doesn't make a wind-chimey racket. Maybe it doesn't have a dishwasher, but it's better than your old house in every other way. Kind of.

68D polyester ripstop fly
40D polyester No-See-Um mesh canopy
75D polyester walls and 150D nylon floors
Fully taped seams
Five DAC DA17 aluminum poles with color-coded clips and sleeves
Two doors with extra-large vestibules
Reflective guy-out points and jingle-free zippers
Internal pockets and removable room divider
Great tent! Accessories need to improve
Familiarity:

I've used it once or twice and have initial impressions
The tent is great. Held up perfectly in severe thunderstorms with 30 mph wind gusts. There are some great youtube video reviews of the tent, but I wanted to add a few things that are not clear on the tent specs and not in the reviews I have seen so far.

The tent shows that the fly can be setup as a canopy, but the poles are not included with the kit. I bought a set of MSR poles separately.

The tent comes with six lines that are black. Six is enough lines depending on how you want to tie the flies, you may want to pick up more. I do not like the black because of visibility at night. I replaced the lines with a set from MSR that were reflective.

The tent can use up to 18 stakes, 20 stakes possibly depending on how you setup the flies. The tent only comes with 14 stakes that are the hook style. The stakes are durable, but the design does not do well in soft or sandy soil. I replaced the stakes with MSR groundhogs.

The lack of poles, the black lines, and the lack of stakes as well as the style is why I gave a 4 star review. The tent itself is wonderful, Marmot just needs to improve the accessories included.

I took a tape and measured the floor. My numbers may not be exact, but should be close. The main area is 100"x118", 100" being from door to door. The vestibule is 99" at the mouth and tapers to 50" at the wall. From the wall of the vestibule to the main area is 67".

I recommend buying the footprint that is sold separately by Marmot. Also, be sure to store the tent in a climate controlled area when not in use to keep the laminate from melting and ruining waterproofing of the tent.
Paul B.
Take another off 20% discount coupon from realdiscount.tk
Vonnt
Great for big groups
Familiarity:

I gave it as a gift but have feedback to share
This is a really big tent that would be great for big groups. I bought this for my sister to take her 3 sons and their friends camping, and this fit all of them with plenty of room to spare. The main room fit all of them for sleeping and the side room fit all their additional gear out of the way.
Peter N
Limestone 8 is the place to be
Familiarity:

I've used it once or twice and have initial impressions
Recently used my new Limestone 8 on a fishing trip at Bull Shoals State Park on the White River in Arkansas. All though we did not encounter any serious weather to test the storm worthiness of this tent, I can see the quality in the materials and construction would hold very well against any rain or wind that I might encounter in the region I frequent (Texas, Oklahoma, Arkansas, Missouri). Features that I liked best during our 4 day stay were: #1 Vents-I think these really help to keep interior condensation to a minimum. In the mornings everything else in camp had thick dew, inside was dry. (overnight temps. in 30's) #2 Roll up flap at front entry of rain fly-Made the hundreds of entry/exits easy with 3 guys constantly sorting gear. #3 Nice mesh door panels-Kept the insects out and let fresh air circulate. #4 Easy set up & take down-Honestly 1 person can set this up & take down in less than 10mins. unless you are a complete moron.
Size: This is a nice big tent, but 3 big guys with Deluxe 30" mats + gear was tight, a 4th person is doable but organization would have to be a must.
Chris M.
Unanswered Question
Which footprint is coming to this tent?
Andrey
Huge!!!
Familiarity:

I've used it once or twice and have initial impressions
Ok. So this is my second marmot tent. My first one I absolutely love. I have been through some nasty storms that have blown over trees and the limestone 3P was completely dry the entire time. This tent however, I set up in 10 to 20 mph winds, which was very difficult because of its size when you are setting it up by yourself. Once I got it up, I made the mistake of putting the rain fly on because we were supposed to get rain later that night. Needless to say once a gust of wind came up it bent my 2 main poles. So I took it down and moved to a different campsite that is out of the wind. Then I set it back up and realized that the poles were ruined. I was very upset at this point. I bent the poles back so I could at least stay in the tent that night. I feel that this error was more a little bit of my fault but I think those poles were bad. So I emailed marmot that night and I continue camping for the weekend. I get back home and wait a few days and have no response from marmot. So I called them. However says there customer service or warranty is bad is wrong. I called them. I got a lady on the phone and she couldn't believe my story. Then she sent me a tracking number to my email. She said that when I drop the poles off at fedex to ship, to email her back and let her know. So I emailed her back right when I sent them and she overnighted me all brand new poles at no charge to me. I have been out in wind since then and the tent was fine. I did stake out the rain fly and I think that helps out a lot in the wind. The pockets are nice and big. I will say that you can watch all the videos you want, you can't grasp how large this is until you are in it. I purchased this for car camping with my family. If it wasn't for the pole incident it would get 5 stars but marmot took care of me on that.
Troy S.
Great Family Vacation Home
Familiarity:

I've used it once or twice and have initial impressions
I just bought this for the upcoming Summer but once it came, I had to pop it up in the backyard so we could see what we were in store for. Lets just say, I can't wait to go camping memorial day weekend! Love the shape, how light weight it is and how easy it was to set up. Between my 4 year old son and myself, we set it up no problem :) Will definitely come back after Memorial Day with pictures and part 2 of review.
Tyson Sterling
Go-to family tent
Familiarity:

I've put it through the wringer
We have taken our Limestone 8P out several times and I love it more and more. The room divider is a huge plus with little kids as we have convinced them they have their own secret hideout to sleep in and will fit 2-3 kids easily with their gear. That leaves a super (like really) spacious room for my husband and I with plenty of headroom and gear pockets galore(6-8 that I can think of off the top of my head). I can put it up on my own including the fly by clipping two corners and throwing the rest of the fly over the top. The full coverage fly has kept us totally dry while still having good ventilation. It is now the only tent we take family camping! Can't wait for this next season. Looks as good as the day we bought it.


lauraD
Great for a family!
Familiarity:

I've used it several times
We got this tent last summer, have used it on 3 trips, and love it. Pretty quick and easy set up for its size, I've set it up by myself since the kids are still pretty small. Love the removal partition inside so that you can change with privacy.
Matthew Haney-Utah
Marmot's Curly's Clips - The Limestone 8P
Marmot's own Curly takes you through the Limestone 8P Tent.
Wayne Christoffersen