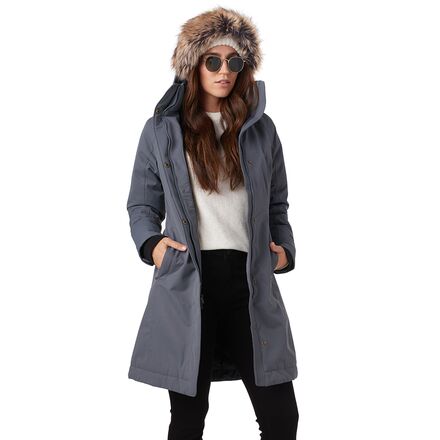 Colors

Detail Images
Serious warmth for city denizens.
City girls need protection from wintery weather, too, but not necessarily in the same style as their country cousins. While a lady in the mountains needs some technical gear to keep her comfy, urbanites need to balance warmth, weather protection, and style, a see-saw act that Marmot's nailed with the Chelsea Women's Down Coat. The knee-length cut is all about the classic trench coat look, but the waterproof 2L MemBrain laminate and fully taped seams provide real rain, sleet, and snow protection, unlike a flimsy coat that can cost just as much. A traditional trench doesn't offer much in the way of warmth, either, but the Chelsea's 700-fill down insulation keeps you as warm as a summer subway car, without all the unpleasant accompaniments. Even the details are designed to keep you cozy; the hand pockets, media pocket, and snap cuffs are lined with fleece, and the down-filled hood features a removable faux fur ruff that helps you embrace your inner femme fatale if you're feeling saucy.

MemBrain 2L waterproof and breathable membrane
Polyester fabric
700-fill down
Fully taped seams
Insulated hood with removable faux fur ruff
Fleece-lined hand pockets
Internal media pocket
Fleece-lined snap cuffs
I wish it was cold But love how it looks
Familiarity:

I've put it through the wringer

Fit:

True to size

Size Bought:

Medium
It's such a beautiful jacket. It's very light weight. I'm 5'1" n it covers my knee caps. I bought a medium n I'm 165lbs n it's perfect.. It has just a little bit of extra room. But I like it not too snug where I can wear something like a long sleeve and a cardigan n still be comfortable in this when zipped up. Not too sure about the sound that some have mentioned but it's great so far. It makes me look slim. I love it. Can't wait til the cold comes back.
Got this on clearance and it's so worth it. I was going to get the north face miss metro jacket but then I thought why not for $30 more n get a jacket that's waterproof n 700 fill.

Angela T.
Height:
5'1"
Weight:
165lbs
Almost perfect
Familiarity:

I've used it once or twice and have initial impressions

Fit:

True to size

Size Bought:

Medium
Living in Boston this coat is a great match for the harsh winters...waterproof, warm, knee length and with style.
How can the designers get this right but blew it on the hood design.
I am 5'10" and the hood is small sized and too short making for an uncomfortable fit and a bad case of hat hair. Forget about having a small hat on underneath. Wish this coat had an adjustable hood like the Waterbury Down Jacket.
mary christine C.
Height:
5'10"
Weight:
145lbs
Sound and Down Issue
Familiarity:

I've used it several times

Fit:

True to size

Size Bought:

XXL
Bought this coat for a recent trip to Iceland. While it was indeed very warm and looks pretty good on (I'm fairly tall at 5'11 and it fit me perfectly, even with arm length), there is a lot of noise when moving around. I thought at first it would only happen because it was so new, but I wore it consistently for about three weeks and the noise continued to happen. Also, I wear a lot of black and this was my biggest issue with the coat, every time I wore it I would get little down feathers stuck all over my clothing underneath. Quite disappointed in this Marmot product.
Corinne L.
Height:
5'11"
Weight:
240lbs
The sound issue is real
Familiarity:

I've used it several times

Fit:

True to size

Size Bought:

Small
I ordered this coat because it seemed to check all the boxes of what I needed for a flattering coat to get me through Minnesota winters. It is warm, well made, and a great fit. BUT it is so insanely loud. I had seen this in other reviews and didn't think it would bother me, but even other people commented on it who were standing near me. You can't move your arms without making a ton of noise. The arms are also very short, so this is not for tall ladies. I also did not like how the zipper did not go all the way down- that's a necessity for dog walking in negative temps. Beautiful but too many problems.
Erin C.
Height:
5'10"
Weight:
140lbs
Ordered too large
Familiarity:

I returned this product before using it

Size Bought:

Medium
Based on other reviews, I ordered this coat in a MEDIUM, which was waaaaay to big for me. I am 5'5" and about 135lbs, so one the high end of a size 6, but this medium was far too big and will be going back. I hope this helps someone else in their decision making process.
Apart from the sizing issue, the coat looked fabulous. Loved the hood - it enveloped my head, so great for snowy or cold days.

Leslie C.
Height:
5'5"
Weight:
135lbs
Unanswered Question
How does one CLEAN this coat? Is it washable?
Ann
Take free backcountry 20% OFF Coupon,Take It: outdoorback.tk
fireloli
Just what I have been looking for
Fit:

True to size

Size Bought:

medium
I have been searching for a winter coat that looks good, is warm and will hold up to the elements. This coat fits the bill. I have tried several different brands and they have all failed for various reasons (stylish but poor quality, poor fit). This coat is stylish and made extremely well. I think the fit is true to size, I am 5'6" and 135lbs and the medium fits great with a bit of room to spare for extra layers.
Gabrielle H.
Height:
5'6"
Weight:
135lbs
Warm&stylish-the best winter jack I have
Familiarity:

I've used it several times

Fit:

Runs large

Size Bought:

s
+ Great value. Got it on a big sale.
+ It's super warm, waterproof(tested under light rain), and strongly resistant to the Chicago winter wind. It also has a flattering waist cut.
- Runs large. I could definitely go down to a XS.
- It makes a funny noise when I move, but it's not loud enough to be noticed by others.

meng Y.
Height:
5'4"
Weight:
120lbs
Great find!
Familiarity:

I've used it once or twice and have initial impressions

Fit:

True to size

Size Bought:

Medium
I purchased two down jackets and chose to keep this one. The sizing is good with a flattering fit, and with generous faux fur ruff on the hood (removable). I've yet to try it in really cold weather, but am hopeful it will keep me warm on an Alaskan adventure in March.

I haven't noticed anything specific about the sound this jacket makes - I don't find it either annoying or noticeable, and it seems to me to be very similar to other down ski/boarding parkas.
Christie Fisher
Height:
5'0"
I returned this immediately. The collar was too high and stiff and rubbed against my chin, forcing me to hold my head up at a weird angle. Also the size was HUGE, but I would have put up with that if the collar had been wearable. What a disappointment.
Gwen
Money well spent
Familiarity:

I've put it through the wringer

Fit:

True to size

Size Bought:

Medium
I looked at many coats, read many reviews and was impressed with the Chelsea Down, it made a list of top ten winter jackets. I bought the medium it fit very well. By far, this is the warmest winter coat I've ever had. It wasn't bulky, the sleeves were the right length and the length was at the knees. Being waterproof was an added bonus, the hood is as insulated as the rest of the jacket.

Now that it's mid January and I've had time to really test this jacket, it has come through in 9° F weather. I've waited at the bus stop and on outdoor subway platforms and I've been warm and cozy.

I don't have to wear as many layers and I'm quite warm. The jacket has to go on at the very last minute before I leave the house or I'll be roasting. What ever I paid for it was worth it, has been one of the best clothing purchases I've ever made.
Bridgette S.
Height:
5'2"
Weight:
134lbs
Minnesota winter approved
Familiarity:

I've used it once or twice and have initial impressions

Fit:

True to size

Size Bought:

XS
I found this coat on a certain discount site for a really really good price in the middle of the most recent nasty cold snap and I impulse bought it. I was a little hesitant because I bought the XS and I'm usually borderline XS and I wasn't sure about the length either.

The coat arrived and I couldn't be happier with every aspect of it. I'm around 5'1'' and between 115 and 120, and the coat fits perfectly. It's the perfect length, the perfect size (I can fit a down vest or other insulating later under it when the temp hits -20 with windchill) and it's super flattering. I love the insulated hood and I love the ability to zip the fur on/off separate from the hood.

It's great when waiting for buses and trains and for tromping across campus (I'm a graduate student) to get coffee or to meet with professors in other buildings. It's replacing a North Face jacket that wasn't quite as long and didn't have an insulated hood.

Awesome product!
Elyse K.
Height:
5'1"
Weight:
120lbs
Unanswered Question
Hi, I normally wear a small petite. I am 5'-1" and weigh about 112 pounds. I really like the Marmot Chelsea down coat and was considering ordering a XS size. Do you think this would fit a person my size?

Joan S.
Best money I've ever spent
Familiarity:

I've put it through the wringer

Fit:

True to size

Size Bought:

Large
I walk my dog in NYC at least an hour every day, no matter the weather, and this jacket has me looking forward to winter walks! This will be my forth winter with this jacket, and it keeps me warm in sub-zero temps and is somewhat water-resistant. The hood accommodates my big head and lots of thick curly hair, and the a-line fit is actually pretty flattering (the best of any down parka I've ever owned or seen). The jacket is wind-resistant, too, which was a much-appreciated feature when walking around Prospect Park on a windy 10-degree day.

I recommend this coat to every woman I meet. Perhaps Canada Goose coats are better, but they're twice as expensive and I can't imagine needing a coat that's twice as good as this.

I'm a size 8-10, and a large is perfect - there's even room for a sweater (not that I usually need one). I have a huge hip-to-waist ratio, and this jacket fits my hips perfectly (Patagonia and North Face alternatives did not).

My only complaint is that I wish it were waterproof. I trudged around in freezing rain yesterday, and my shoulders were wet at the seams, though most of me was dry. Improve the waterproofing and this will be the perfect parka!
Danielle C.
Height:
5'8"
Weight:
165lbs
Cozy and flattering!
Familiarity:

I've used it several times

Fit:

True to size

Size Bought:

Small
I did a lot of research before buying this coat, and ordered the Marmot Montreal along with it so I could compare the two. I ended up choosing the Chelsea for its waterproof shell and its elegant shape—there are not many winter coats that you could wear over a fancy outfit without feeling ridiculous, and this is one. Other reviewers are right that it has a strange plastic noise, but after the first wear it hasn't bothered me. The fit is pretty good—I wish it were a little bit more fitted in the chest and it can feel bulky around the hips, but like I said, overall it's quite an attractive coat. It's very warm and feels like it will last me a long time!
Emma S.
Height:
5'3"
Weight:
130lbs
Beautiful fit and color, but...
Familiarity:

I returned this product before using it

Fit:

True to size

Size Bought:

Medium
I really liked the coat: great, flattering fit, super warm, wonderful hood and collar, BUT.... the squeaky sound was too much! I tried it on repeatedly to see if it was really bothering me, but not only would the sound annoy me, but it also gave me the feeling of putting on rubber. It's really too bad as otherwise the coat was pretty much exactly what I've been looking for. As for the size, it's form-fitted and seems to run true to size. The color steal onyx is a soft gray with blue undertones.
Kerstin H.
Height:
5'9"
Weight:
165lbs
Great Coat.. Not Good For Me
Familiarity:

I returned this product before using it

Fit:

Runs large

Size Bought:

Small
After a TON of research online seeking out the best warm but fashionable coat for a winter in upstate new york, I settled on the Marmot Chelsea. When it got here, the quality of the coat definitely impressed me. It's just as warm and high quality as the reviews and specs suggest. However, it did not fit me well enough to keep. The arms were too short while the body/waist were too big. Also, the hood is uncomfortably tight and pulls down on the top of my forehead. Unfortunately I'll have to return :(
Emily S.
Height:
5'7"
Weight:
130lbs
Hesitated, but glad I bought it!
I really hesitated to buy a down coat online. Between fit, feel, etc it isn't always easy, even with reviews (everyone is different). I debated between the Marmot Chelsea and The North Face Tremaya. The Chelsea is what I ended up deciding after thorough research and I'm glad I bought it. Fits true to size, feels great on (not like it's weighing you down...no pun intended), and looks fantastic. Most of the down coats I've tried on make you look like the Michelin Man or the Sta-Puft Marshmallow Man. This one is actually flattering. Marmot has won over a new customer!
Penny G.
I wanted to love it...
Familiarity:

I've used it once or twice and have initial impressions

Fit:

Runs large

Size Bought:

XS
I have owned the Marmot Montreal Down coat for several months now and LOVE it. That is why I decided to get the Marmot Chelsea Down coat as well so that I had a waterproof option. When I received the coat, I was a little disappointed. Although the XS Montreal fit me perfectly, the XS Chelsea was considerably larger and baggier. The coat is extremely warm, and comfortable, however, I couldn't get past the ill-fitting body of the coat. It balloons out rather dramatically, and lacks the slim, chic fit of the Marmot Montreal. Also, maybe it's just me, but it seems that the Chelsea also has less down fill than the Montreal. Although the quality of the Chelsea is fantastic in terms of warmth and utility, I ultimately had to return this coat. I still love you, Marmot! Maybe next season's version (or new equivalent) will have a better fit.
Kathy K.
Height:
5'1"
Weight:
100lbs