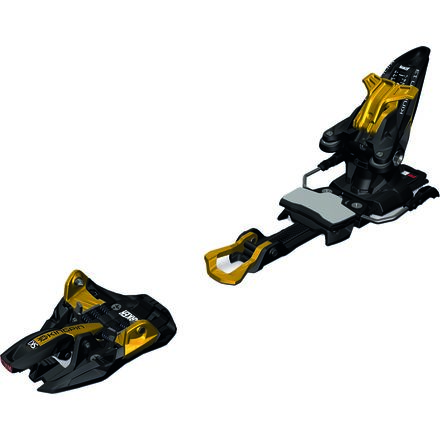 Colors
The sovereign you always wanted.
In the gear world, as in the regular world, there's a constant tug-of-war between the time-tested and the newfangled, the tried-and-true and the next big thing. Stay in the past, and you'll get left behind—but innovate too fast, and you'll end up with something that looks better than it works. Marker found the sweet spot with the Kingpin 13 AT Binding, which cribs plenty of reliable tech from classic two-pin bindings, takes cues from the successful Royal Family series, and adds a whole mess of brand new to create a clamp that's almost as light as a classic tech binding, as versatile as a Duke, and as powerful as a traditional alpine binding.
Let's start with the toe, which is the most recognizable piece of the Kingpin. In classic style, it uses two spring-loaded pins to secure your boot, has a locking ski/walk switch, and sports adjustable boot stops for easy step-in. The differences are in the mounting pattern (a super-wide 38mm for efficient power transfer on wide skis) and the spring configuration, which uses Marker's Six Pack setup to provide greater energy absorption and contact pressure than a four-spring setup, reducing unwanted release in ski mode and giving you a smoother ride. There's also an integrated crampon adapter for stress-free ascents up bulletproof snow or in no-fall zones.
The toe's cool, but it's in the heel that the Kingpin really shows the world who's boss. Marker's XXL Power Transmitter is damn similar to an alpine heel—the step-in function is the same, it has a beefy anti-friction device, and rocks alpine-style brakes that lock up in walk mode—but with a few key differences. First, it's TUV-certified, making it the first tech binding that can actually claim to have real, measurable, and repeatable DIN settings, not just "release values." Second, it pivots laterally to provide consistent release and retention, with plenty of vertical elasticity as well, so you have a powerful alpine connection instead of that rattly tech-binding feel. To engage the heel walk mode, just flip the underfoot lever to slide the heel back and step down, locking the brakes in a raised position. That'll give you a free, flat heel, and the dual risers can be flipped down with a pole to give you 7 and 13 degrees of climbing comfort. Reverse the process to engage ski mode, and psych yourself to rip the biggest, baddest, remotest lines you can find.
First fully DIN-certified tech binding (range from 6-13)
Plastic and hot-forged aluminum body with carbon rails
Six-Pack power toe springs with traditional ski/walk toe lever
XXL Power Transmitter alpine-style heelpiece
Adjustable easy step-in with boot stops
One-motion underfoot ski/walk switch
Two heel risers
Automatically locking brakes and integrated crampon adapter
Backcountry.com is the exclusive North American online source for the 2015 Kingpin
good compromise binding
Familiarity:

I've used it several times
not the lightest but also not super heavy for the quality of binding and release you are getting. Ideal for a one ski quiver
James Bleuer
Only limited time....but love this bindi
Familiarity:

I've used it once or twice and have initial impressions
I only got these bindings toward the end of the season so I only got a few days on them...but I already can tell that this is the best AT binding that I have owned.
No the lightest I have had, but not too heavy, easy in&out and great for climbing....I recommend.
Eric Lyon
Great!
Familiarity:

I gave it as a gift but have feedback to share
I gave these as a gift but he sure does loves them. All around they are a high quality binding.
Breanna Price
Great bindings
Familiarity:

I've used it once or twice and have initial impressions
I have used these a few times and I am really impressed. They aren't the lightest bindings, but the stability of an alpine heel makes me feel solid on the down.
Brandon Madsen
There's a reason it's called King
Familiarity:

I've used it once or twice and have initial impressions
Awesome binding. Lightweight, super easy to use and transition with and offers awesome security when going down. I wanted something light and techy like a Dynafit but with added security and performance of an alpine binding. This thing hits the mark, highly recommend.
Larissa Bortz
Solid Touring Setup
Familiarity:

I've used it several times
Excellent lightweight touring binding that also works well in the resort. Super easy to switch between tour/ski mode and the heel lifters are easy to adjust with a ski pole. This is my first tech binding and so far I am impressed.
Chad Cordell
One binding does it all
Familiarity:

I've put it through the wringer
This binding performs excellently everywhere I have used it; on and off piste at resorts, as well as the backcountry. I've never experienced pre-release with these bindings like I have with some others, but they release when they need to.
Taylor E.
Unanswered Question
These vs Tecton? Can only have one set up
This year, expecting 60/40 bc/resort use. Thanks for insights.
Jacob J.
Not for me
Familiarity:

I've put it through the wringer
I was skiing them a lot in the backcountry, loving them. Had no problems they were working great and I was putting them through the ringer. I was convinced I loved the bindings. Until both of them prereleased while I was straight lining and hit a patch of hard pack going 50ish. (dins were at 13) It ended my season with a broken collar bone and a dislocated sc joint. I love Marker products and will still use them but come on thats not right.
Mike W.
Toe pin sheared off in tour mode
Familiarity:

I've put it through the wringer
Cheap construction. Skied well until they failed.
Toe pin sheared off while in tour mode after 4 months of use. Also the heel piece accumulates a ton of snow with anything but the coldest powder (you'll think you forgot that you put your heel lifters are up until you realize that it's just packed snow). As a result of the snow packing, it seems like the heel piece is getting loose. To top it off Marker customer service is NONEXISTENT.
In the spirit of dissatisfaction - I will also mention that the brakes seem to constantly work their way loose. Be sure to locktite the screws.
Was willing to deal with issues for the skiing quality, but the toe piece failure coupled with no customer service will have me looking for another option after spending $$$$$ for a binding that only held up for a few months.
mark.andre1947121
Toe pin sheared off
Familiarity:

I've used it several times
Loved the bindings... until my toe pin sheared off while in climb mode. I have 103,000 vertical ft on them, purchased mid January this season.
Brian H.
From touring to downhill
Familiarity:

I've put it through the wringer
I threw the Kingpin 13's on my Black Diamond Helio 105's and have been riding the Technica Zero G Guide's with these bindings. The bindings impressed me most when converting to downhill (ski) mode. The stability of the locking heel piece gives me the confidence to ski aggressively downhill. Switching to and from walk mode is incredibly easy to do with your ski pole. Toe piece took a few runs to get used to locking in, but no problems arose after that. The toe of my boot stays locked in nice and tight. Must remember to manually lock your brakes in while hiking uphill. The weight of these is good for touring, no complaints there. Bindings do more than pull their weight at the resort at well! The two heel risers are AWESOME for the steep uphill trek.
Chasen Fairfield
I like
Familiarity:

I've used it several times
I've skied on Dynafit bindings for the last 7 years. I'm trying these bindings this winter and so far I really like them. I have more control of my skis in downhill mode. They're a little heavier than my old bindings, but its worth it for the added safety and ability to ski harder.
Ian Provo
Marker Kingpin 13 AT Binding
Familiarity:

I've used it several times
I picked up the Black/Gold, 100-125mm.

Here is a youtube video of the MArker Kingpin User Tips, which I figured would be a good way of describing the different dynamics and intricacies of the binding.

If you have any further questions or concerns please give me a call at 801-523-4061 or shoot me an email @ agoulden@backcountry.com

https://www.youtube.com/watch?v=1pzr8jOrVGM
Alex Goulden
Will my Scarpa Mobe boots work with this binding?
Dan Osborn
Hi Dan - Yes, the Scarpa Mobe boot should work with the Marker Kingpin just fine. If you have any other questions or would like me to get an order set up for you, let me know and I'll get you taken care of. - Matthew Pizza - Customer Account Manager
Matthew Pizza
Well designed AT bindings
Familiarity:

I've put it through the wringer
Growing up as a racer and being very hard on my ski gear, I wanted a lightweight touring binding that would perform well and not leave me stranded in the backcountry. I mounted these bindings on the DPS Wailer 112 Tour 1. I have no complaints. I found them to be easy to use, lightweight, and I feel confident going downhill with the locking heel piece. I love the fact that I don't have to release my boot to go from walk to ski mode. If you're looking for a lightweight, bomber backcountry tour binding, look no further.c
Matt A
Broken after 3 tours - Warranty Headache
Familiarity:

I've used it several times
Really excited to put these bindings to use this season on a new set up! Had a few really great resort days as well as a tour or two on these powerful and responsive bindings. However, on their second tour, roughly a mile or two hike in with 1/4-1/2mile laps, they broken while ascending toward their third lap. A total of 4 days of use. I noticed after touring to the top that the walk/ski switch lost it's factory rivets, denying me the ability to lock into ski mode - followed by the carbon fiber tough (which attaches to the switch) cleaving in half... As of now, my birds have been in warranty purgatory for two weeks with marker having not responded to the store of purchase's claim inquiry. Theres a 'supposed' two week turn around from Marker, but looks like I am going to have to ship my skis in for them to examine my bindings. The wait time is frustrating - I'd hope that a company charging arm and leg for these babies would be more quick to back their product. New product and a reputable company - hoping things turn around. For now, not pleased with product and customer service.
Henry Shepley
Love
Familiarity:

I've used it several times
These are great! light weight and easy to use which is what I need. They work great going up hill as well as going down. No complaints yet!
MacKenzie C