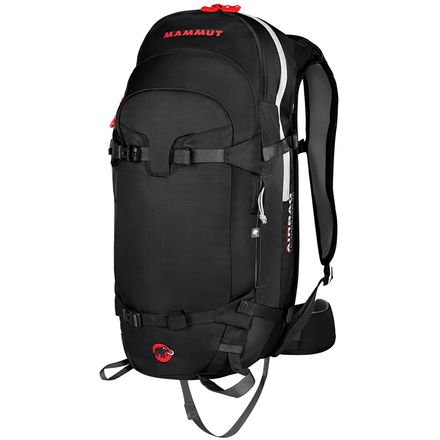 Colors

Detail Images
When everything goes terribly wrong.
We're not going to tell you the Mammut Pro Protection Airbag 45L Special Edition will save you from poor decision making skills in high-consequence avalanche terrain, especially when the snowpack is touchy at best. However, this leading avalanche pack from Mammut will give you an extra degree of safety by keeping you afloat during an avalanche, should you make a horribly wrong decision in the backcountry, only to be swept away in a raging torrent of thick snow and mountainside debris.
It's designed for quick deployment with Mammut's Protection Airbag System 2.0, which rapidly inflates with the pull of its T-shaped deployment handle that's adjustable to the wearer's body size. This quick-deploying airbag rapidly inflates and wraps around your head and neck for trauma protection when you're tumbling down the mountain, especially with debris hurtling towards you at high rates of speed. This head and neck-wrapping protection separates Mammut's Pro Protection series from their cheaper Removable Airbag System (RAS) packs, giving the avid backcountry skier and rider additional protection and peace of mind.
This particular 45-liter Pro Protection Airbag Pack is large enough for ambitious day tours where you need plentiful food, water, and additional layers for ticking off untouched lines from your backcountry bucket list. The front tool compartment allows quick retrieval of essential items, such as your collapsible shovel, probe, and snow study tools. Additionally, you can access the main compartment from a rear zipper along the back panel.
Please note, it runs off a separate Refillable Compressed Air Cartridge, which is refillable at dive shops for convenience when you're traveling around North America and Europe. And please remember, this airbag system is NOT a guarantee that you will survive an avalanche. Get the right tools, travel with knowledgeable partners, and make cautious decisions out there.
Keeps you afloat and prevents trauma during an avalanche
Protection Airbag System 2.0 wraps around head and neck
Rapidly inflates with pull of adjustable T-shaped handle
Safety leg loop prevents it from ripping off your body
Requires separate Refillable Air Cartridge by Mammut
45L capacity for plentiful storage on ambitious tours
Rugged, water-resistant fabric for long-lasting use
Both snowboard and ski-carry options for boot packs