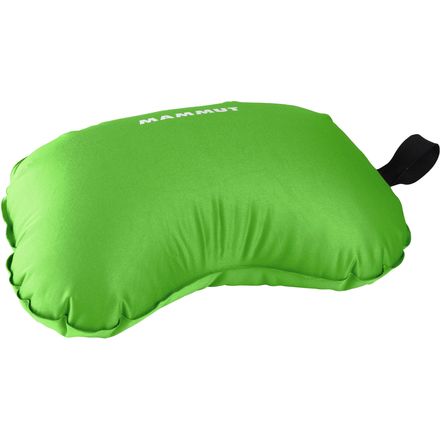 Colors
Home is where you rest your head.
Give your head somewhere comfortable to rest when you equip your Mammut sleeping bag with the Kompakt Pillow. This inflatable foam pillow easily fits in the hood of your Mammut sleeping bag, so you can enjoy a comfortable night of sleep in some of the most rugged landscapes in the world.
50D polyester stretch fabric
Standard foam filling
Inflatable
Fits in Mammut sleeping bags
I wasn't a fan
Familiarity:

I've used it several times
While compact and light weight, i found the pillow to be uncomfortable and annoying. In fact i began to used my bag of dirty clothes as my pillow as that was more convenient and comfortable. I used it between my kees though. helped a bit with back pain.
adam H.
Just as expected
Familiarity:

I've used it once or twice and have initial impressions
I bought this pillow knowing it wouldn't feel like the down pillow I use at home, and it's met the expectations I had for it just fine. I found it to be the most comfortable when I let most of the air out of it, but that's just personal preference. It packs up really small and very easily, and it's made of durable material that seems like it will hold up well over time. It's small, but great for space-conscious trips. For the price I think it's a good buy, as long as you aren't expecting anything luxurious.
Tara McGarry
I like it
Familiarity:

I've used it several times
I used the pillow this last week on a trip, and I was quite pleased. It stayed in place at the top of my mummy bag quite nicely, and my head fit in it quite well. Further, I wrapped it around my tent poles when I stuffed them in my pack--it just provided some extra padding.
Andrew White
Decent Pillow
Familiarity:

I've put it through the wringer
When I found this originally, I thought it was a really cool pillow and was convinced it would work perfectly. After using it several times I have to admit, it's just not as comfortable as I would have hoped. It's nice because you can inflate it however much you want and if any air leaks, I haven't noticed yet. It also compresses to fit almost anywhere. The only problem is that it's just a little too small for my head and I've noticed with the way it's rounded, my head tends to roll to one side or the other and off of it, making for a stiff neck in the morning if I sleep like that. This may be entirely my own experience, but my next pillow will probably have to be a little bigger.
Paul Baker
Awesome for Backpacking
Familiarity:

I've used it once or twice and have initial impressions
I used this pillow for a four-day backpacking trip and it worked awesome! I'm not sure if I was just super tired after logging miles with my pack or if it was the pillow itself, but I slept really well and never woke up with any neck stiffness the whole trip. It rolls up nice and small and tucks easily into your pack. I let it self inflate and found that that was the perfect amount of support for me; it left it with a little "squishiness" but enough support for my neck and head. I'm considering taking it car camping, too, even with the option of bringing a real pillow, this one is just so convenient and just comfy enough.
Rachel S.
I'm just not an air pillow type of gal
Familiarity:

I've used it once or twice and have initial impressions
So I bought this to use as my main pillow for a two week trip. Luckily I brought my plane travel pillow with me as well. I have come to realize that this pillow works better for me with little air in it and propped behind my lower back or beneath my hip bone. I could not imagine using it to rest my head on filled with air. So after one night of trying to sleep on it, I switched to my travel pillow and used this as back support. It worked wonderfully for that purpose.
Laura
what is the weight of Mammut Kompakt pillow?
jeanie
Best Answer
Hey Jeanie,



This pillow weighs .5 lbs with packaging.
Adam Saucedo
Love this pillow. worth the minimal weight and size to carry it. Shape is right and stretch fabric is comfortable and seems durable. Used it on a recent trip on the plane. Will probably get a lot of use for travel more than camping. Love it.
james Baden
Cool Stuff
Familiarity:

I've put it through the wringer
This is a very compact pillow that can be stored right up to your backpack! So much comfort and support to neck while you sleep. I sleep on my left side and never had experienced neck pain or stiff neck for that matter.

Really cool!
jge105904067-0