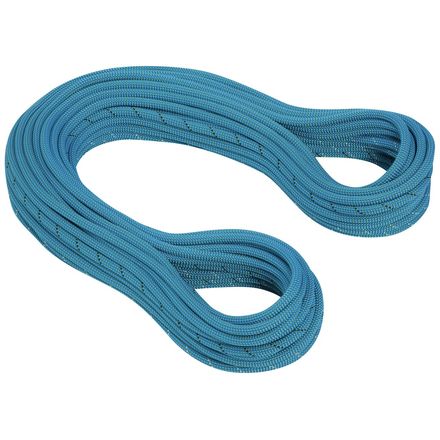 Colors

Detail Images
Don't stop 'til you hit the top.
Send projects, sew up trad lines, or crush mixed pitches with Mammut's Eternity BiCo Sense Protect Climbing Rope. It's a 9.8mm workhorse that combines Protect Coated Sheath treatment with Mammut's BiCo Sense technology, which changes the weave and thickness of the rope in the middle and at the ends, so you can feel and see critical areas of the rope, making for safer belays and repels. Like all of Mammut's ropes, the Eternity also has a colored middle mark for backup, and smooth handling characteristics that will be at home on all sorts of climbs.

Protect Coated Sheath treatment
Holds 1-2 more UIAA test falls compared to untreated ropes
40% more abrasion resistance compared to untreated ropes
64 grams/meter
BiCo Sense technology
Middle mark
versatile solid rope
Familiarity:

I've used it once or twice and have initial impressions
This is my second rope and first one under 10mm.

I have only had the chance to get it out a few times so far but from what I am seeing this thing is even more durable than my old rope despite the thinner diameter and much softer feel.

For the money this rope is a great buy and it will not "let you down"
Stephen McSweeney
Good rope, colors not as advertised
Familiarity:

I've used it once or twice and have initial impressions
I got this rope today and have only used it once. So, while I can't speak to its durability, I can comment on the color.

The rope is a bright blue, not a light greenish blue as pictured. Half of the rope is solid colored, the other half has the white thread you can see in the photo. The black thread pictured marks the middle of the rope, and is also at both ends about 5 feet from the end. It's super easy to find the middle and I love that there's an indicator of when you're getting near the ends. The different sides of the rope are clearly different patterns, but don't look so different that they appear to be two separate ropes. The bright blue is sharp and looks great against the rock.

There is a slight difference in texture at the middle and ends of the rope where the black thread is. However, the difference is so subtle you can only really tell that it exists if you're looking at the rope change colors. It's slightly bumpier, but I definitely wouldn't be able to tell just by feel.

Overall a solid rope with some unique color features that make it worth buying. But if you're buying it because you're stoked on the texture change they describe, you might be disappointed.
Mandy L
All-Purpose, Great Feel
Familiarity:

I've used it once or twice and have initial impressions
I've just started using this rope (so cannot speak to its longevity), but really glad I got it. Feels sturdy but handles really well. So far have used it on multi pitch trad routes and a few sport pitches.
So far, NO qualifications here - a great purchase.
I wasn't sure about the extra features, but they're great: though it doesn't literally change pattern, it has all the benefits of a bipattern rope with a) a slightly different thread color (one half has a white threading in the blue, while the other has a green!) and b) a very clear midway mark with what they call the "sense" technology. Actually works!
Katherine G.