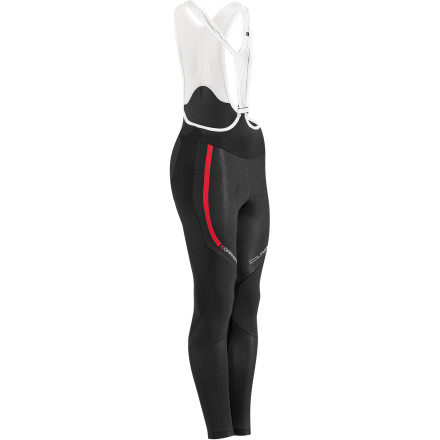 Colors
Bring on the winter.
We're usually fine with pairing knee and leg warmers with our favorite bib shorts until late fall, at which time we're left with a choice to make — either submit to the trainer or push on outside. Like us, we know that most of you prefer the latter, which means that clothing selection becomes key. For those late season rides, Garneau created its new Course Elite Women's Bib Tights, using several of its top element-blocking fabrics to keep you warm, dry, and comfortable throughout all of your winter riding adventures.
For the bulk of the Course Elite's leg panels, a fabric known as HeatMaxx was employed. This is a Roubaix-type material with a smooth outer-surface and a brushed micro-fleece lining. It's also a stretchy fabric that strikes a fine balance between keeping you warm and not restricting movement with any bulky materials. A second layer of HeatMaxx was added to the knees, which provides additional warmth and ease of movement at this flex point. The material's composition works to keep your legs warm, while at the same time, ensuring that you stay dry through its exceptional wicking capabilities. For additional protection against the elements, Garneau strategically placed its Super Light Dry material to the tights' front and back panels. Super Light Dry provides a light layer of wind- and water-repellency through its stretchy, breathable polyester composition.
For the bib tights' uppers, Garneau used a blend of its Power Mesh and Carbon-X Mesh. These fabrics introduce a heightened level of ventilation around your torso for general breathability, while also providing a great deal of stretch and adaptability to the straps. The tights feature nine panels in total, stitched together with friction-minimizing flatlock seams.
Garneau included its women's-specific 5Motion insert into the Course Elite bib tights. This chamois uses a 3D, pre-shaped wing design that moves in unison with your body. After all, a non-conforming insert is one of the leading causes of abrasion. So, to guarantee flexibility, the 5Motion chamois uses a variable-density, perforated memory foam that's been shaped objectively towards every direction of movement and pressure. And unlike other forms of variable-density padding, the 5Motion shape ensures that height transitions flow smoothly from region to region. This means that pinching and chafing are nearly eliminated. Garneau also included a center channel, much like your favorite saddles, that relieves pressure on the pudendal nerve.
The bib tights were finished off with a stretch trim detachment point the top of the waist, making those "pit stops" a simple affair. Along these lines, seven-inch ankle zips were added, ensuring shoe and bootie compatibility with the tights' cuffs. The tights were also treated with reflective accents throughout to keep you seen by motorists in low-light conditions.
Put off trainer season with cold-weather cycling tights
Material blend helps keep you warm on the bike in winter
Panels of wind- and water-resistance provide strategic protection
Multi-density chamois provides comfort on long training rides
Mesh bib straps reduce bulk for trouble-free layering
Bib straps detach to easily accommodate natural breaks
Best winter tights
Familiarity:

I've put it through the wringer

Fit:

Runs large
So warm and cozy, no need for a layer underneath with temps in the 30's. My only con is that they run a little large (which I didn't realize until I wore them biking). I ordered a medium, but wish I had a small (5'3, 116 lbs). The easy on/off clip makes group pit stops a breeze.
Marcy S
Very nice.
Familiarity:

I've put it through the wringer
I ordered these, then waited about two weeks for them to arrive. I was champing at the bit to get out and try them. They arrived today, and even though it was 63 out, I decided to give them a spin.
First - fit. They fit great. There is some kind of technical shiny fabric on the front of the thighs, the calves, and the bum area. I was concerned that it would be restrictive, because it doesn't seem to stretch much, but that isn't the case. I felt fine while walking and while riding.
The strap. Genius. The strap goes down the middle of the chest and attaches, thereby causing no restriction on the chest area! VERY comfortable.
The cut. While they do not "hold things in" in the gut area quite as well as the Gore, they are super comfortable, and have nice compression in the lower midsection and the back. The outer calves, and thighs get nice compression, too.
The chamois. Feels great. Not puffy at all (I don't like puffy chamois!), but still very comfortable. No chafing, rubbing, etc.
The quality. Excellent. All of the seams match up where the material changes and the details are obviously well thought out.
The LOOK. Oh yes. HOT! The red stripe is flattering but not overstated. I love that the cuffs have zippers. And there is no danger of the chest strap attachment coming loose. The reflective touches are nice, too.
I'm trying to think if there are any cons. Well, they are pricey, but the quality and details are worth it.

I'll update this review after I get a few more rides in with these beauties. Also, I need to try them in cooler conditions. Even by the end of my ride, it was still a pretty warm 59. Even so, I did not feel as though these were too heavy. I'd rather have nice warm legs and the rest of me a bit cooler, anyway.
UPDATE - while I still love these for road biking, they do not work very well for fat biking in the winter. The zippers at the back of the calves/ankles do not play well with my winter riding boots. They rub on my Achilles.
Casey K.