Item #LLE00I7
Lolë
Women's Apparel
Numbered Sizes
2
4
6
8
10
12
14
Hips

35.5in

(90.3cm)

36.5in

(92.9cm)

37.5in

(95.4cm)

39in

(99.2cm)

40.5in

(103.1cm)

42in

(106.9cm)

44in

(112cm)

Arm Length

30.1in

(76.7cm)

30.4in

(77.3cm)

30.6in

(77.9cm)

31in

(78.9cm)

31.4in

(79.8cm)

31.7in

(80.8cm)

32.2in

(82.1cm)

Inseam

32in

(81.4cm)

Chest

32in

(81.4cm)

33in

(84cm)

34in

(86.5cm)

35.5in

(90.3cm)

37in

(94.1cm)

38.5in

(98cm)

40.5in

(103.1cm)

Waist

25in

(63.6cm)

26in

(66.2cm)

27in

(68.7cm)

28.5in

(72.5cm)

30in

(76.3cm)

31.5in

(80.2cm)

33.5in

(85.2cm)

Lettered Sizes
XXS
XS
S
M
L
XL
XXL
Hips

33.5 - 35in

(85.2 - 89.1cm)

35 - 36.5in

(89.1 - 92.9cm)

37 - 38.5in

(94.1 - 98cm)

39 - 40.5in

(99.2 - 103.1cm)

41.5 - 43in

(105.6 - 109.4cm)

44 - 45.5in

(112 - 115.8cm)

46 - 47.5in

(117 - 120.9cm)

Arm Length

33.4in

(77.3cm)

30.7in

(78.2cm)

30.1in

(79.2cm)

31.5in

(80.2cm)

32in

(81.4cm)

32.5in

(82.7cm)

33in

(84cm)

Chest

30 - 31.5in

(76.3 - 80.2cm)

31.5 - 33in

(80.2 - 84cm)

33.5 - 35in

(85.2 - 89.1cm)

35.5 - 37in

(90.3 - 94.1cm)

38 - 39.5in

(96.7 - 100.5cm)

40.5 - 42in

(103.1 - 106.9cm)

42.5 - 44in

(108.1 - 112cm)

Waist

23 - 24.5in

(58.4 - 62.3cm)

24.5 - 26in

(62.3 - 66.2cm)

26.5 - 28in

(67.4 - 71.2cm)

28.5 - 30in

(72.5 - 76.3cm)

31 - 32.5in

(78.9 - 82.7cm)

33.5 - 35in

(85.2 - 89.1cm)

35.5 - 37in

(90.3 - 94.1cm)
How to Measure:

For best results, take measurements over your underwear.

Chest:

With arms at sides, measure around fullest part of chest, keeping tape up under arms and around shoulder blades.

Waist:

Measure around waist at the smallest part.

Hips:

Stand with heels together and measure around fullest part.

Inseam:

Measure from the crotch down to the ground.

Arm Length:

Bend elbow slightly, start at center back of neck and measure across the shoulder to the elbow down to the wrist.
Select style & size:
Select options
Cancel

Select options

Mount Royal, XS

Sale:$33.00

Mount Royal, M

Sale:$33.00
Palin Bra
A technical bra for long training days
Synthetic fabric wicks moisture to keep you feeling fresh
UPF 50 fabric is ideal for long runs outside
Tech Specs
Material:
2nd Skin Peached (88% polyester, 12% elastane)
Manufacturer Warranty:
1 year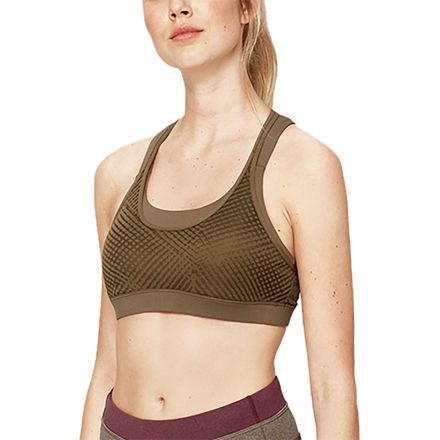 Colors
Palin Bra
A technical bra for long training days
Synthetic fabric wicks moisture to keep you feeling fresh
UPF 50 fabric is ideal for long runs outside