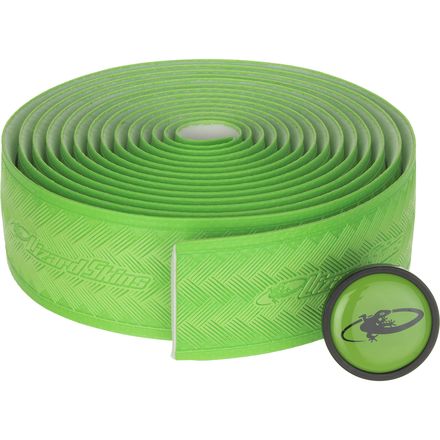 Colors
You don't have to love the stones.
One venerable Roubaix-winning hard man mutant from the peloton insists that, in order to win that race, you have to love the stones. While that may be true, you don't have to love the abuse they heap on your hands. Lizard Skins' DSP 3.2mm Bar Tape brings a healthy thickness of dense padding that, rather than puff out your bars, provides firm support to absorb road noise. The tape also rocks a cross-hatched pattern to keep your grip securely on the bars in all manner of conditions.
Firm padding adds comfort, not bulk
Cross-hatched texture for increased grip in inclement conditions
Straight up crap
Familiarity:

I've used it several times
I put this on my backup bike less than a year ago. In that time I've ridden it a hand full of times (maybe 20). At first, I really liked it but now, after almost a year of light use, it is starting to fall apart. I know bar tape does not last forever, but I have had bar tape that I have used much much more and have gotten far better results.
Tony Lopez-Isa
Substantial goodness
Familiarity:

I've put it through the wringer
Thicker than average, I love this 3.2 mil bar tape. I have this on both my drop-bar bikes now, and I won't deviate in the future. Super comfortable, good grip, deals with sweat well.
Chris Broullire
Grippy and well padded
Familiarity:

I've used it several times
Grippy bar tape even when wet, perfect for riding with bare hands. 3.2mm thickness works incredibly for reducing fatigue.
Renzo B
Lizard Skins DSP 3.2mm Bar Tape
This bar tape is great! It is thick but cushy and makes your bike ride much more enjoyable.
Bryce Galloway
Don't do it
Familiarity:

I've used it several times
I've put this tape on two bikes, 3.2 and 2.5 versions. It feels great but within couple of months the surface starts to wear through at pressure points. For the money this is unacceptable. Also end caps are poorly designed, especially for the thicker tape. I wound up trashing them and using an old Sram pair.
James H.
You'll Want This for All Your Bikes
Familiarity:

I've put it through the wringer
This is some of the best tape I've found. It's thick and damps vibrations well so it's perfect on my gravel bike. It's been incredibly durable which makes it worth the extra cost and is very grippy, even when wet. I can't go back to other bar tape.
Daniel
Extra Cushion for the Pushin
Familiarity:

I've put it through the wringer
I got this for my gravel bike where I needed a little my padding for rough gravel roads. I have been using Lizard Skins DSP bar tape since it first came out and have always loved the grip it provided especially since I tend to not ride with gloves. The only issue I have with it is you are not supposed to stretch the tape as you install it. If you are looking for a little more cushion on your road or gravel bike this would probably be the best choice.
Andrew Dickinson
Skimping out on bar tape and opting for the cheapest option is a big mistake! Your bars are a main contact point, spend some cash on good bar tape. The 3.2 version will give you extra comfort on those long rides. It did the trick on a six day bike packing trip in Colorado this summer. Highly recommended!
Brett Cole
Really Great Stuff
Familiarity:

I've used it several times
Just for some context, I'm coming from some super cheap cork tape. I cannot believe I have been riding that cheap bar tape for years when I could've been riding this LS bar tape. It feels better without gloves than the cork bar tape did with gloves. Use some gel gloves with this 3.2 tape and you will feel hardly any vibration from the road. I still prefer riding with glove on longer rides, but on shorter rides, going gloveless feels amazing. Definitely would recommend!
Connor H
What cobbles?
Familiarity:

I've put it through the wringer
Just kidding, I don't really ride cobbles - but with this bar tape, my hands probably wouldn't notice even if I did. I forgot my gloves on a commute and everything was A-OK. Nice and squishy, good grip, and I like the bright green color quite a bit.
Kate Cronin
Super Cushy
Familiarity:

I've put it through the wringer
This tape has nice grip and a great cush to it. Using on my commuter bike and definitely would recommend.
Craig L
Hand Pillows
Familiarity:

I've put it through the wringer
Cushy, tons of grip in all weather conditions, and great color options. What more to ask? Oh, no stretching on install.
Definitely the best we carry.
Perry Hall
Great cushioning
Familiarity:

I gave it as a gift but have feedback to share
"I've tried a bunch of different bar tape but this one is my favorite. Tacky, great grip and the cushioning is fantastic, especially on rough roads and gravel. I just wish they offered a plain dark grey color."
Kate Cronin
Good bye hand pain
Familiarity:

I've put it through the wringer
I have used Lizard Skins for the past few years and cannot find a reason to use bar tape from another company. The DSP series of tape is high quality and durable. The 3.2mm version is great for gravel bikes and bike packing set ups, or for riders that have hand pain on their drop bars.
Brett Cole
Most Durable/Comfortable Tape Avialable
Familiarity:

I've put it through the wringer
Perfect for road or cross this tape has kept rolling smooth longer than any other tape I've tried and install is a breeze. I've used this tape for several cross and road seasons, it holds up to crashes (CX) and is easy to clean.
Matthew Kiel
Great bar tape
Familiarity:

I've put it through the wringer
Excellent cushion and grip (regardless of weather condition). No need for gloves. Easy to clean up and looks new longer than cork.
Can be difficult to apply.
Chris H.
Oh Yes
Familiarity:

I've put it through the wringer
Great shock absorbing properties for the pothole capitol of the world!
Western PA.
First time I have ever used the supplied bar end wrap...and it stayed in place, no need for electrical tape. Have actually unwrapped to replace a cable, reapplied same tape and bar end wrap, again stayed in place, amazing!!
Jeff P.
Lizard Skins- Bar Tape Install Video
A great video from Lizard Skins sight showing detailed instructions for bar tape installation.
Mitchell S.
Love It!
Familiarity:

I've put it through the wringer
I like gloves and padding; the more the better. I don't understand the concern for "control" (Do people go without Power Steering on their car so they can "feel the road"?). I bought the Lizard Skins 3.2mm in White and will repeat when the time comes. From the photos I saw, I was wondering if the "tread" would look ugly, but it looks really good, and stays reasonably clean because I keep my hands & gloves clean. The tack is perfect. Best of all, every tape I've ever used eventually slipped and gapped at the handlebar bends, but this stuff DOESN'T BUDGE!! Really great tape!
RMOCO