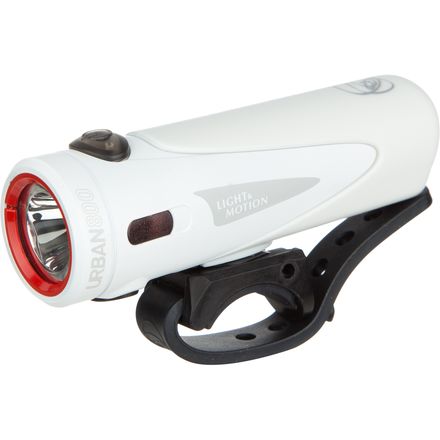 Colors
Take back the night.
Whether you're ripping singletrack after sundown or navigating your nightly commute, let Light & Motion's Urban 800 LTD Trail Headlight lead the way. The Urban 800 LTD offers a compact and convenient design that doesn't skimp on power–with a generous beam of 800 lumens, you'll have a clear and consistent view of the trail ahead. The powerful amber side lighting provides a full 180 degrees of visibility, which will help you find your way around hairpin turns and will ensure you're seen at busy intersections. You'll have no reason to shy away from longer rides because the Urban 800 LTD is fueled by a sleek, built-in rechargeable battery that runs for 90 minutes on the highest setting and up to six hours on low. The quick-release strap makes mounting a breeze, and helmet and GoPro attachments are provided for added convenience.
Compact and powerful light for after dark trail missions
800 lumen output is comparable to an auto headlight
LED with 180-degree projection for peripheral vision
Sufficient charge for longer night rides
Rechargeable battery with Micro USB charging cables
Conveniently attaches to helmets and GoPro mounts
Brightest Sleekest Light.....But
Familiarity:

I've used it once or twice and have initial impressions
So, yes at the sale price, this light was a great addition to my commuting bits and necessary the times I worked past dark or left in the dark when the days were especially short. it's the absolute brightest light i ever had in either headlamp, flashlight, and even work lamps. and the side lights probably will catch some drivers attention, and they look cool. however there is no flashing mode, which most definitely needed when commuting in traffic. the only way some drivers were able to see me was the existence of heavy duty flashing, which my former Cygolight 350 did extremely well with 2 flashing modes (fast/slow). at the brightest, every driver knew to look out for something. this light has just a dimmer setting where the light literally dims-brightens-dims but it's barely distinguishable while moving at speed. the other peeve of this lamp is the strap. i have 4 bikes in the commuter rotation and the thing is impossible for my 54 yo fingers to remove and reattach. i am bewildered that no other reviewers noted this. AND - if using a Salsa bar (thicker) with Salsa cork bar wrap, you will be affixing to the very last notch, meaning you have literally no strap left to grab onto when trying to remove it. you have to pinch at it, and it was so stiff, i though of using a wrench...seriously. if not for the fact my Cygolight had stopped holding a charge (after just a year), that alone would be cause for return as i am often deciding in a matter of seconds which bike to take and don't have 5 minutes to mess with removing and installing a light before heading out. the only thing that saves this fact is the light swivels 360 degrees on the strap. yes there is a helmet attachment, which is a nice feature, but those never seem to stay mounted in my experience so i may avoid messing with that altogether. the only other critique is weight. YES it is it the brightest, but it weighs in with enough heft to feel like an infant dumbbell. like heavy. not kidding. like, if installed near a bar end it could artificially steer the bars to that side. haha. will add "on bike" review in a few hours.
spychica
Awesome Light.
Familiarity:

I've used it several times
I purchased this light on the recommendation of a friend of mine & have been incredibly happy with it. So much so that I bought another one for my wife for Christmas this year. They are incredibly bright, and the run time is very good.
Peter MacNaughton
Light & Motion Urban 800 LTD
Familiarity:

I've put it through the wringer
For $80 this gives you 800 lumens for 90 minutes in a 120 g package... which is a good deal considering LM is probably one of the best brands you can get.

I am overall very happy and using it as an helmet light , i have an 1100 lumnes on my handle bars..


erhan ayan
Super bright light, easy to charge and attach to my bike, great price. Love it!
Libby Dudek
Expensively mediocre
Familiarity:

I've used it several times
The selling point on this light was Lumens and the ability to use the GoPro mount on my helmet to use this as my primary helmet light in addition to a bar light. The GoPro mount is ineffective at best as the light will swivel in the mount regardless of how much that tiny bolt is tightened.

So, when I'm fat biking trees at night, the slightest contact with a branch means I either have to adjust the light while riding or worse lose the beam entirely until I can stop to readjust it.

Another odd point. Nearly all of the instructions-for-use are pictures sans words. Why L&M shot for a bizarrre hipster interpretation of directions instead of blatant understanding is frustrating.

Lumens and light output are as you would expect from this sort of light but because of the concerns above I'm unsure whether to use L&M again to replace my bar light.

Just my two-cents.
ShotgunWilly
Super Bright
Familiarity:

I gave it as a gift but have feedback to share
Got this for my sister who commutes to work in Berkeley. She has made it home safely ever since. That is all you need to know.

Update: Bought for my dad for his road biking in the AM. he loves it.
Derek R
good basic light
Familiarity:

I've used it once or twice and have initial impressions
I wanted a night riding light for some basic trail riding. This light seems very sufficient for an easy to moderate trail and lights up the whole area around me so I can cruise at a very good pace. I have not gone longer than 1 hour so I don't know if the battery cuts out at 1.5hrs on high. I recharge after every use.
matt
very bright!
Familiarity:

I've used it several times
now that it's winter, my husband gets stuck biking home from work in the dark. This light makes me feel better, it's SO BRIGHT.
Julia LAser
Expectations met
Familiarity:

I've used it several times
With the fall weather still giving us warmer nights as of late, and not wanting to start on the indoor trainer this early, I looked for a stylish light for night riding. The Urban 800 LTD is just that.

To mix things up lately I've started riding the CX whip at night and going from asphalt to single track and back, as a regular route. I'd never ridden either at night but was most worried about how this light would do on dirt, with a drop bar bike, on semi unfamiliar trails. Well, oddly enough, I feel like I almost see the trail better as a result of the insane amount of light this thing puts out on its highest setting, and focusing on that area exclusively. On the road its fantastic as well but this light has made night trail rides so fun I now almost prefer them to day rides. I'm sure its the "newness" but it just adds a fun element to trail riding right now for me.

I can confirm it will last right at, or a little over, the stated 1.5hrs on its highest setting. I have used it almost exclusively on this so dont have much experience with battery life on the other settings.

Overall this light met and exceeded my expectations and I would highly recommend it!
Brandon Anderson
I gave this as a gift to my brother in law. He used it in his 100 mile race up the Jackson Hole. He actually led a number of cyclist to the finish, because they didn't bring a light at all! Weird, huh? So, this light is plenty bright!

He rode in the dark for a couple hours on that race, but has yet to drain it fully. So, not sure how long the battery will last.
Emily Jenson
unbelievably bright
Familiarity:

I've used it several times
I use as helmet mount for trail riding at night and it's unbelievably bright - I would even consider going without my handlebar mounted lights, it's that bright. I haven't pushed the battery limits but it hasn't had a problem on high for trail rides with a charge after every ride. Helmet mount was a bit difficult to tighten around my helmet holes, but once in place it works great.
James Bleuer
Great features and price!
Familiarity:

I've used it several times
Same as the other review on here - really has been great for early morning rides, now that the sun is coming up later.
adam R.
Great Light
Familiarity:

I've put it through the wringer
This is a great light. It has some key features that set it apart. The amber colored side lights are a great way to be seen from the sides, and the pulsing mode is awesome because it allows you to still see while presenting a different light sequence so drivers can see you while not disorienting anyone.

This thing is very bright. The strap mount is easy to use, and the GoPro mount gives you so many options for mounting the light in pretty much any manner you want with the approptiate mount
Andy LaCombe