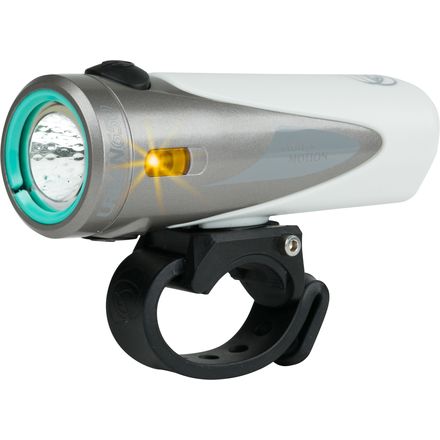 See and be seen.
There are cycling lights used to see at night, and there are lights used to be seen at night. When you want both, it's hard to beat the Light & Motion Urban 650 Headlight.
Using a flexible and durable mounting system, the Urban 650 can be placed on your handlebar or helmet, and it pops off easily when it's time to lock up your bike. With 650 lumens, it slots just below the sun-like Urban 800 light in brightness, but it's still an extremely visible system that employs many of the 800's innovations, like amber-colored side lighting for 180-degrees of visibility, and a precisely engineered lens that evenly distributes its LED light over a field designed to help cyclists see both near and far while riding. The battery life indicator will let you know how long you can stay out, and the IP67 waterproof rating means the light can still function while submerged under one meter of water for up to 30 minutes, just in case your ride takes you to some strange new places.
The Light & Motion Urban 650 Headlight measures 4 inches long by 1.2 inches wide, takes 5 hours to fully charge, and can be mounted on either your helmet or handlebars without tools. It comes in two colors: Silver Moon and Shock Top Green.
Light is good, bracket broke...
Familiarity:

I've used it several times
bad plastic...beware, if you take the light off of the bracket...the little nipple will break......lame.
Michael S.
Light up the night
Familiarity:

I've used it several times
Let's preface this by saying that I've been nothing but happy with this light. It seems to hold a charge well....even in cold weather! It also handles moisture without any issues.



If you want to be visible, then this is definitely the light for you! One of my favourite features of this light are the two side beams that improve your visibility from the side while riding. Anything that makes you more visible to cars is always a win!



Their customer service is also pretty sweet. We had an issue with one of our lights getting hot, so they let us send it in, took a look at it for us, and got it back to us without having to wait for weeks on end!



Overall, I'd highly recommend these lights!


Denise Peterson
Last forever
Familiarity:

I've used it several times
Battery life is great and has a great beam!
Casey Jorgensen
Great Battery Life & Projection
Familiarity:

I've put it through the wringer
I originally bought this light for commuting around town as I wanted a high quality light that would make me easily visible to vehicles. It mounts quickly, offers outstanding side visibility, and great battery life (with battery life signal on the back). I eventually used this light while hiking at night, which was actually worked quite well since the shape of the light with strap is easy to hold in your hand. The beam projection and battery life are what sold me on it though and I use it for hiking all the time now. I wish I could turn off the side markers to extend the battery life further, but they are not bothersome while hiking. Whether I'm riding in the evening hours or chasing daylight down from a long hike in the mountains I always grab this light.
Kevin K
Bright!
Familiarity:

I've put it through the wringer
Great light that I use for both commuting and road cycling. It's really bright on its highest setting and casts a nice beam, that is sufficient even when descending at high speeds at night.
I like that it is easy to get on and off your handlebars if you need to move it to a new bike. But it's also very secure when it's on, so it's not a compromise between the two.
My one issue with it is the blink mode. It's slow and gradual blink that I would categorize as more of a fade. I'm guessing they've made it like this so if you're using the blink mode at night, it doesn't go completely dark on you. However, I personally use the blink mode more during the day (when commuting), and I feel it would be more noticeable to motorists with a more aggressive flash.

Overall it's a really really good light and I'd highly recommend it.
Ned Chanatry
Can't go wrong!
Familiarity:

I've put it through the wringer
If you want a bomber commuting light this is the option for you. Light & Motion has a lot of great products, but when it comes to bang for your buck this is the ticket. Highly recommended for those that ride on days where you can barely even see your own foot. If you want cars to see you before you become their hood ornament I strongly recommend getting this.
Eric Plath
Let it get stolen to buy it again
Familiarity:

I've put it through the wringer
If you miss the big shiny sky-ball your mother told you not to look at when weaving your bike through downtown traffic after last call then buy this light.

650 lumens is as bright as a car headlight. Not only does it reveal potholes before they wreck your shit, it also warns the "2 beers ociffer!" street companions of your existence before they're picking your teeth out of their grill.

Construction quality and materials are top notch, battery life is great, side lights for cross traffic, micro USB to charge, and can be used as a headlamp when your camping rig just won't cut it.

It's so good I let it get stolen downtown just to have the privilege of buying it again.
Steve Simpson