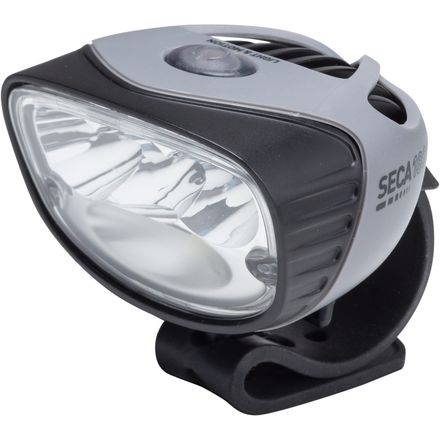 Colors

Detail Images
See where you're going.
Nothing's worse than missing an obstacle and crashing mid-ride, which is why Light and Motion developed the Seca 1800 Race light. The custom optics diffuse the 4 LEDs so that the immediate front-and-center is lit and visible, but the the Race Light also penetrates further out in front, keeping your depth perception on point so you don't encounter any surprises while focusing on what's right in front of you. Couple that with a rechargeable battery (2.5 hours to full), and a waterproof rating that goes up to one meter, and you have a cycling light that will go the distance alongside you, and fortunately for you, probably outlast you every time.
A high-powered cycling headlight for race or trail
1800 lumens keep foreground and further distances visible
Waterproof up to one meter, so it'll take a licking
Regulated output keeps beams bright for entire power duration
Light-up power button is glove-friendly
Easily mounts to your GoPro, handlebars, and helmet
Great Light,
Familiarity:

I've put it through the wringer
This light offers plenty of light. I used this on my handle bar for a 24 hour race that I did solo. I ran it mainly during the downhills and single track sections at the low and medium level and used my helmet mounted units for climbs and double track. The light ran all night for me and provided ample light to see where I was going.
Shawn Craig
nice light
Familiarity:

I've used it several times
no complaints, very bright easy to use.
moo101602379
A Light Bar for My Head
Familiarity:

I've used it several times
I purchased this light and compared it against the Niterider 1400, The Light in Motion Seca 1800, and an Amazon.com $30 special. This light had the best beam pattern of the lights I tested, the second best overall distance of light, the most artificial light color (almost a purple white) , and the 3rd worst battery life. I got over 3 hours usable burn time with this light on high. It seemed to dim more than the niteriders, but did not flicker to warn of a failure. I let the light burn for over 4 hours without it failing, but it was probably down to about 300 lumens by that point. Overall I was very impressed. Niterider has a superior handle mount compared to the Seca, but the Niterider helmet mount is large and a bit clumsy. I prefer the Seca's use of a GoPro mount for the helmet. The battery is smaller than the niterider's and charges twice as fast, although the frame mount is not quite as good, but still adequate. The battery has no charge indicator, but the light is not prone to sudden failure. This light could be used as a standalone light, but it is still best combined with another light source to mitigate shadows. I had a difficult time picking between this light and the niterider 1800. For me I preferred the smaller battery (for backpack carry), faster charge time, higher water resistance standard and go pro mount of the Seca. It made more sense for me to use the Seca as my primary helmet light for both skiing and mountain biking.
Ember Manfred