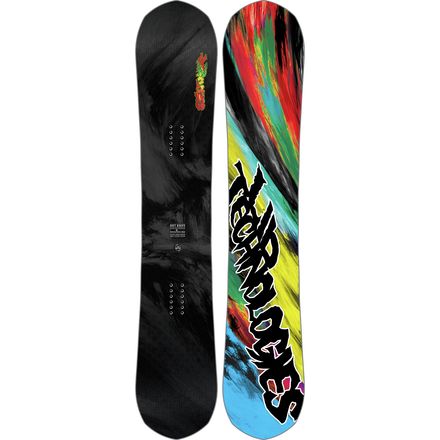 Slice and dice the resort.
Camber-dominant boards still hold relevancy in today's rocker-crazed world, and the Lib Tech Hot Knife Snowboard is proof. Offering all the benefits of camber, but without the overly catchy feel that's bound to make you pay for mistakes on your edge, C3 is fully lifted throughout the center like a traditional camber board, but with mild rocker between the binding inserts to tame the board's overly aggressive nature. Consequently, this camber-dominant profile provides all the power, pop, and stability of traditional camber while boosting float in deeper snow, as well as instilling a bit more catch-free carving and freestyle prowess.
While it's not as aggressive as full-on camber, the Hot Knife Snowboard caters to skilled riders looking to carve steeps with razor-like precision and send bigger kickers with ample snap and stability. Its medium-stiff flex is highly responsive, especially when you place the board on edge. Enhancing the board's lively feel, the aspen and Columbian Gold core keeps the Hot Knife snappy and strong, with Birch Internal Sidewalls that reinforce the inside rails for enhanced stability when you're laying the board on edge. Then, the triax/biax fiberglass combo enhances torsional rigidity for confidence and stability at speed. Plus, the super-resilient UHMW sidewalls withstand regular thrashings, while a TNT base absorbs a ton of wax for effortless glide.
Camber-dominant freestyle board for all-terrain ripping
Medium-stiff flex offers enhanced responsiveness
Twin shape is amenable to switch riding and landings
C3 profile delivers camber performance without its catchiness
Magne-Traction edges slice through icy terrain
Blended wood core offers powerful snap at a low weight
Sintered base keeps you cruising at high speeds
Triax/biax wrap enhances torsional flex for versatility