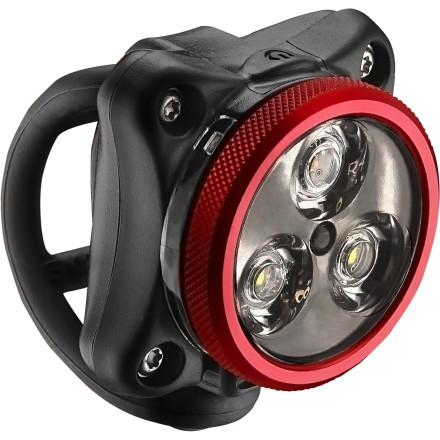 Colors

Detail Images
Front or Rear? Both.
If you're a minimalist and want one light that does it all, the Lezyne Zecto Pro is capable of functioning as a front or rear light to keep you visible from all angles when and where you need it.
Lezyne is recognized for its attention to detail, even in the smallest accessory. To this end, it machined the body of the Zecto from aluminum and used Composite Matrix for the clamp system. Three LEDs are encased in a dome-like structure which affords 180 degree visibility so that you are seen from the side as well as the front. Additionally, the MOR optics (Maximum Optical Reflection) produce a uniform power beam that is wider, smoother, and brighter allowing for more optimal light ahead of the user. The Zecto attaches via a clip-on system which allows for versatile strapped or clip mounting. The light is easily rechargeable with a micro USB cable.
What makes the Zecto Pro stand out above the Zecto Drive? The Pro features the same six modes as the Drive with more lumens. But, it has two modes, Front and Rear. In Front mode, it uses 2 LEDs with a maximum output of 160 lumens. Additionally, it also features a Rear mode with a single ultra-bright 40 lumen red LED. The Rear mode's five settings keep you visible in any light.
The Lezyne Zecto Drive Pro weighs 47grams and is available in Black/hi-gloss, Red/hi-gloss, and Polish/hi-gloss.
Tail Light With More Battery Life
Familiarity:

I've put it through the wringer
This is the same as their other tail lights, but with a longer battery life. You can also flip it around and use it as a head light in a pinch, or just get two for a commuting setup. I found it adequate for the road but it would probably leave you with quite a few surprises on the trail. If you're in to uncertainty and high velocity tree hugging go for it, otherwise spring for one of their higher powered handlebar lights for $50-100 more.

This is the best tail light out there in my own experience, for the record.
Zane Dordai
Lights the way
Familiarity:

I've used it several times
These small and bright lights attach easily almost anywhere. I use 2 of them for my commute.
Matt D.
Great build, versatile, light weight.
Familiarity:

I've used it several times
This is really a handy bit of kit. So far I have used it as a day light. For long rides, I clip it on the saddle bag and keep it in reserve in case my front or rear light runs out of charge. This is a nice insurance policy and the weight is light enough and the size small enough there is really no reason not to take it. For commutes, it works equally well on the front or rear. You can even mount it on the front or back of a POC helmet without touching the MIPS insert.
Philip R.
Great little light but tight with cables
Familiarity:

I've used it several times
I wanted a small, lightweight but powerful light for improved visibility on daytime road rides. I use it as a headlight in daytime flashing mode. I have a separate, more powerful but much heavier light for night rides. This is a great little light so far, with one downside: if you tape your handlebars too close to the stem, the brake/shifter cables will get in the way of setting the angle of the light exactly as you want it. I will be re-taping my bars with thicker tape and when I do, I will leave a little more bar unwrapped.
North K.
Great 2 in 1 light for the price!
Familiarity:

I've used it several times
I bought this light not knowing you can use it for the front (Two bottom ones are white LEDs) or the rear (the top LED is red). You can only use it either white or red at a time. You get multiple light patterns for both white and red. To activate the red, you must press and hold the power button a little longer until the red LED is on. Works well on traditional round bars so if you have an aero flat bar, you gotta find a way to mount it.

I loved it so I bought two for my road bike.
oracle